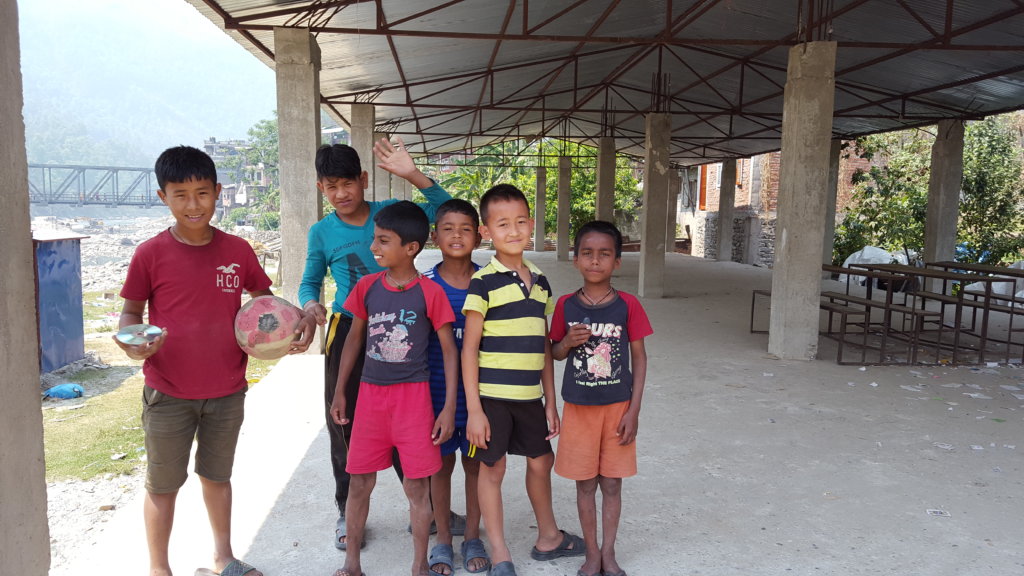 With your fantastic support we're continuing to make great progress to Give the Gift of Education in Nepal.
However, the nature of working in such a challenging environment means that there have been both ups and downs over the past few months.
For example, in our last project report we discussed our plans to build three permanent classrooms at the Bhadrakali school in Sindhupalchok.
These plans were originally delayed by a fuel crisis last year, which made buying and transporting construction materials prohibitively expensive. But in mid-February, once the fuel crisis ended, we were looking forward to resuming these plans as soon as possible.
Sadly, when we returned to the school we discovered that, despite our frequent assurances, the staff had grown weary of the delays and had pressed on with their own improvements. Lacking resources they'd only been able to build semi-permanent classrooms, but this was on the land allocated for our own work, meaning their structure would have to be demolished for us to proceed.
With so many other children still learning in temporary classrooms both we and the school were reluctant to take this step. And so, with sadness on both sides, we decided that it was better for us to focus our efforts and resources elsewhere.
This was a frustrating result for everyone concerned but ultimately the right decision. And happily it wasn't too long before our plans to provide permanent classrooms in Sindhupalchok were back on track once again.
In the months after the earthquake we worked with numerous schools in Sindhupalchok, and so we already had a long list of those needing longer-term help. So, we immediately began to revisit these schools and assess the next highest priority candidate for support.
It didn't take us long to realise that the Shree Bal Shiksha school, in Manka VDC, was the right choice to support next. Last year we provided water tanks and filters at this school so we already knew they'd been badly affected by the earthquakes.
And sure enough, when we arranged a follow up visit, we found that the school's 600 kids were still learning in temporary structures, and in some cases even inside damaged buildings. The temporary classrooms are rapidly deteriorating and fast becoming unfit for purpose. The damaged buildings are unsafe and the kids are at real risk from injury, or worse.
So, it was clear that support was urgently needed, and we soon also realised that we could provide this support relatively easily.
This was because, prior to the earthquake, construction work had started on a new school building. This had to be halted after the disaster but a concrete base, columns and steel roof were already completed when work stopped. A structural assessment revealed the existing structure was safe and so we immediately began drawing up plans to build exterior and interior walls, and to also install doors and windows.
This work will turn the structure into five new permanent classrooms and allow the kids to move out of their dangerous and unfit buildings into a safe, beautiful new one.
In the last two weeks our plans were officially approved by both the School Management Committee and the local District Education Office, meaning we were able to start actual construction without delay in this case. And just last week our construction team travelled to Sindhupalchok to set up the remote campsite where they'll be based for the next ten to twelve weeks while work continues.
So, it's been a bit of a roller-coaster since February, but the hard work and persistence of our team in Nepal has ultimately paid off. Of course, none of their efforts would be possible without your generous donations, so thanks so much for your previous support.
If you'd like to continue supporting our efforts, including our work at the Bal Shiksha school, then now's also a great time to do so. This is because GlobalGiving are currently matching donations to this project by 100%.
As always if you ever have any questions about our work or how we use your donations please don't hesitate to email Andy@IDVolunteers.org. I would be delighted to hear from you.
Note that donations up to $1,000 are currently being matched via GlobalGiving.org, and up to £1,000 via GlobalGiving.co.uk.
For more updates about our work please like us on Facebook or follow IDVExec on Twitter. You can also email Andy is you would like to be added to our direct mailing list.