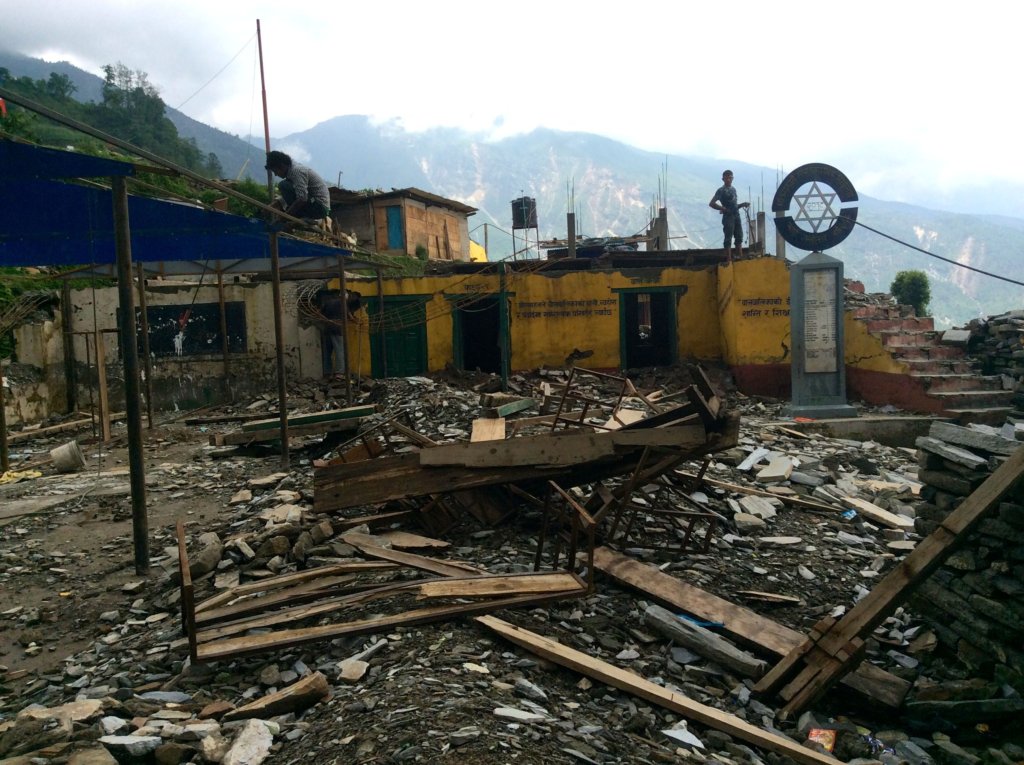 Thanks to your amazing generosity our work to Give the Gift of Education in Nepal is rapidly speeding up!
In a project report last September we introduced our plans to reconstruct three permanent classrooms at the Bhadrakali secondary school in Sindhupalchok. This school of 600 kids was devastated by the earthquakes last year and has been in urgent need of support ever since.
We've been very keen to help and, after the monsoon season, we were almost set to start work when Nepal was suddenly gripped by a fuel crisis.
Blockades on the Indian border cut off the supply of countless essential goods, including all types of fuel and gasoline. As a result the cost of both transporting and buying materials skyrocketed. In some cases costs were up to five times more expensive than normal!
Construction work in areas outside the capital - and often inside too - ground to a halt. Materials were either impossible to find or prohibitively expensive to buy and transport. Our local partners were also unable to travel and insisted that we delay plans until the crisis was resolved - after all they knew we could achieve a lot more later if we didn't pay the elevated prices in the short term.
So, with great regret, we postponed our immediate plans in Sindhupalchok and focused on rebuilding classrooms nearer to Kathmandu.
Happily in the last week, 135 days after the crisis started, the borders began to reopen and petrol has now started to flow again. There's been no official announcement of the blockade ending, so we're remaining cautious. However, the signs are positive and we're looking forward to resuming our plans to help the badly affected Bhadrakali school.
But there are a few more developments as well.
Our original plans were to use "earthbag" construction for Bhadrakali's new classrooms. This was to further lower the cost of materials and transport. However, soil tests at the site have since shown that there isn't enough clay content for this technology to be used effectively - we'd have to pay for earth to be delivered, which kind of defeats the point!
So, our in-house volunteer architect and construction manager, Ruth, is now redesigning the classrooms to use more traditional stone and timber construction. If you're interested you can view Ruth's drawings here.
We're very keen to press ahead with this delayed project and, if all continues to go well, we expect work to be starting in the near future. Thanks so much for your patience and your amazing support. We'll keep you posted on developments so please remember to keep checking back. And, if you'd like to donate again to help Bhadrakali's 600 kids then your gift today will have an amazing impact!
As always if you ever have any questions about our work or how we use your donations please don't hesitate to email Andy@IDVolunteers.org. I would be delighted to hear from you.