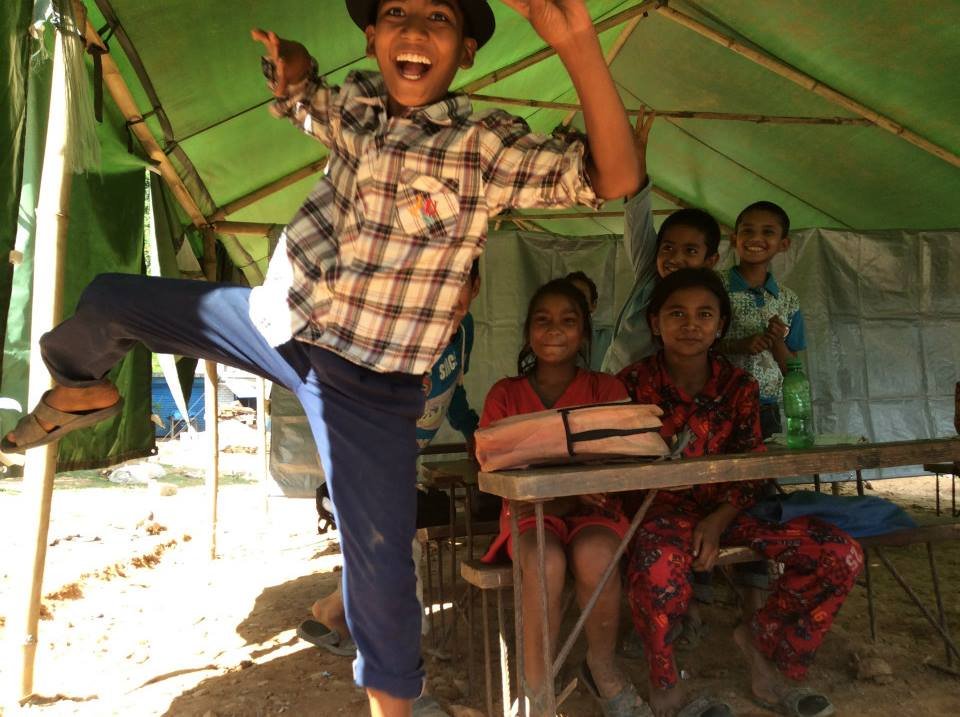 After several months of storms the monsoon season in Nepal is finally drawing to a close. It's a big relief for earthquake survivors as the heavy rains, which fell on a daily basis, brought even more suffering to those living in tents and other temporary shelters.
The bad weather has also created challenges for our team on the ground who have soldiered on despite the rains. These rains have led to landslides and on several occasions the roads to project sites have been blocked by debris. In these cases we've had to wait until machinery arrived to clear the roads before we could continue the journey to work. But continue we have.
Although we're working in a number of different areas a big focus for us recently has been on supporting education in the district of Sindhupalchok.
The district lost over 4,000 classrooms in the earthquakes and so there's a massive need to help get children back in school. And this is just what we've been doing!
For example, we've recently completed work on a new Temporary Learning Centre (TLC) at the Shree Bimsen School in the village of Khatrithok. We originally started supporting the school in mid June when we provided and set up a large military style tent for use as a TLC.
This provided classroom space for around 75 children, but with 275 kids enrolled at the school they still needed more. So, in recent weeks we've returned to the school to provide a TLC for another 80 children.
Like the original tent this new TLC was again bamboo framed, but we wanted to make the new structure much more substantial overall. So, on this occasion, we also provided a metal roof and woven bamboo matting for the walls. While this new classroom is still essentially temporary it will be durable enough to last until permanent solutions can be found.
And of course, we're also pursuing permanent solutions as well. The recent monsoon rains have made permanent building impossible but with the season now virtually over we're looking forward to being able to start longer-term reconstruction.
Our most immediate plans in this regard are to work with the Bhadrakali secondary school, which is also in Sindhupalchok. This school is attended by over 600 kids and, with two of its three buildings destroyed in the earthquakes, it's in desperate need of support.
So, we're making plans to construct three permanent classrooms for the kids. It's going to be a big project so as always we want to send you our heartfelt thanks for your fantastic generosity. It's only because of your generosity that our ongoing, vital work in Nepal is possible. Thanks so much!
If you ever have any questions about how we're using your donation, please don't hesitate to email Andy@IDVolunteers.org. I would be delighted to hear from you.