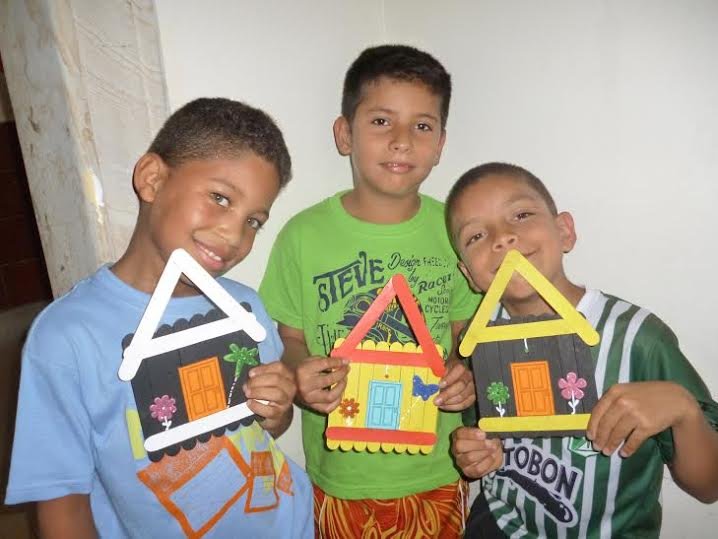 Children and adolescents that actually have shelter in the foster home belong to 19 family groups who are 100% compromised with the process.
The quality supervisor team from the Colombian Institute of Family Welfare visited our house to renew our license; they also approved the changes made in infrastructure in order to receive 18 new beneficiaries for the program. They gave us a favorable concept and stablished a new installed capacity for 43 children and adolescents.
During this trimester children developed activities regarding the child´s month, we achieved awareness of the group in the subject of rights and duties.
In our project "Building with our hands", the children handcrafted different products which developed their creativity and imagination.
The psychology team worked with the children and their families in healthy parenting habits, physical and psychological transformation in the adolescence, the importance of an assertive communication and the process of grieving.
Academic and nutritional achievements:
The children got excellent academic grades for the second trimester, proving the effectiveness of the pedagogical program.
We enhanced inter institutional support with Comfama and Metrosalud in order to attend the health needs of our children.
We continue with our program to enhance reading abilities in the beneficiaries using the construction of stories, which contribute in their language development and pronunciation.
Three of our children obtained the first place in the knowledge state tests.
Activities with the families:
Along with our process of integral attention, we continue strengthening bonds with the families and support network in the children
Testimony of a beneficiary, 17 years old:
"The help I received from Superarse is invaluable, when I arrived; I had nothing, now I have a strong family that has improved in every way. Study has become my biggest strength to fight for a better future. I thank Superarse with all my heart and dream with belonging to the program of preparation for an autonomous life to keep walking through the right path"