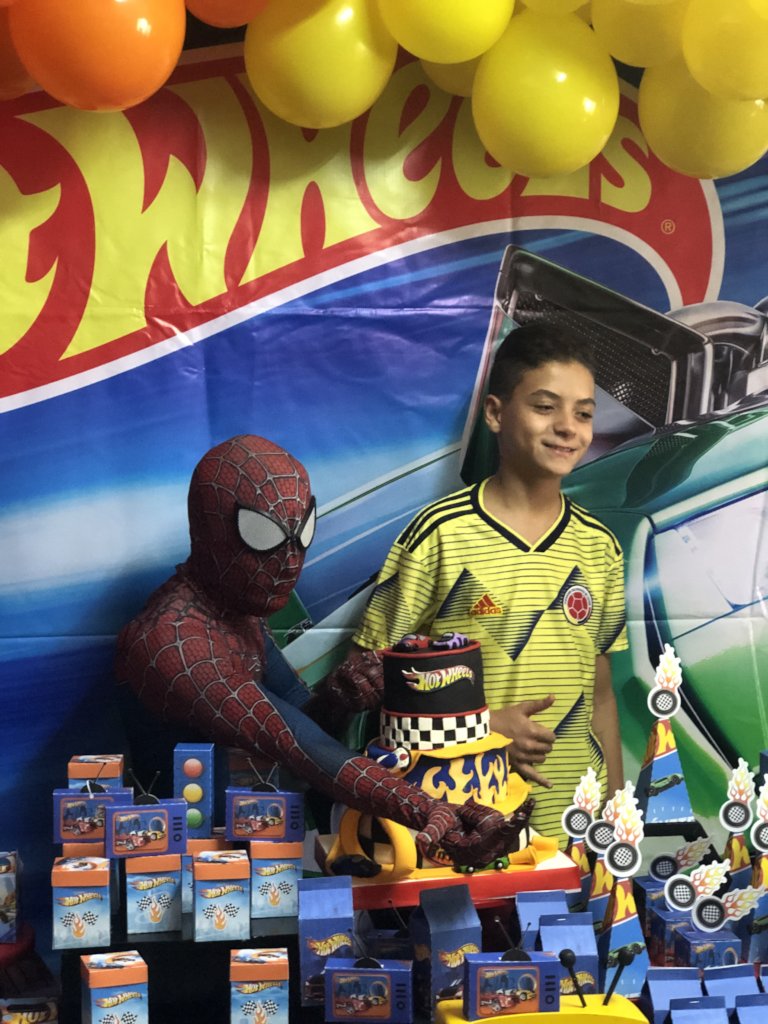 My name is Juan and I am from a very small town, six hours away from Medellin, Colombia. I live now in a boarding school called SUPERARSE because I don't have a dad and my mom works very far in another city. I almost never see her. My grandma is very poor and couldn't take care of me anymore, so I wasn't attending school and we had almost no food. At the boarding school, there are another 50 kids and I have everything I need: I have food every day, they give me clothes, and I am going to school to learn. During my vacation, I went with a volunteer family who took me into their home* and treated me with love, so I could feel how it is like to have a family like that for a lifetime… I would like that very much!.
In September, a group of people came to the boarding school and threw us a birthday party, gave us candy, cake, ice cream and toys. The best part was when Spiderman showed up and we took a picture. In October, I went to camp with my classmates and we had a lot of fun, I learned to swim, and was taught about the value of true friendship and honesty, and other things like that. During my time here, I have been very happy because my teachers and counselors give me for free everything I need and worry about my well being and my growth. For Christmas, I would love a remote control car and a Lego. THANKS CORPORATION SUPERARSE!
*Get aways like this are part of the Friendly Families program.
The children's needs have been covered all year round with financial contributions from people who want to change the world one child at a time. Thanks to them, these 50 children can overcome their obstacles and get ahead in life.
UP UNTIL NOVEMBER 2019, THE FUNDS HAVE BEEN INVESTED IN:
Healthy food and nutrition……………...… US$ 92,000
Vacation, recreation and sports…………... US$ 25,000
Education and school supplies….…………..US$ 7,000
Clothing and personal hygiene…………….. US$ 12,000
Health care…………………………………......US$ 6,000
Friendly Families Program…………………...US$ 20,000
Replace some furniture and kitchen implements U$5.000
Family strengthening U$3.000
TOTAL………………………………………..US $ 170,000
THE BEST CHRISTMAS GIFT YOU CAN GIVE IS TO MAKE A CHILD HAPPY. MAKE IT HAPPEN BY DONATING HERE!