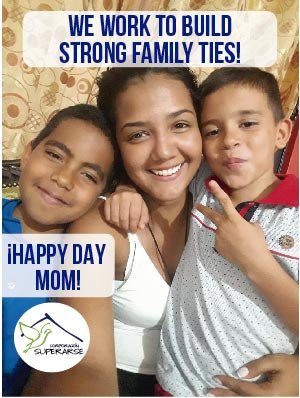 In this special month, our children pay homage to their mothers, who despite facing difficult life situations, always fight for them.
In Corporación SUPERARSE, we work and guarantee the rights of children, at the same time we work educating their families so that they also guarantee those rights. Many of the mothers attend these trainings, always looking for the best for their children, although for many it is not easy, since sometimes they are also "victims" and their rights are violated, due to the difficult family or socioeconomic situation in the who live.
All mothers have something special, although due to their difficulties they do not participate in the labor market and do not always have their own income, they live in conditions of poverty at family level and often have less power to decide on the destination of family resources. . This puts them in a disadvantaged position and if they do not have the support of a partner, they become heads of family and face alone the family's financial needs, in many cases without preparation, without study and without experience to obtain a job. of quality and well paid.
Most of the children who attend the Corporación Sobre Survive experience this type of family, however, for them there is no better hug and a more magical formula than that of their mothers or grandmothers and aunts, who cure everything, in times of illness and sadness.
That is why in this month we recognize those efforts, sometimes less evident than at other times, but convinced that the hand of the Corporation OVERCOMING can help them so that their children and themselves can move forward.
In the month of April and as part of the strengthening of the mothers and grandmothers of the children, we began to invite them to an easy cooking class, teaching them the importance of varying the food and taking advantage of the products of the harvest.
We invite you this month to dedicate these contributions to those mothers and grandmothers who, although in unfavorable conditions, never stop fighting for their children!!!