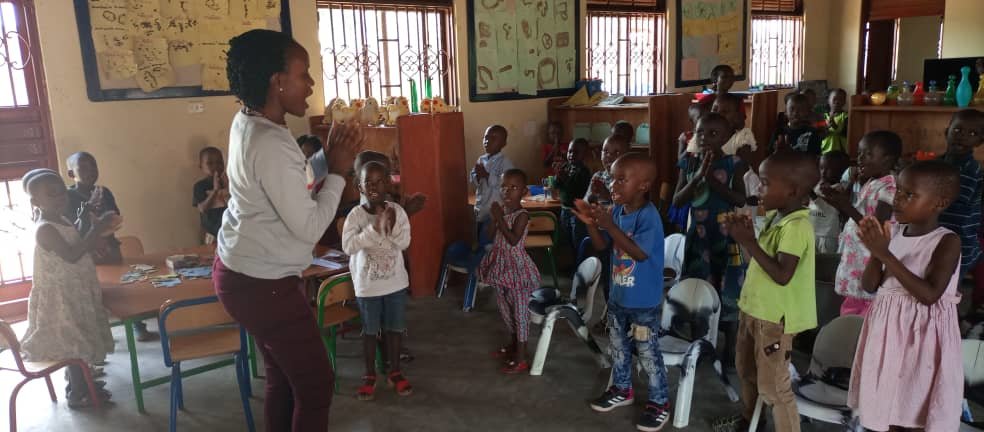 Thanks to the GlobalGiving community and other supporters, Kathy's Kindergarten in Mayuge has provided high-quality early years education to hundreds of pupils. We are so proud of our early years teachers Jennifer, Grace, and Joan who educate the young learners with great care and enthusiasm, breathing hope into their lives.
Sadly, Covid19 has impacted the education sector in Uganda to devastating effect. Over the past 2 years, schools in Uganda have been closed more than they have been open. According to a report by the African Development Bank, Ugandan students have missed out on more days of school than children in almost any other African country (second only to Ethiopia). During the Ugandan national lock-down in 2020 our kindergarten teachers reached each pupil with home-learning support and vital food supplies for the most vulnerable families.
In May and June 2021, during a brief window in time in which Covid19 restrictions were eased, our teachers reached all 60 of our current Kindergarten pupils with catch-up learning. We also ensured that each pupil completed and passed their mandated end of year exam to allow them to move up to the next year of education, a major success!
On 11th June the government of Uganda announced a new national lock-down which lasted for 42 days. During this time, not only were all school closed, but strict travel restrictions meant that it was difficult for the majority of people living in Mayuge District to earn a living, farm their fields, or access markets. For people who live hand to mouth even in usual circumstances, this meant that each day was a fight for survival.
Now that the lock-down restrictions have once again been partially lifted, our Kindergarten teachers are able to contact Kindergarten pupils and their families in Covid19-safe ways. However, our kindergarten remains closed, along with every other school in the country.
A glimmer of hope can be seen on the horizon. Recently a limited number of Covid19 vaccine doses have arrived in Uganda and the national government has declared they will prioritise vaccinating school teachers. Our kindergarten teachers have been invited to have their first dose of the vaccine, and we hope that all teachers in the country receive their vaccines soon. Only when all of the nation's teachers are vaccinated will schools be allowed to reopen. This process is likely to take months to complete, but we look forward to the day we can once again welcome our young pupils at Kathy's Kindergarten.
One parent's quote says it all "Kathy's kindergarten is the best school have ever seen in Mayuge, the teachers are exceptional, the teachers have made my child to love school and it has boosted her mentally."
Thank you again to everyone in the GlobalGiving community who supports this vital work. We couldn't do it without you!
Kind Regards,
Madelaine Johnston
CEO of Act4Africa UK