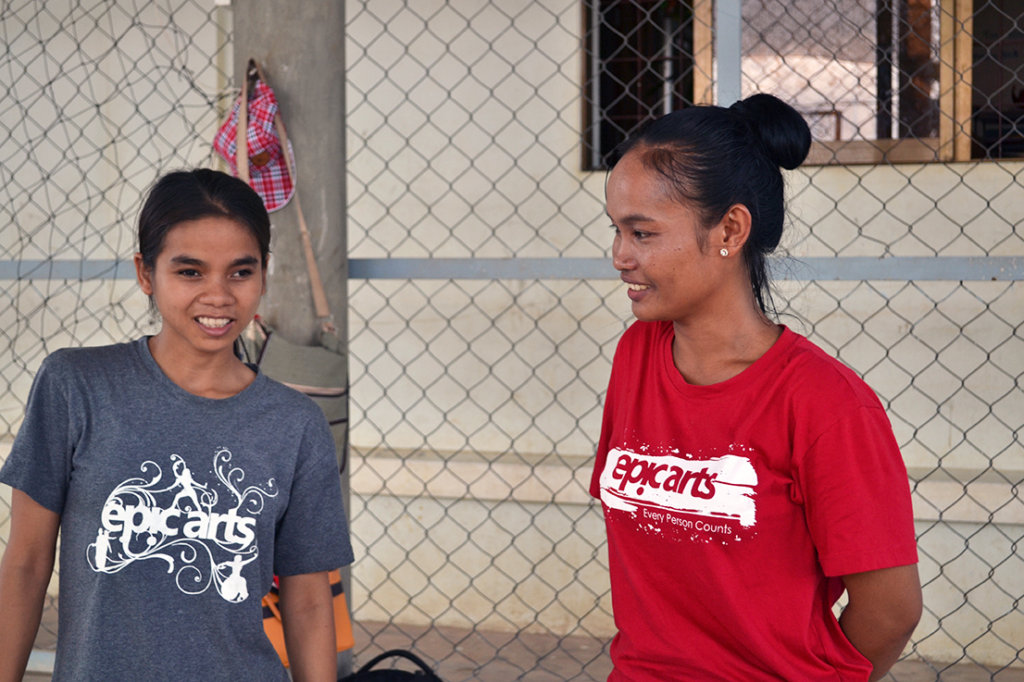 Happy Khmer New Year! It's the start of a new school year here in Cambodia. We're still on our mission to bring art to children in local schools and to change children's perceptions about people with disabilities.
Savun & Chea have recently graduated from our Inclusive Education Programme. Over the past two years they've been exploring performing & visual arts with Epic Arts. They've joined the new mix of facilitators who're leading the Arts in Schools project this term.
Savun tells us how she was feeling about leading her first Arts in Schools workshop.
____
"I'm excited about the workshop, it's my first time working with these children. I would never have thought that would have the chance to teach children at school!
I've learnt a lot in the past two years at Epic Arts not just about the arts but about being a leader as well.
Today I led the introduction and warm up with the students. I was a little nervous about it. When we got to the school I asked to rehearse with my team leader Thou.
The workshop was fantastic! It was our first session so we played games and led some movement activities to get to know the new students.
My favourite thing about the workshop was seeing how much fun the students were having!
I was very surprised by the children's attitudes. They remembered and respected the facilitators from last year.
Usually when I meet children they stare and ask questions about my disability. I was glad they didn't stare, it's clear the children today think differently
I'm really looking forward to coming back and working with the children next week! "
____
Thanks to your support and donations we've been able to continue to lead Arts classes in Kampot schools.
Savun picked up on an exciting observation - that bringing in two new facilitators, who both have physical disability, has highlighted how the students react to disability. This wouldn't have been possible without having consistent workshops led by our team.
Thank you for being part of helping us change perceptions about disability