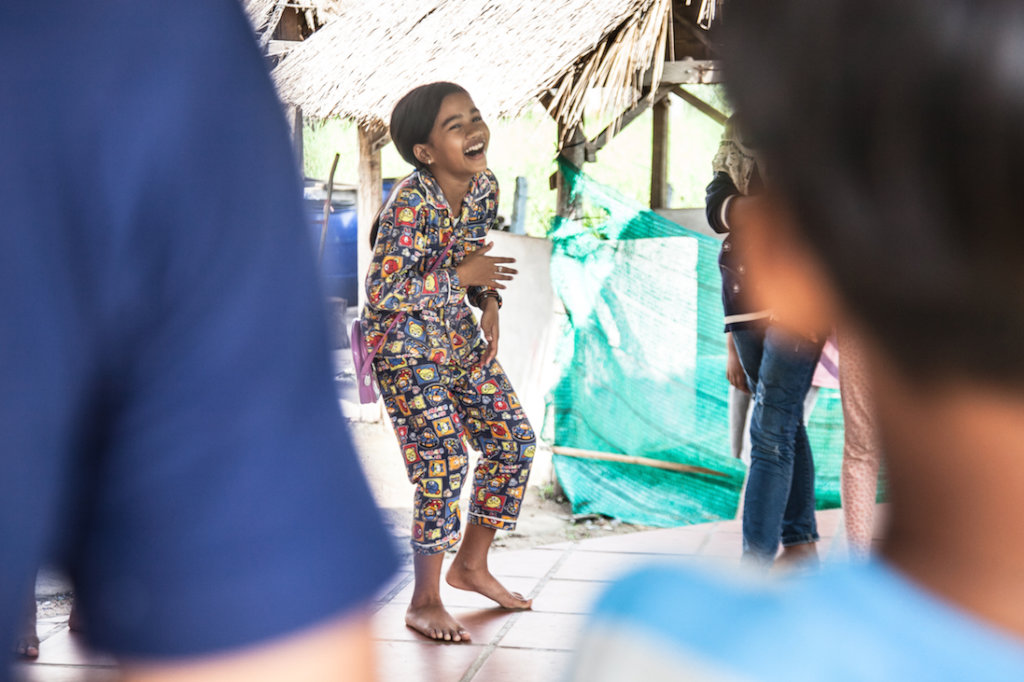 Happy new year from everyone at Epic Arts! Thank you for supporting our Arts in Schools project.
In 2017 we delivered 48 arts classes at 2 schools in Kampot province. We also employed two new facilitators who graduated from our Inclusive Arts Course in April and showed talent for facilitation and performance.
Chea is one of the new members of the team and he enjoys going to teach children on the Arts in Schools project every week.
"I really love teaching the children on the project. At first I was shy in front of them and they seemed a little scared of me. Over time I've built relationships with the children, I've seen a change in how they are around me and my disability. At the start they seemed frightened and laughed, they didn't want to touch my arms. Now they are happy to work with me and they feel comfortable around me.
What I like about Arts in Schools is how happy the children are to join in. Their teacher told me a few times that they can't wait for us to come every week."
Chea joined Epic Arts Inclusive Arts Course in June 2015, here is his story:
"I didn't know that when I joined Epic Arts I'd grow in confidence and that I'd discover a talent and passion for arts"
Che dropped out of school when he was 16 to help support his family. He worked on construction sites around his home town for five years. In 2011 Chea started working for a new company.
"It was a good job, I'd been working there for 20 days when my boss asked me to install a roof. I'd done this loads of times before so I climbed up the 4 metre-tall concrete column to begin my work. I don't remember much after that except my life changed forever. I was holding the metal roof panel. I didn't notice the electricity cables above me. Thinking about it now, it was a death trap."
Chea was electrocuted and was catapulted through the air down to the ground. The accident led to Chea losing both his forearms. Chea spent three years in a deep depression, hiding himself inside from the world. With the help of his family he slowly started to come out of his depression and soon after he heard about Epic Arts.
"When I went to Epic Arts for the first time I was so surprised, the people all had disabilities but they were having fun and they were happy. That's when I knew I wanted to join Epic Arts"
After three years of studying & working at Epic Arts I am myself again! I wake up happy everyday something I never thought I'd feel again. I think that because of Epic Arts I have a future and I can do anything I want.
If you'd like to support Chea and the team delivering the Arts in Schools project please consider donating again or setting up a recurring donation to our project. Your donation will help support Chea's salary and materials for the children who take part in the programme.