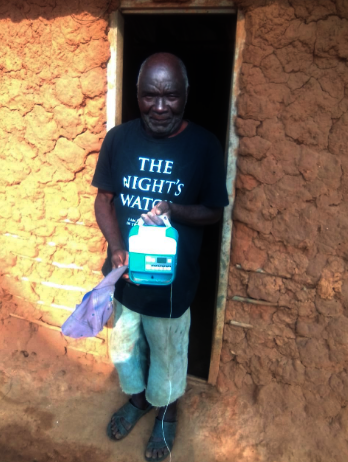 Greetings! I hope this project update finds you safe and well.
Over the past four months, Energy 4 Impact has been working hard to ensure that vulnerable people across the poorest regions in Kenya have solar power installed in their homes. As the following stories illustrate, solar energy has made a vital difference in the quality of their lives.
Karisa is a 71 year-old widower living in a small mud hut alongside seven of his children. The solar system on his roof provides bright indoor light that enables his children to study in the evening. The motion detection sensor of the external light also helps his family feel more secure at night. Karisa is now able to save the $14 per month he would have spent on candles and paraffin. He can also recharge his phone easily in his own home. Moreover, the solar kit enabled him to listen to the radio during the peak of the coronavirus pandemic, so helping him to stay informed about the spread of the virus through his region.
Kazungu lives in a tin-roofed mud hut with his wife and four children. Before the fitting of indoor electric bulbs, his children suffered from red eyes and runny noses from the smoke of burning paraffin. Not only has their health improved, the bright light also help his children study in the evening. For a casual worker like Kazungu, the restrictions imposed to control the coronavirus pandemic have had a dire effect on his already precarious income. Saving the money previously spent on candles and phone charging fees is therefore helping Kizungu and his family stay afloat during this turbulent period.
Kadzo is a 53 year-old mother of six from a small rural village. She testifies that living without electricity is often a frightening and isolating experience. Whilst the coronavirus pandemic has plunged the country into crisis, at least her solar powered radio has helped the family stay informed and entertained. Kadzo was also able to track the latest news on the crisis: 'Were it not for the radio, we would have very little knowledge of COVID-19'.
Mwenda is a 44 year-old widow living in a modest mud house with four school-age children. Apart from providing lighting inside and outside her house, the new solar system allows Mwenda to offer a phone-charging service to her neighbours, generating a modest income stream that helps feed her family. Her neighbours also benefit from this phone-charging service as it enables them to stay on call for casual work coming up at short notice. Previously, the expense of paraffin meant Mwenda had to limit the time her children spent on homework in the evening, but now electric lighting allows unlimited reading time. When the coronavirus pandemic forced the closure of schools, her children could follow some educational programmes on the radio. 'I don't know how it could be without this radio,' says Mwenda. 'It keeps my children learning rather than idling around.'
Solar technologies offer a safe and affordable way to light unelectrified homes, schools, clinics and businesses. But too many poor communities in Africa still live without access to electricity. By lighting up these communities, solar power helps lift them out of the most abject poverty. We thank you for your generous contributions so far and gratefully ask you to keep supporting our work.
Warmest wishes
Alessandra