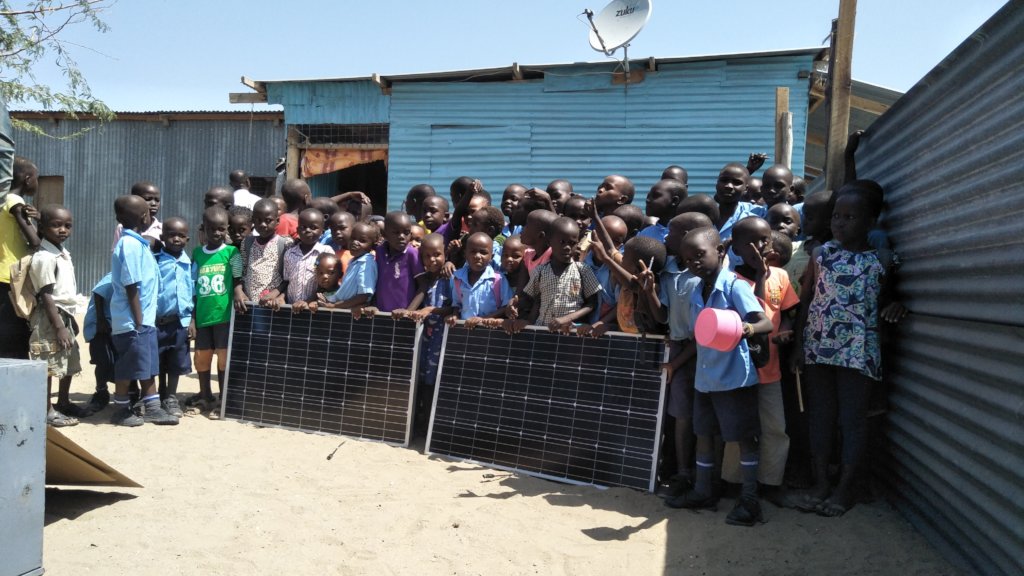 Dear Supporter,
It has been three months since I last updated you on the Powering Villages Project's progress, so I wanted to share an example of the kind of transformation that a new supply of solar power can, with your support, bring to rural schools.
In Turkana, one of the poorest regions in Kenya, affected by frequent droughts and terrible famines, Kalokol Junior Academy, which serves 226 students (110 girls, 116 boys), is now fully electrified. The solar photovoltaic panels that we've installed on the school roof provide lighting for 13 rooms including several classrooms a staff room, a kitchen, a dormitory, a washroom and a shop. They also provide power for computers, two fans, one TV, one laptop and 1 fridge.
This has helped increase study time by facilitating early morning and evening classes. The student population in the area is quite large and the teaching staff and facilities are scarce. With proper lighting the school can squeeze in more classes, starting early in the morning and later in the evening when it's dark.
Some students are also motivated to remain at school after normal hours, tapping into the new ITC resources or playing music on the keyboard. The Head Teacher says that students feel safer in a well-lit environment and their parents now encourage them to participate in activities before sunrise or after sunset.
The school is very entrepreneurial, and has recently started using the surplus electricity to open a small shop and a restaurant, which offer typing services, refrigerated drinks, food and entertainment (through a TV) to the local community.
These two small enterprises generate precious extra revenue to cover school-related expenses as well as the solar systems' maintenance costs.
Thank you again for your generous support.
Please consider sharing this link with your friends: https://www.globalgiving.org/projects/give-african-villages-a-clean-energy-boost/. It will help us grow our community of supporters and raise more funds so we can extend the impact of our work.
On behalf of everyone at Energy 4 Impact I would like to extend our warmest wishes for a Merry Christmas and a Happy New Year.