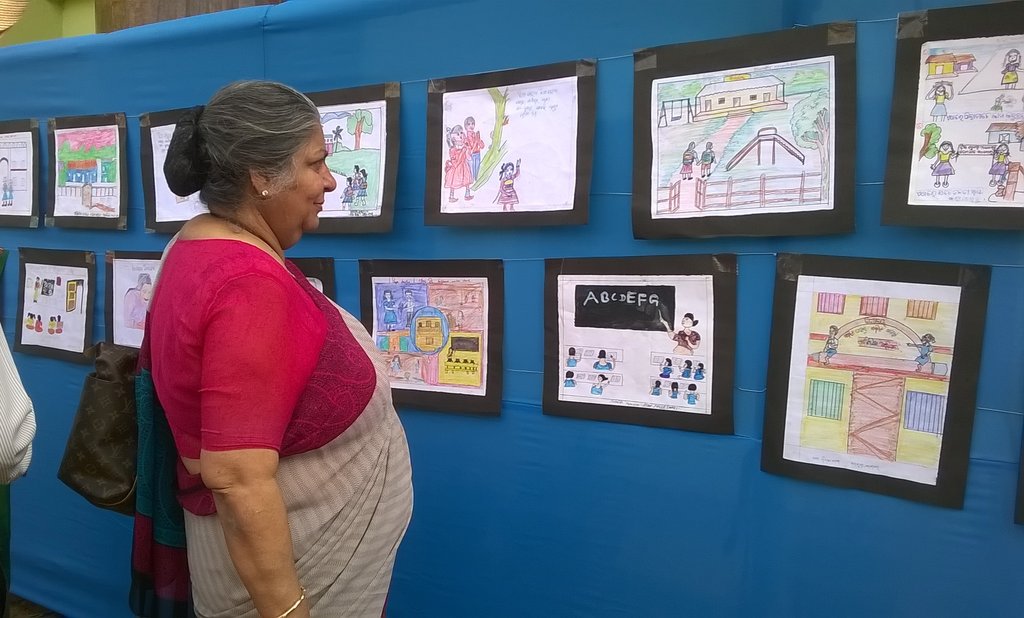 Education where learning is not limited with mere Academic Proficiency
The organization who is working for the underprivileged children, with its 30 years of exertion it builds the future of the children with its most primitive weapon –'Education'. It believes the education should not limit with the proficiency in Academic qualification but with all round development associated with the childhood to develop a responsible citizen. Along with the formal education it aims to widen the inner skill of the children. It elevates their spirit to participate in different competitions and win in the race of life.
'Educate Girl Educate India'
Out of 3000 slum children in the Remedial education centre majority are the girls. A painting Exhibition was organized by "Ruchika Social Service Organisation" on theme 'Educate Girl Educate India' on 21st February,2015. 300 remedial girl students from 105 centers were draw their painting and exhibit it at Ruchika SMART office. The Chief guest are Mr. Vineet Nayyar, Executive Vice Chairman of Tech Mahindra and Mrs. Reva Nayyar, Director in Essel Social Welfare Foundation, Sri B.K Mishra, Senior Vice President of Tech Mahindra ,Hyderabad and many associates of Tech Mahindra Foundation, Bhubaneswar were visited the painting exhibition and appreciated the endeavor. The best ones are praised to participate on next corporate painting competition
The Exhibition inaugurated by Mrs. Reva Nayyar, Director in Essel Social Welfare Foundation in the presence of the Mr. Vineet Nayyar, Executive Vice Chairman of Tech Mahindra. All of them visited the exhibition. They highly praised the painting of the students.
"Madhukatha Pratiyogita"
Know about the life sketch of eminent persons in the society / country and take part in the debate/ one act play / fancy competition relevant to these peoples – an initiation from the organization for these marginalized slum children.
In the eve of foundation day of Utkal Dibasa, "Madhukatha Pratiyogita" organized. Children from several organizations, schools and institutions participated in the competition. Topics are debate/ one act play / fancy dress competition on life sketch of Utkal Gourab Madhusudan Das Known as 'Madhu Babu' by the common people. Madhu Babu worked for the political, social and economical upliftment of the people of Odisha and served the mother-nation as a lawyer, social reformer and patriot. He founded Utkal Sammilani which brought a revolution in the social and industrial development of Odisha. By his long political fight he unite Odisha & modern Odisha took birth on 1st April 1936. This date is celebrated as Utkal Dibasa. 18 numbers of remedial students participated in the events and Rojalini Sahoo from Narayan Basti remedial centre awarded with 3rd prize in one act play on Madhubabu Besa Posaka.
Taking part in different competitions not only build the self confidence among the children but also it accelerate their inner talents to become a successful & responsible citizen in the future. The organization in its day to day intervention with the children tried to fruitful the slogan "Today's child is the future of tomorrow".