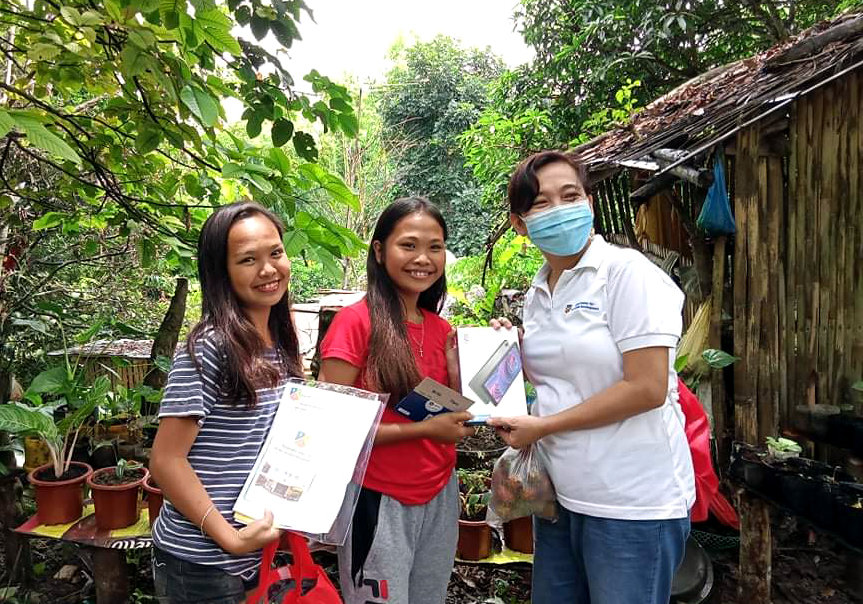 The COVID pandemic has been a time full of challenges. In the Philippines, schools are closed and face to face teaching is prohibited until further notice. "From the beginning of the pandemic, I was aware of the extraordinary challenges that online learning would pose to teachers and students", Sarah, the Vice Director for Student Affairs at Banilad Center for Professional Development, explains.
In spite of the challenges, Sarah is determined not to let the pandemic get in the way of her students' education. "The enrolment figures for this school year show that COVID cannot cancel life's essentials such as education", she adds. With WONDER's support, Sarah and other teachers are distributing tablets and data to young women so they can continue their education online while the school is closed.
"We were accompanied by torrential rains and we reached the last village at night time. Only then did I understand the daily perseverance of our students."
It took Sarah and her team three whole days to distribute the tablets to young women living in the mountainous island of Cebu. On the first day, Sarah and her team trekked under torrential rain and only reached the last villages at dusk. "Only then did I understand the daily perseverance of our students", Sarah explains.
Many of the young women who study at Banilad take this trip twice a day to get to and from the school. They still manage to arrive on time and ready to study. The difficulties Sarah and her team faced distributing tablets highlight the determination of young women to continue their education. "Without COVID, I would have never discovered all the beauty of my students", she adds.
Thank you for your commitment to transforming the lives of women and girls through education.
With gratitude,
Camille Thirot and the WONDER team