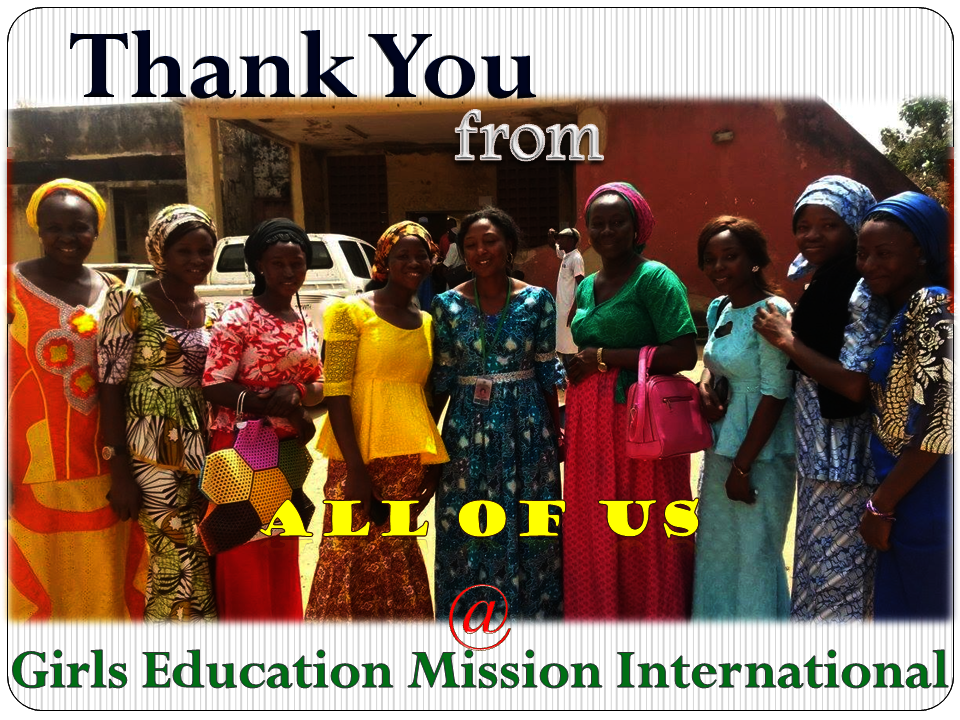 Dear GEM Supporters,
Happy New Year! It has been incredible years of fundraising with each and every one of you and we are so humbled to have such an inspiring community like you every day. As we bid the old year goodbye, welcoming the new year and preparing for the years ahead, may I congratulate us all for our hard work and determination that led to our organization to be invited to continue fundarising on Globalgiving as a permanent partner despite the fact we were only able to raise $660 from 40 donors against the threshold goal of raising $5000 from Donors!
This means that starting for now, Girls Education Mission International will be permanently featured on GlobalGiving's website, where we have the potential to benefit from corporate relationships, connect with new donors, and access online fundraising tools. Additionally, we could earn bonus prizes from GlobalGiving for raising the most money.
We are so incredibly grateful that we have the privilege to work with inspiring persons like you. Our past years of fundraising were filled with thrills for us as an organization, seeing us coming together to accomplish the much that we have despite all odds. We started from a humble beginning with a lot of doubts and fears. However, your understanding, engagements, commitment and consistency in your support have brought us thus far. Although we are not there yet, but we are taking assured step believing that with more diligence, perseverance and patience, we shall collectively achieve our goal of raising the full $5000 on globalgiving to unlock platforms fees as low %5 against the %15. The self-assured way we have made progress in our fundraising would not have been possible without your love and belief in our Vision, commitment and personal sacrifice all of which have kept us going.
We didn't do recap of our past years of fundraising; we spent a lot of November and December really putting much of our time fundraising. Overall, it was a very hectic end of year campaign for us as an organization. However, we will soon be in touch with updates regarding what we have accomplished together and making our mission possible. Until then, I would like you to note that we have strength in numbers, and when we work together we can have a huge impact. So I'm asking you now to get as many people as you can think to join us in fundraising with us for a better life of our teeming girls. Please invite your friends, family members, colleagues and all your networks to support us. Together we can make the change we want to see in the lives of the most neglected and vulnerable group (Women and girls).
Help us keep our incredible work going by sharing our project. Please share this link as widely as possible: https://www.globalgiving.org/projects/girls-scholarship-program/
We will be highlighting some of the key wins that we achieved in the past years of fundraising with globalgiving which are your success too. We couldn't have being here without your support.
CONGRATULATIONS TO US ALL!
WISHING YOU BEST OF NEW YEAR!
With gratitude from
Keturah Shammah
Project Team Leader
Girls Education Mission International
Links: