Let's get started:
After kick starting Girls in the Lead by visiting our contact organisations in Kenya, India, Germany, South Africa and USA and by keeping digital contact with partners in Sweden, we have started our workshops. We analysed the needs of our partners, based on which workshops in the USA, Germany, South Africa, Sweden, Kenya and India were implemented. Additionally, we kept developing our digital platform and increased joint advocacy activities.
Workshops:
Five workshops were implemented in 2019 and one workshop in 2020.
Workshop USA: On September 27th, our first Girls in the Lead workshop took place in St. Louis, USA with 26 participants from 11 organisations. The workshop was co-hosted by Girls on the Run St. Louis and Gateway Region YMCA. The participants evaluated three main barriers for girls to participate in sports (lack of transportation, responsibilities in their families and parental engagement) and discussed solutions for these challenges such as pop-up gyms as well as school and parent outreach.
Workshop Germany: On October 18th, our second workshop took place with 18 participants from 14 organisations. Co-hosted by Seitenwechsel e.V., the participants developed specific measures for improving sports structures and the general sporting situation for girls and women in Berlin. The participants of the network have regular meetings to continue their thoughts on the implementation of joint action.
Workshop South Africa: On November 28th, co-hosted by Boxgirls South Africa, our third workshop was welcoming 10 participants from estimated 5 organizations to discuss how to create gender awareness among coaches. During the workshop, the role of coaches in regards to gender equity was discussed and the different participating organisations supported each other in regards to tackling gender stereotypes within their community.
Workshop Sweden: On November 29th, our 4th workshop took place in Stockholm with 4 participants from 3 organisations. The participants discussed the influences of elite sports on recreational sports, grassroots sports and children sports and mapped out causes, consequences and visions for an inclusive sports system.
Workshop Kenya: On the 3rd and 4th of December, our 5th workshop hosted by Moving the Goalpost took place in Kilifi with 45 participants from 28 organisations. The workshop was visited by a variety of participants from the Kenyan sport for development sector. It discussed topics such as how to generate evidence base on equality gaps that exist in girls and women football and how to generate solutions to identified challenges and gaps in women football.
Workshop India 2020: On 27th and 28th of February, co-hosted by NAZ Foundation, the final workshop for the first phase took place in India, co-hosted by NAZ foundation. Programme design was one of the needs identified at the workshop. Additionally, the organizations wish to exchange in the following areas: safeguarding policies and implementation, promoting the engagement of parents, monitoring and evaluation as well as funding.
Digital Platform and Advocacy:
Our digital platform has been launched and filled with interactive resources in order to strenghen the organizational capacities of our partners in the field of sport for development for girls and women. The platform is constantly being improved and extended.Our resources and modules can be found here: http://www.girlsinthelead.org/copy-of-modules
Further, we constantly get the message of gender equity out there and feature our partners and great stories on female achievements around the globe: http://www.girlsinthelead.org/blog
We thank all supporters and look forward to keep working for more gender equity in sports.
Kind regards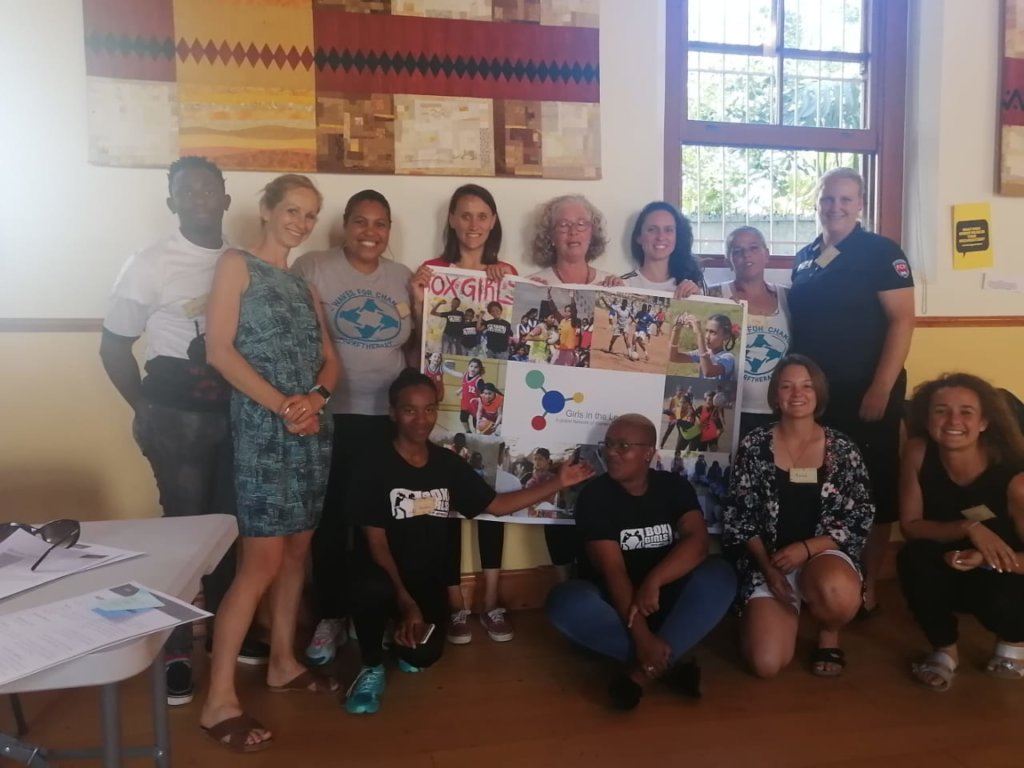 Links: