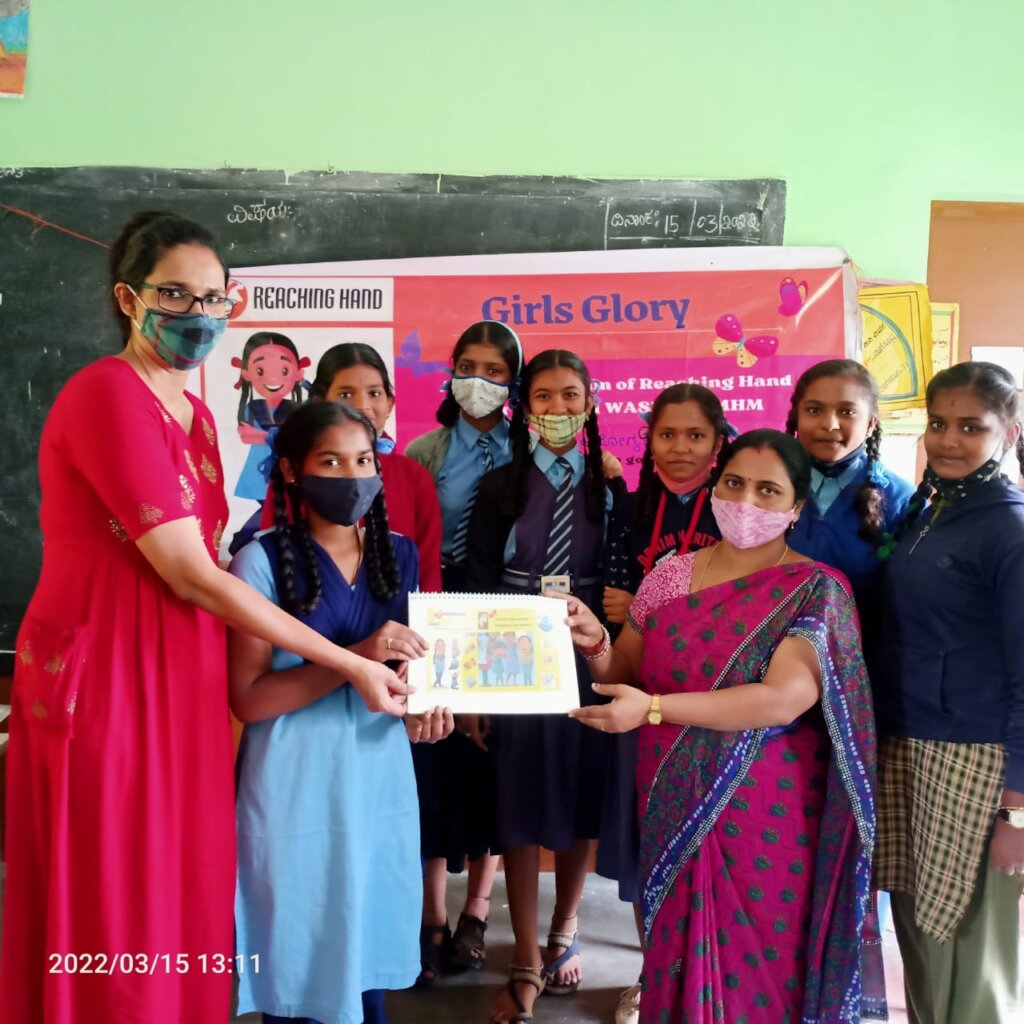 How fulfilling to start the report with these beautiful testimonies of Govt school students Sneha and Manasa! Though we are in 20th century, some parts of our state are underprivileged and still under-equipped to maintain a clean environment. Our "Girls Glory" project aims to educate the future citizen of this country to be equipped with knowledge of WaSH and Menstrual hygiene to see Swachh Bharat coming into reality. Our projects are designed to provide the required facilities in the Govt schools to build a toilet and washing unit facilities and teach the students on hygiene practices.
It is a privilege to work with the young generation by sowing the seed in their hearts and minds. After our MHM Workshop sessions, Sneha came up saying that no one taught her these essential things including her mom. Here is what she says, "The old toilet in the school was untidy and smelly, during the rainy season drainage water use to fill-in the toilets as the central drainage are close to the school building. We were not able step into the toilet. Many a time, we have spotted snakes inside the toilet because of the drain water. So, I used to skip coming to school during rainy season. It was a tough time for all the students and specially for Girls during their menstrual cycle. I truly want to Thank Reaching Hand for their Girls Glory project. I am relieved of the fear of snakes inside the restroom. Thanks for building the toilet in our school. It gives a self-esteem and confidence to come to school without any hesitation. Hand washing unit and Incinerator facilities are additional to encouraged me to come to school even during my periods. WASH and Menstrual hygiene workshops changed our mindset, we learn how to maintain personal hygiene during periods. I learnt how to use pads, hygiene during periods and preventing infections. Apart from that we received WaSH and MHM kit. I will never forget these learning, I will share the information with my friends too".
Manasa is a student of 7th grade in GKPS Nagsandara school. She is one of the WaSH committee leaders. Here is her testimony in her own words, "After the Workshop, Reaching Hand has organized WaSH committee and the committee leaders were selected through nomination, I was one among them, it was an exciting moment for me. The WaSH committee leaders are responsible to monitor the cleanliness of the built toilets and other facilities. I started lovingly encouraging my friends to keep the washroom clean after the use. This has given a great result in our school. We are thankful to Reaching Hand for this facility.
Menstrual Hygiene Management:
Menstrual Hygiene awareness programs were conducted in 6 schools for 350 Adolescent girls. Girl children were oriented on importance of maintaining and practicing menstrual hygiene, safe disposal of sanitary napkins, myths and taboos etc. Workshops were started with the icebreaking session to make the beneficiaries comfortable with the topic.
Below were the discussion points:
Socio-cultural beliefs and taboos surrounding menstruation
Girls' understanding and knowledge of menstruation
Current menstrual hygiene practices in schools
Teaching of puberty
Interpersonal relationships and
Psycho-social support
Recommendations for better menstrual hygiene management
Premenstrual symptoms
Balance food habits
Tips and exercise to manage the period cramps
Benefits:
Girl students have an understanding on how to calculate their menstrual cycle, which was one of the major drawbacks as most of the girls come unprepared to school during their menstruation days.
Workshops created the environment for the students to openly discuss their issues and problems faced during their menstruation.
In total, 1509 students were benefitting from our sessions.
Installation of Incinerator:
We have installed incinerators in 6 schools and oriented the girl students and the school staffs on how to use it in the correct manner. Explained the "do's & don'ts" while using the incinerator.
Sensitization Workshops in School:
Our sensitization workshops were focused on Group discussion, brainstorming to recall their learning. These were the follow up session on WaSH (Boys & Girls) and MHM for Girls. It was overwhelming to see their responses and many of them started practicing the WaSH techniques already.