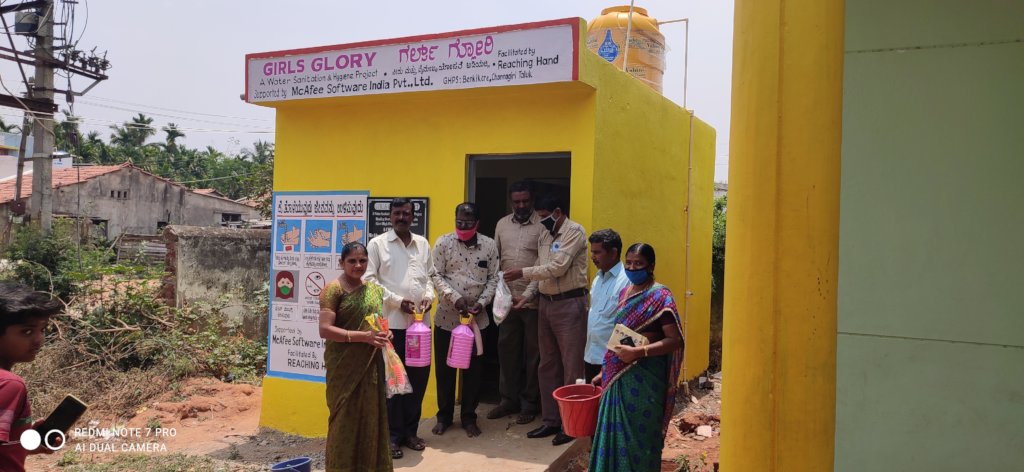 Menstruation cycles do not stop during pandemic! Many girl children are not educated on Puberty even in this 21st century. There are loads of menstrual stigma and taboos about menstruation even in the rural areas of metro cities like Bengaluru. Hence, our responsibility is to continue to reach out to the Girl students through schools and train them on how to handle their puberty changes physically and mentally.
MENSTRUPEDIA COMIC BOOKS AND MHM KIT DISTRIBUTION
Along with the training, we came up with a material called "Menstrupedia". It is a comic on period guide for girls ages 9 and above. Menstrupedia comic is a guide to educate the girls around the world on menstruation. Menstrupedia aims to help girls understand the process of puberty in women. It seeks to destroy myths around menstruation and to normalize the biological process. Our focus is to hide distributing the comic book to break the taboos from children's hearts. The perception of menstruation has to be changed.
It helps girls to understand their bodies better and not let society shame them for their biology. It represents a stage of adolescence girls who haven't started their period yet and want to learn more about them, girls who have just started their period and want advice on how to prepare for them and girls who have had periods for some time and might be curious about the myths surrounding them, We believe this book is helping all the girls to be strong and overcome shyness which is associated with being a girl in this society.
RENOVATING THE TOILET
Renovation of existing non-functional restrooms and construction of Restrooms in the schools, were taken up as per UNICEF usage norms of 1:35 (1toilet for 35 children). After choosing the best location in consultation with the school management, contractors from the empaneled contractors, were assigned construction work through 'Work Orders' with detailed specifications with quality check, monitoring and payment norms. Our Reaching Hand team visits the field to monitor the Progress of work jointly by the school management. Renovation and Construction of restrooms in 4 schools successfully completed and handed over the respective school management. After toilet building completion keys were handed over to the school management .
INSTALLATION OF INCINERATOR
The Incinerators have been installed in all the 4 schools, the below are pictures depicting the same. Leader of the school showed the demo of handwashing to other children as during the pandemic we need to be very careful.
REGULAR MONITORING VISIT
The project coordinator carried out regular monitoring visits to all the schools to check how school management is using the toilet and how they are maintaining it.
FEED BACK
"I was not confident to go to school during my periods, but now I attend school without any embarrassment." I am Sandhya studying at Shri Mannamma High School Hebbalgere. Today's Menstrual Hygiene session was very insightful for all the girls. Since our school belongs to the Hebbal Gege (Chennagiri), a rural village area, menstruation and menstrual practices still face many social, cultural, and religious restrictions which are a big barrier for girls to continue their education. I am so lucky to be part of this session. In village areas, girls are not prepared or made aware of menstruation, so we face many difficulties and challenges at home and at school. Girls and women have very less or no knowledge about reproductive tract infections caused due to ignorance of personal hygiene during the menstruation period. Today, I learned how to take care of myself during my monthly cycle. I learned about all the physical changes that happen, how to be prepared for my next cycle, the right way of using a sanitary pad and to change pads every 4-6 hours, proper hygiene practices during periods, how to prevent infections, the right way of disposing sanitary pads, how to use the incinerator machine and taboos are menstruation.
The session was very knowledgeable and easy to understand. Now I feel more confident during my monthly cycle I can come to school without any embarrassment, "I was not confident before but after this session, I feel more positive, and my self-esteem has improved. Thank you so much for boosting my confidence and making me feel safe in the school environment."
The following list provides an overview of the project
3800 Masks and sanitizers were distributed in the community