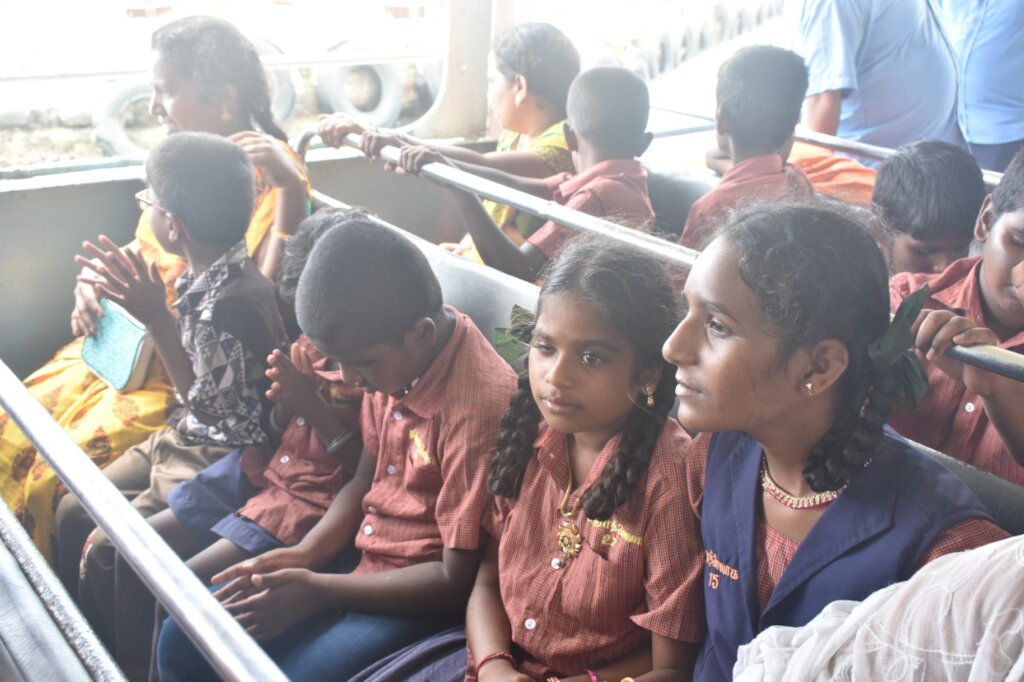 In September 2021, I visited a school for visually challenged children, it had around 50 children and they were in their break time. while having a casual discussion with them, all of their request was to take them to an outing or tour, so through local donations we took them to a day trip to Kanyakumari (the tip of India) where 3 oceans meet, waterfalls near by, boating and many more. We named it "Feelable Trip" because they cannot see but feel their first time experience of their feet touching the waves, sound of the waves, the enjoyment in the waterfalls for huge and boating also was too good for them. This is their first trip/tour in their life time, first time going for a boating, sea, waterfalls and many more.
I am happy to share that we are impacting lives of differently abled Children. We are doing it with a social cause for good mental health, education and knowledge for children and youth who learn only in text books. We have also planned Industrial visits for differently abled college students. We have 3 goals:
1.Disadvantaged children also have their right to enjoy their childhood
2. Mental Health always matters
3. Where you go imprint your solution for environment.
There are around 21 schools like this, most of them have not gone for any educational trips like this. For these Children school education is not an affordable thing and trips are considered as luxury. So, we planned trips for Differently Abled kids but without your supports it is not possible.
A visually challenged boy who is doing is 5th grade says, "my parents are daily wage workers and I had this wish of going to a tour from my small age, I thought it is not possible for I come to school via free bus, only 2 buses are available and daily I wait for one hour to catch the bus, because if I miss the bus I will miss that day school, my parents earning will be enough only for food and stay needs. Parents of families like ours consider tour as a luxury factor and some relatives ask how can you enjoy a trip without seeing so I buried my dreams within myself. First of all thank you to all who took me to trip because this is my first trip, long one with my friends, danced and enjoyed in a travel, first time took breakfast in a hotel, my mom usually gives rice porridge if she cant cook, first time hearing the sound of waves and experiencing my first footprint in a sea, I loved each moment the waves touched my feet, the boat experience made feel that I and flying whenever a boat hits a wave, the best part was the waterfalls, initially I had the fear but teachers took me and it was the best in my lifetime." He had happy tears when he said.
We will all start gifting this new experience for them.