Project Report

| Jul 19, 2018
One Step Back, Two Steps Forward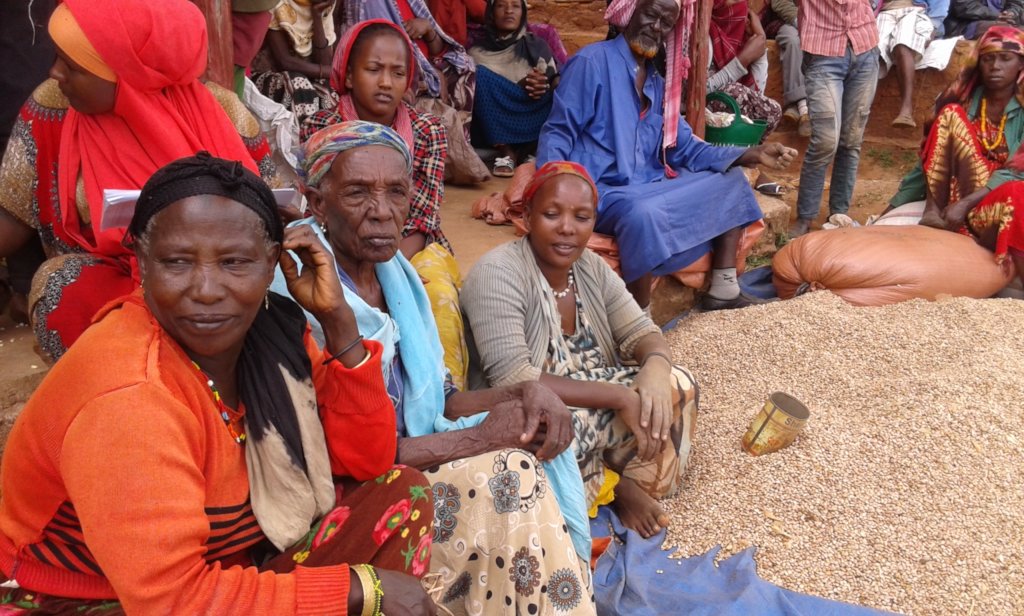 Hi folks!
In our last report, we shared some context for the communities that our lead partner, GrowEastAfrica, is working with on the ground in Ethiopia. Positioned at something of a crossroads for Kenyan - Ethiopian IDPs (Internally Displaced Persons), GrowEastAfrica is constantly adapting their program to accommodate the shifting political climate and resulting change in their communities. We recently had the privilege of catching up with co-founder Yohannes Chonde about what's happened since the spring, and his vision for the future.
We're sad to report that not everything has worked in their favor. First, hostilities in the area continue to prevent farmers from planting, tending, and harvesting their crops. (You can read more about this here and here.) Farmers' lives and property are in real danger, and they avoid the conflict as a matter of survival. However, in avoiding conflict, farmers lose time that they need to spend plowing and sowing, and what they do sow is often looted or burned. The next few months will be very challenging for the farmers and those who depend on those crops for food. In response, GrowEastAfrica is leading an effort to provide two months of grain rations for their IDP communities, and a small amount of cash for essential needs like medicine and housing. These communities don't receive much assistance from the Ethiopian Federal Government or other humanitarian organizations like the Ethiopian Red Cross, so most of the support is coming directly from Burji District residents, who are very poor themselves.
"Rain burned everything that we had planted." — Yohannes Chonde
Weather has been another major challenge. This project began last year as a response to severe drought in the region, but this year's rains have proven to be too much. All of the spring seedlings, some of which you can see in the photos attached to this report, were destroyed. Farmers tried to plant a second round of crops in several locations, but all of those seedlings were also destroyed. The wet ground prevented GrowEastAfrica farmers from preparing the new field, and they were only recently able to start plowing. Between the conflict and the weather, most farmers have lost their livelihoods.
Moving Forward
Because of your donation, GrowEastAfrica is already preparing for the next growing season. They will be purchasing seeds, installing a water tank, renting a tractor to expedite plowing, and preparing the new land they've leased for their farmers — all forward movement.
In addition to farming activities, GrowEastAfrica is training the Soyama Ladies' Association and facilitating exposure to local markets. Agricultural training is being offered in partnership with the Burji District Agricultural Department staff. Complementary training around proper hygiene and sanitation will help farmers maintain the quality of their produce and extend its shelf life with proper handling, packaging, and storage. Finally, they're working with these women to develop an understanding of the local markets so that they will be prepared to sell their crops when the time comes. Yohannes is also in negotiation with a local NGO who could potentially package and sell their produce throughout Ethiopia and neighboring countries.
Bridging the People Gap
This is not simple work. Yohannes deeply and ongoingly assesses his program, and he continues to build strong relationships within both the IDP and local communities. GrowEastAfrica is tasked with not only providing a short-term solution for folks who are fleeing their homes and establishing new lives, but they must also provide a long-term solution that enrolls and integrates local communities in ways that benefit both groups.
For instance, they're currently sharing a water well with surrounding villagers that's located on GrowEastAfrica's newly-leased land. This will work for now, but they already have a plan to install a separate water system that will allow villagers access to water without competing with GrowEastAfrica's farmers. (They'll eventually add a drip-irrigation system, but that's a story for another report!)
"Change comes from more than one spark, if we have enough firewood or grass, it will start taking off. If the results are clear to our friends, they'll see it and offer more help. This is community-based self-help to improve lives." — Yohannes Chonde
What Yohannes and GrowEastAfrica have already accomplished is inspiring. Despite the setbacks described in this report, he remains not only hopeful, but determined to succeed. Thank you for your support of Yohannes, GrowEastAfrcia, and this project!