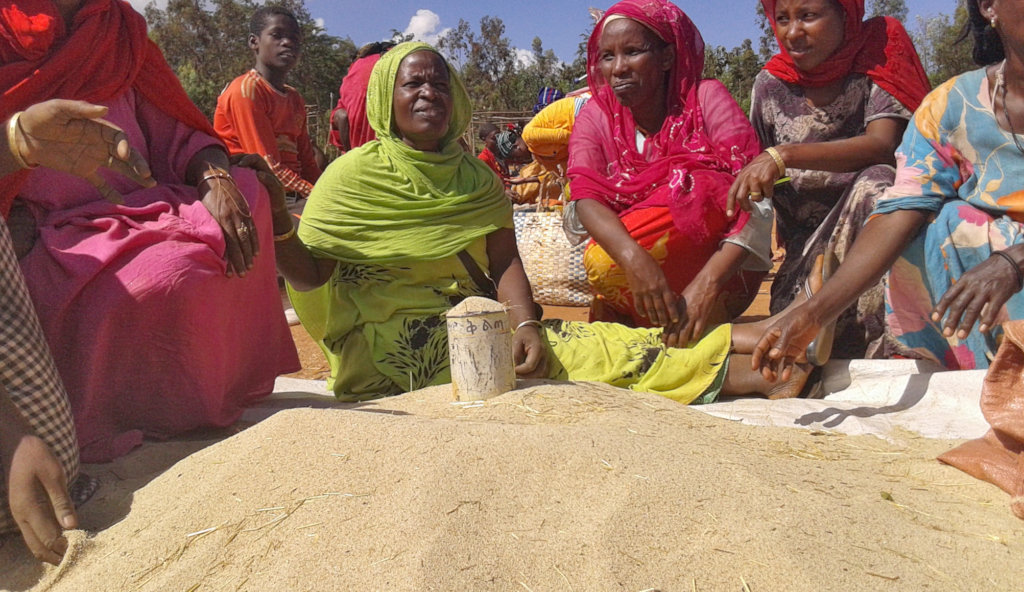 Dear supporters,
Thank you. Thank you for funding this project. Thanks to you from our partner, GrowEastAfrica, who we're working alongside on this project. Over the last two years, our partners in East Africa have lived through a prolonged drought that has interrupted their livelihoods and exhausted their already strained resources. As farmers' agricultural production decreases, incomes drop, food becomes scarce and expensive, and wars begin over water access. Southern Ethiopia is in a region inhabited by many tribes, including the Konso, Burji, Guji, and the Boranas. People in Southern Ethiopia know the places where different ethnic groups share the same source of water, and drought escalates the risk of conflict.
The UN says, "Water is at the core of sustainable development and is critical for socio-economic development, energy and food production, healthy ecosystems and for human survival itself. Water is also at the heart of adaptation to climate change, serving as the crucial link between the society and the environment."
Before we provide an update from our partner, we would like to share a little about the Burji people and the Burji District in which they work.
Who are the Burji?
There are over 150,000 Burji speakers scattered between Southern Ethiopia and Northern and Northeastern Kenya. The Burji have lived in their current highland territory for over 400 years, where they perfected their love of agriculture and became expert farmers. Burji are highly regarded as agricultural experts in this region of the world, famous for their skills and ability to farm the arid lands. This expertise forms the basis of their livelihoods, and they became stewards of the breadbasket for a region where most tribes were nomads and pastoralists.
Burji land was seized between 1890 and 1913 and the entire population was ruled as a serfdom until the 1970s, when emperor Haile Selassie I was overthrown in a coup that began the Ethiopian Civil War. As their land was seized, large numbers of Burji fled from their highland homes into the surrounding regions and into Northeastern Kenya. Their displacement continued through the famine of the mid-1980s and into the 1990s, when the current government divided the country into semi-autonomous regions according to ethnic groups. As economic disaster, famine, and political repression intensified throughout the decade leading up to this division, people fled into more neighboring countries and overseas, creating the first Ethiopian diaspora.
This regional division left the Burjis with a small district in the SNNPR (Southern Nations, Nationalities, and Peoples' Region) nestled between several other SNNPR districts and a much larger region, Borena. As a result, the Burji District and population have been involved in a number of conflicts over shared resources with larger neighboring tribes who want to expand their district or region. These conflicts do not respect country borders — sometimes conflicts spill over into southern Ethiopia from Kenya or from Ethiopia into Kenya where the same tribes live.
Ethnic conflicts, like those that target the Burji, are often sporadic and the number of casualties are small. Despite the increasing occurrence of killings, these conflicts are often ignored by international media or eclipsed by larger conflicts in that global region. This lack of coverage often means that groups like the Burji do not receive support to ensure their safety and rebuild their livelihoods.
This is why GrowEastAfrica, an Ethiopian-American led organization, is so important. Co-founder Yohannes Chonde is familiar with the Burji and the region because his family's ancestral home is in the area now known as the Burji District. He joined the diaspora when he left his home village to pursue a formal education, an opportunity not available to him at home.
"GrowEastAfrica's agricultural projects work with vulnerable farmers, many of whom are women, by training them in improved practical agricultural methods, helping them access quality agricultural inputs and technology, and linking them to viable markets. Such efforts help farmers grow more food for themselves or to sell. In doing so, farmers are able to prevent hunger, preserve land for future use, and obtain long lasting food security." — Yohannes Chonde
GrowEastAfrica: March 2018 Update
Last month, Yohannes described some of the continued challenges to the Burji's agricultural livelihoods, and outlined some ideas to address those challenges.
"Over the last year, a very strong and dangerous political cloud has been gathering over East Africa, in particular, Ethiopia.
"The Burji tribe we are working with has been under severe economic and security challenges. A year-old border conflict between Burji and a much larger Guji tribe has resulted in hardship for many poor Burji farmers. The conflict was at its peak during my last September visit. This conflict has driven out many Burji families (700 to 800) that used to live in the Guji-controlled areas, who are currently taking refuge in Soyama town of Burji District. GrowEastAfrica is coordinating a humanitarian drive to assist these families. We hope and pray for a peace settlement so these families will return back to their homes and livelihood. Meanwhile, we will try to do all we can to make their daily life manageable.
"GrowEastAfrica currently works with about 1,000 families in two main groups: the 300 families of the Biher group, and the Soyama Ladies Association, which is an umbrella group with members from all 25 villages. The Biher group is made up of Internally Displaced People (IDP) from the Mega area in southern Ethiopia, and they are our model group for expanding the Vegetable Garden concept and self-help initiatives throughout the district. Depending on the peace process, we will include internally displaced people from Guji conflict if they do not return to their homes.
"The GrowEastAfrica Vegetable Garden project is gathering steam. The Biher group is showing great progress with their market activities as well as their continued vegetable garden initiative. Unfortunately, the 2017 September to November growing season harvest was very poor due to lack of rain. Of course, the conflict with Guji did not help either.
"We have finally secured two hectares (out of four we requested) of a prime plot on the old Soyama highschool ground. The new plot comes with a functioning hand-pumped water well that was 47 meters deep with water at 35 meters. Our plan is to upgrade the water well with a solar pump and build a drip irrigation system. We also plan to continue using the current plots at the District management compounds. We are very excited and energized to expand our activities so more people will be added to our growing client pool.
"We are feverishly identifying and planning a list of capabilities to serve our clients. Unfortunately, we were not able to find a drip irrigation kit and submersible solar pump system at a reasonable price in Ethiopia. So we are buying the drip irrigation kit and the solar pump system from Kenya. We have already purchased and delivered a 10,000-liter water storage tank."
Your Support Makes a Difference
Here is where your support of this project comes in. Taking the lead from our partner, SPI is working with Yohannes and GrowEastAfrica to purchase equipment that will provide their farming groups with better access to water. Support from this project will be combined with funds from the parent project (Drought-Resilient Gardens for East Africa) and other independent funding to provide additional water tanks, seed, tool banks, and agricultural training.
Access to water, input supplies, and tools is only one component for success. Working groups still need to clear and plough the fields, prepare the soil, place fences around the plot to prevent animals from grazing their crops, and tend the gardens through to harvest. It's hard work, and your support makes their work easier.
Thank you!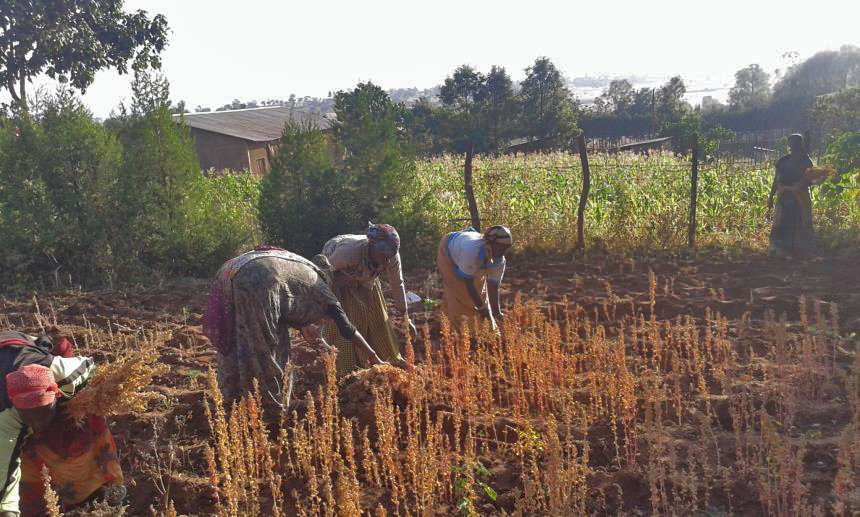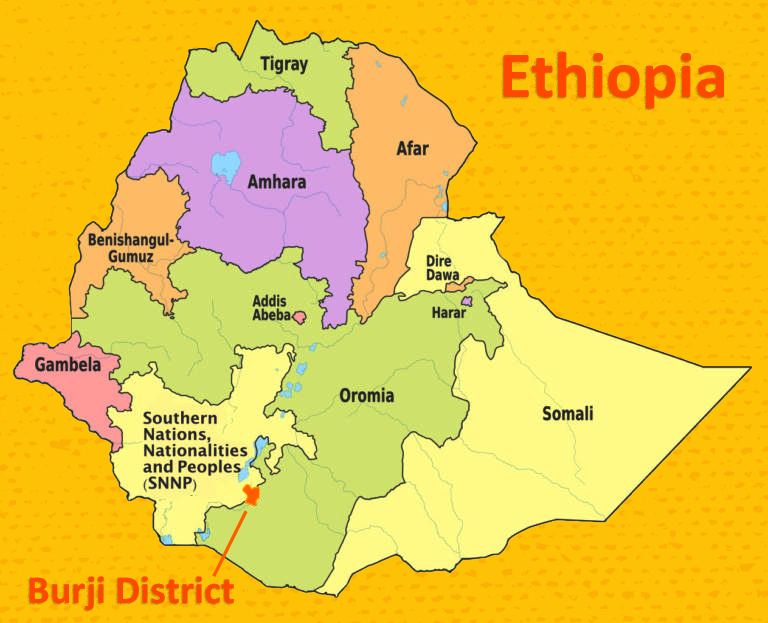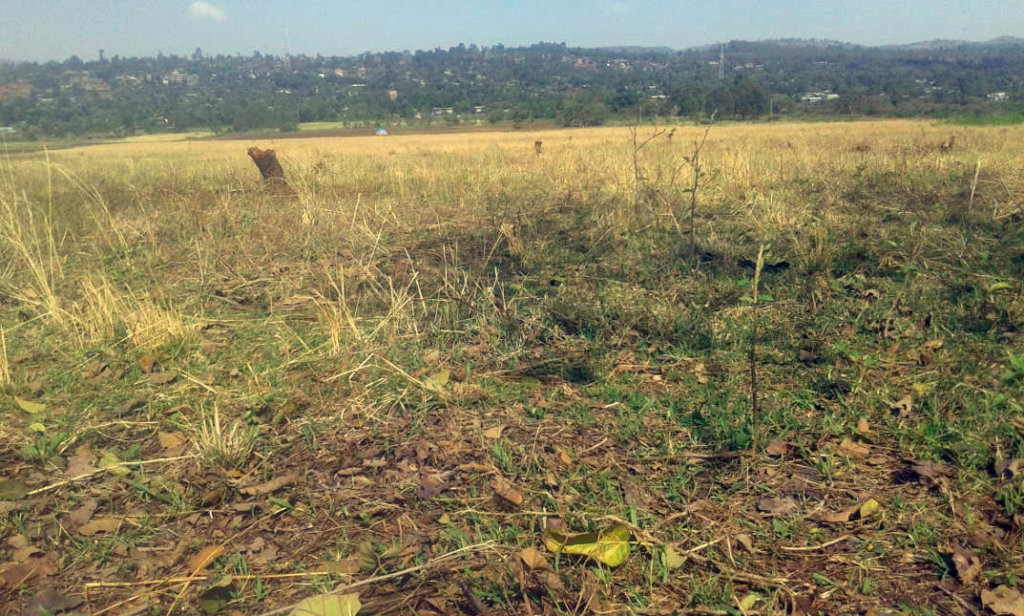 Links: