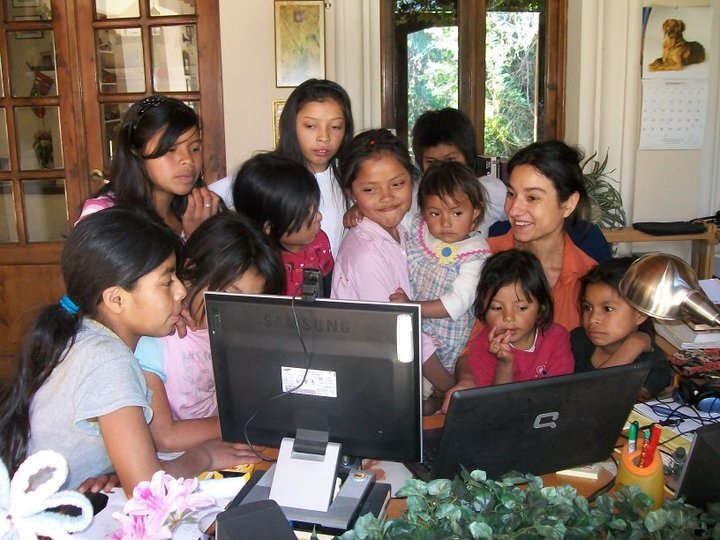 Warmest greetings from Guatemala.

Before I continue the story of our humble beginning, we have some great news. In partnership with GlobalGiving based in Washington D.C., we have a 50% Donation Match happening on donations. DON'T GIVE YET! PLEASE WAIT UNTIL THE WEEK OF SEPT 12-18 FOR THE ACTIVE MATCH LINK: https://www.globalgiving.org/projects/funding-the-integral-heart-school-in-2022/

Now, to continue the story of the origin of our work here. For those who may have missed it, PART I is below.

PART II:
So the seminal question from our vacation here in the summer of 2009 was 'Where is all this potential going to go?'

We sat with this question, meditated on it and discussed many times while sitting on our couch overlooking the Rockies in Mountain West of the U.S. Life was good for us, we had savings and residual incomes. My book was just published and I was getting coaching requests so I could work from anywhere that had an internet connection.

So, we pondered the idea of just moving to Guatemala and following on a developing some answer to this question. Our vacation there was really lovely so it seemed plausible, and having lived in three countries prior to this, not at all our of the ordinary.

We called a shipping company, had a great bunch of friends help us fill up a 40' box. We sold our car and bought a rugged 4x4 because this was also going to be a road trip of lifetime (and we had a Golden puppy and did not want to subject him to the trials of flying).

So, we got back from Guatemala in late August 2009 and by Thanksgiving that same year the box was full and we headed south. In all fairness to our spontaneity, I had flown back down in October and found us a place to live.

In our 4x4 was enough basic furniture and clothing to tie us over until the container arrived, at least three weeks after we would have reached Guatemala.

After ambling through southern Utah, New Mexico and Texas, visiting friends along the way, we finally reached the border in Brownsville. We stopped at a Walmart to get some extra things and we can still remember to this day that sense of trepidation that after we cross that line there is no coming back.

So we did. Papers in hand for Pancho. but the animal import guys did not even want to see him! Off we went, taking a relaxed pace down the Gulf of Mexico side. We stopped off to play on the beaches, stayed two nights in Veracruz. The up into Chiapas and the amazing rain foresst and back down the Pacific coast, where we spent a few nights at the beach there.

We planned to arrive in Guatemala in mid-December. The border crossing was a flurry of 'helper's not helping and crazy paperwork and inspections and by the end of that morning we were in. With our eyes set on Antigua we hoped to be there by the end of the day…

But that was not to happen. A big traffic accident had snarled the southern highway for hours so we backtracked to the northern highlands and just before dark arrived the city of Xela. We found a hotel and planned to head out again the next morning.

And finally, we arrived in lovely Antigua. Unpacking our meagre belonging we set about getting phone and internet connections and set about a way to volunteer.

That we will cover in PART III


_________________________________________________

PART I:
In a reply to our May newsletter, a longtime monthly donor asked; how did it all begin?

The photo, above, was taken during our first trip to Guatemala in the summer of 2009. We had been living up in the States and we wanted to steep ourselves in some Spanish culture but didn't care to fly back to Deb's native country of Spain.
So, one night, as we were pondering where to go in Central America, we had some friends over for dinner at our house. One of the ladies casually mentioned that her sister had built a house in Antigua Guatemala. That was the very first mention… So, I googled it. Antigua certainly looked lovely so our plans moved us that way.

We spent the first week in Antigua, a Spanish colonial city where you'd hardly notice the endemic poverty. One morning having coffee I stuck up a conversation with a stranger who mentioned he'd been living here for a few years. He told us that he was helping out some local people by simply driving to and from their local health clinic. We felt that was very admirable.
On the second week, I got itchy feet so we rented a car and took a two-hour ride to a Mayan ruin complex at Iximche. In these days before Waze, we were following a paper map and road signs. Needless to say, we got lost, in a town with a population of about 35,000 people.

As we asked for directions and traversed the small streets, strewn with litter and stray dogs, bordered by cinderblock houses with tin roofs we started to notice a multitude of children in brightly patterned uniforms, carrying books and backpacks, who were merrily skipping along in this spectacle.
A question came to our minds… Where is all this potential going to go?

It was in that moment that the seed of The Integral Heart Family sprouted (and we did eventually find the ruins). We returned to the States and by the end of October that same year, we'd packed our house into a forty-foot container and had plans afoot to drive to Guatemala with our Golden puppy Panchito. That is a story for another day.

With best wishes as always,
Mick Quinn
Co-founder, Integral Heart School, Antigua Guatemala.