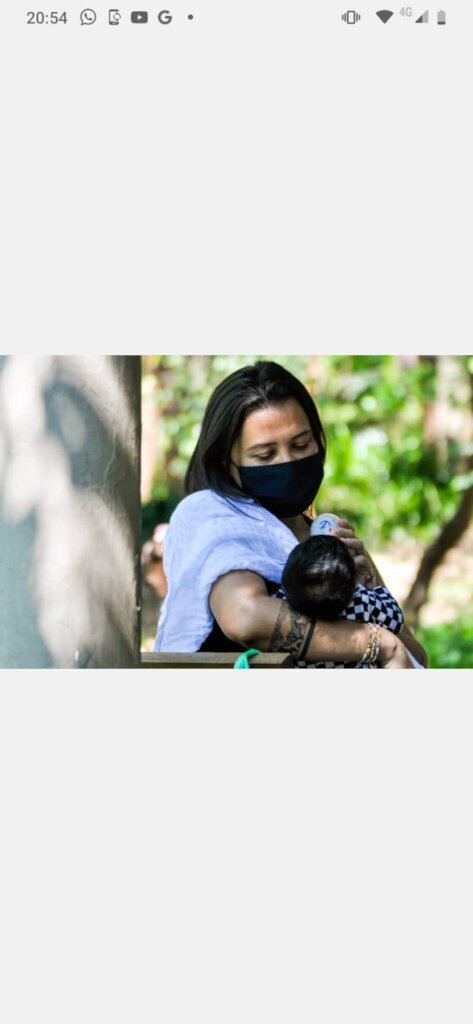 Dear Donor,
We would like to share news about the project you supported a year ago and tell you that we decided to reactivate it because of its importance and impact for the full development of infants and young children who needed to be separated from their biological families due to a court decision.
To refresh your memory, this project provides foster care for children between the ages of 0 and 6 who have had their rights violated in some way. Our foster family service started in 2015, and since then, it has taken in 91 children. We aim to strengthen the quality of care offered in early childhood and minimize the consequences of an institutionalization process, and we know by scientific evidence the that the best strategy to reach our goal is offering foster family care. The foster Family service allows children to be taken care by the same care givers every day, feeling secure and protected in a supportive and affective family environment. It is a temporary context, which can contribute in a favorable way to the healthy development of all fostered children.
Even with the Covid pandemic and the need for social isolation, we continue to carry out all the planned actions and build new strategies to ensure the continuity of our work. Despite all the difficulties, we are stronger every day in our mission to provide quality care to children and families who need love in the most difficult moments of their lives.
Finally, we would like to share the testimony of a biological family member:
Stories that inspire
Abner, nine months old, arrived at the foster care service in June 2021. At that time, he was three months old and had been hospitalized since birth for tests and monitoring of health issues because he had contact with HIV and developed syphilis.
After Abner's arrival, the team went in search of his story. We got the information that Claudia, his mother, was in prison after being caught stealing food in a grocery store in downtown São Paulo. We were able, still in the month of June, to meet her through video calls and personal visits to the prison, and it was possible to get to know more about her story.
Claudia is 42 years old, besides Abner, she is mother of three daughters whom she hadn't see for over 15 years. She reported that she has been living for over 10 years on the streets in a neighborhood where drugs are sold and used and that she has been using crack for over 20 years.
About her pregnancy, she said she was in love and decided to get pregnant to begin a new life. Unfortunately, her partner was murdered, and Claudia was left alone. She also told us about her desire to find her daughters again and see if they were all right. So, we started the search for the girls and after a month, we managed to find Abner's sisters: Julia, 20 years old, Joana, 18 years old, and Jussara, 16 years old.
At first, the sisters were scared, because they had no information about their mother. However, as the meetings went on, Julia began to show a desire to take over the custody of her brother. We then began a process of rapprochement between them and a rapprochement with Claudia.
The first meetings of the youngers with their mother were difficult, there was a lot of suffering involved. But Claudia apologized to her daughters and said that she was "proud that they are beautiful girls and were on a good path".
We noticed that after this event, Julia, the older daughter, became stronger to make an important decision: she wanted to take care of her little brother. She finished her studies, started psycotherapy and found a job in sales. We have been noticing every day how Julia is maturing and preparing herself to be Abner's legal caregiver. Currently, they are spending the weekends together and soon Abner will officially live with her.
Julia wants to share some words with you:
" Thanks to Instituto Fazendo Historia's support I found my mother again and met the love of my life, my brother. At first, I thought it was impossible to get custody of him, I thought: they won't give this boy to a girl with nothing like me. But it was the opposite, you believed in me and helped me not to give up".
I promise I will take care of him with all my heart, I would really like to be taken care of by a sister who would love me and stay with me forever. I wasn't that lucky; I was taken care of by many people. I didn't feel like I had a family, but now I do. My brother gave me that, I found a place… No, I think I feel that now everything is back in the right place."
Once again, thank you for your support.
Best regards,
Daniela and Instituto Fazendo História team