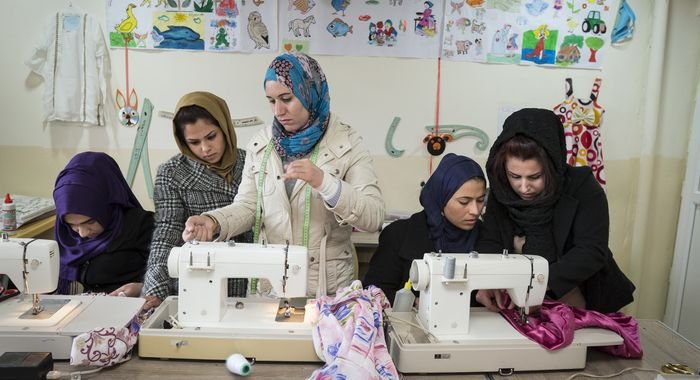 Since the so-called "Islamic State" (IS) moved forward in June 2014, 3.3 million people were displaced within the Iraqi border. Most of them have sought protection in the autonomous region of Kurdistan in northern Iraq. In the Kurdish regions are living more than 242,000 registered refugees from Syria. Finally, the long-contested city of Mossul, the last high castle of the IS in Iraq, was recaptured by the Iraqi troops and their allies. But the crisis is far from over: at least eleven million people depend on humanitarian aid in Iraq.
How we help
We support both the Syrian refugees as well as the internally displaced persons in Nordirak with food and hygiene packages as well as psychosocial aid. In the context of so-called "cash for work" measures, we also help families get an income. The beneficiaries work in public institutions and in municipalities - for example, when renovating school buildings or in health stations. For this, they are rewarded on a daily basis.
In order to facilitate the integration of incoming families, childcare, counseling and courses are offered in the community centers. The playful and therapeutic activities help children overcome trauma. Language courses, English classes, literacy and computer courses assist the refugees in qualifying on the labor market. The psychological measures reduce the long-term negative consequences of the experience: addiction, violence against women and children as well as crime is pre-determined, the mental health of the people strengthened. The course leaders have mostly escaped themselves and can put themselves well into their proteges. In psychological trainings they have learned how to best serve the children, young people and adults.
Hope, hope, hope
In order to provide people with long-term income opportunities and thus prospects, the sustainability of the projects is already being taken into account in the analysis of needs. Through market analyzes, we can identify the demand for certain goods and services in the target cities and, in cooperation with local authorities and companies, develop economic approaches that continue after the end of the project period. In this way, refugees are integrated into the labor market and society in the long term.
A lot of work is still to be done. With your supoort we can make it, we can create a change in the life of this people.
Thank you so much!
Yours
Michael Tuerk