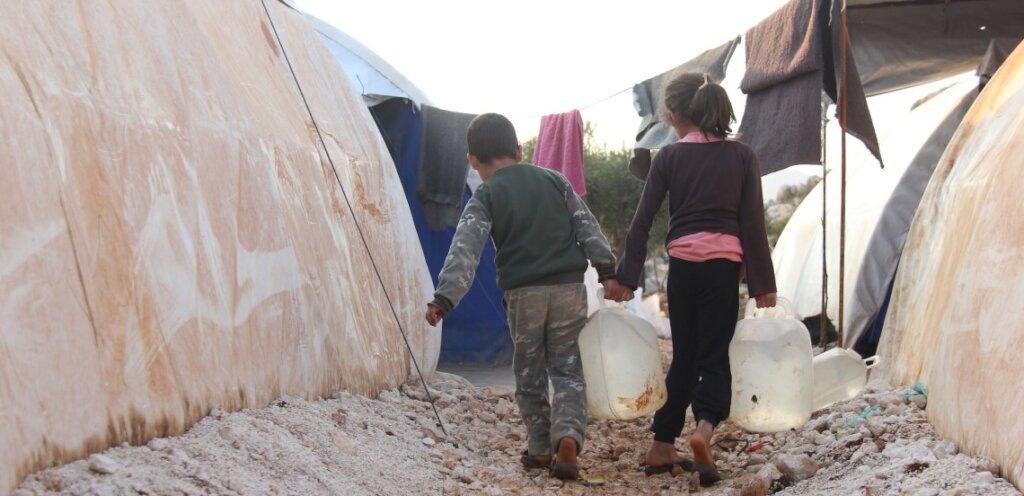 It has become quiet around Syria. After more than ten years of war, there are hardly any media reports about the living situation of the people in the country - the Syrian conflict has become a forgotten crisis.
The years of war have destroyed the livelihoods of the population and permanently damaged the agricultural infrastructure. Repeated displacements and ever new hotbeds of conflict have taken a heavy toll on the people's powers of resistance. Where the world public hardly looks anymore, more than 13.4 million inhabitants are now dependent on humanitarian aid - more than ever before.
The situation of the more than 6.7 million internally displaced persons is particularly difficult: they often live in completely overcrowded camps or under catastrophic conditions in ruined buildings and destroyed houses. These living conditions also affect people's health. There are increasing reports of measles, typhoid fever and severe diarrheal diseases. The Corona pandemic is putting the suffering
population faces another challenge - there is hardly any testing capacity, not to mention protective clothing or respirators.
80 percent of the population now lives below the poverty line, and some 2.5 million children do not attend school. "The need for assistance has continued to grow since last year. In addition to shelter, many families increasingly lack sufficient food," reports Isabelle Freimann, Diakonie Katastrophenhilfe's project manager for Syria. "More and more people are suffering from hunger.
Where there is silence, there is also hope
Diakonie Katastrophenhilfe is continuing its aid projects in Syria. A particular focus is on winter aid, as the plight of the population is once again significantly exacerbated in the cold winter months. Due to the economic crisis and the massive devaluation of the Syrian pound, many families can afford neither warm clothing nor heating oil to protect them from the cold.
Together with its Syrian partners, the relief organization is implementing a cash-for-work program, for example, in which caps, scarves and winter clothing for children are produced. In addition, housing for internally displaced persons is being restored so that families who have been displaced several times can finally feel safe again.
Please support us in winter aid.
Thank you so much, yours
Michael Tuerk