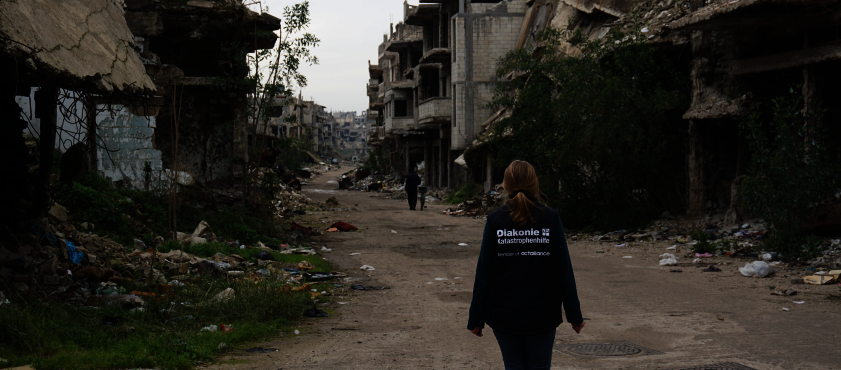 After six and a half years, Mohammed returned with his family to his home in Homs. The apartment was badly damaged, two rooms completely burned out, the rest of their belongings looted. The partner organisation of Diakonie Katastrophenhilfe, GOPA-DERD, installed new windows, doors and electricity in the apartment and fitted a new toilet and the connections for shower, sink and hot water. Mohammed helped, mended the brickwork and painted the walls. He is still working as a nurse and can feed the family. "We are so glad to no longer have to live in overcrowded shelters and to be dependent on the help of others," he says. "We have a home again now, a retreat where we can be together as a family.
The years of displacement and ever new sources of conflict have severely affected the population's resilience. The UN estimates that more than 11 million people in the country are dependent on humanitarian aid. Living conditions continue to be catastrophic, with whole districts and areas of land in ruins.
There are still 6.1 million internally displaced persons and around a third of the population suffers from food insecurity. Living conditions also affect people's health. Measles, typhoid fever and severe diarrhoea are increasingly reported.
About half of the population is unemployed, with an average life expectancy of only 55 years. According to the latest estimates, 83 percent of the Syrian population lives below the poverty line.


Together with GOPA-DERD, Diakonie Katastrophenhilfe is implementing a project that is helping 300 families displaced within the country in the regions of East Ghouta, Homs and Deir-Ez-Zor to return to their homes. Their destroyed or severely damaged homes are first examined and assessed by building surveyors. This is important because the buildings must not be in danger of collapsing or have other serious safety defects. If the assessment is positive, appropriate construction measures are implemented to enable the internally displaced families to return. This includes, for example, the repair of impacts in concrete walls and roofs, the repair of damaged water pipes and sanitary facilities, the installation of windows or the maintenance of electrical connections.
The living space will be restored to such an extent that it offers sufficient protection from the weather and can be heated in winter in a makeshift manner. An average of 2,200 euros is spent on a severely damaged apartment. As early as 2017, a previous project helped 800 families to return to their homes.
Thank you so much that you support our effords in Syria and the other affected countries.
Yours
Michael Tuerk