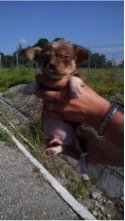 Twix and Malin, a Tale of Two Dogs:
Twix is a puppy that wasn't supposed to enjoy life; he was born unwanted, like so many others, so the basic means for survival were taken away from him. His poor body was getting weaker and weaker as the days went by and his short life was about to end, without him ever knowing a thing about living. Twix hadn't eaten for days when he was found dumped on a field.
Twix and 6 kittens were rescued and live together. They were all brought to life with a lot of care and good food that made their tiny bodies stronger and healthy again, ready to take on life. They all have found their voices and will to play and live, enjoying their childhood without feeling hungry all the time. Other 12 puppies rescued from the street from similar situation need good food to stay strong against the many deadly diseases still present in Romania.
Malin lived all her life on the street. Malin was always a quiet, calm dog who never bothered anyone; she used to live near a market place and everyday she had to look for scraps in order to survive. Some days she was lucky and found something to eat, others she was just kicked around and went back to hiding, hungry and scared.
One day she thought she found a good chunk of meat and she was happy thinking it was one of the good days; Malin ate all of it, but soon after she began feeling very sick. People were passing by while she was struggling in pain and confusion; she was poisoned and about to die slowly and horribly. She was found at the last minute and taken to the vet and luckily Malin survived. She has lived in the shelter for the past 4 years and although Malin never knew the safety of a real home, she doesn't have to fight for food anymore.
Like Twix and Malin, the other 150 dogs were rescued from dangerous situations generated by indifference and cruelty. We struggle to keep all of them fed and healthy, because when we rescued them we made them a promise never to feel hunger and fear for their lives again. A full tummy is all the spoil a shelter dog can expect, sadly. We would like to keep them as spoiled as possible and make up for their tragic lives.
Romania Animal Rescue thanks you, our supporters, for helping us to help these animals and so many more like them with food. Your help saves lives. Thank you!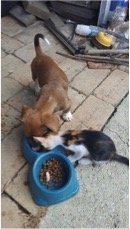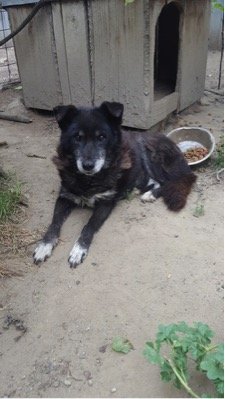 Links: