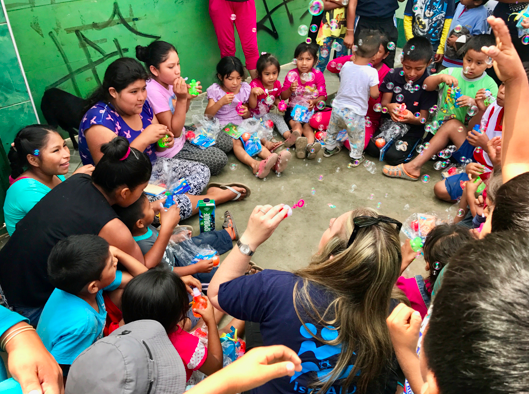 During the months of January to March 2017, Peru suffered from irregular amounts of rainfall due to the El Nino phenomenon, causing severe flooding in the coastal area of Peru. With over 124,000 people homeless and almost two million affected, Peru declared a state of emergency. The heavy rains caused severe infrastructure damage, leaving the communities with no access to water, food, medical services, education, or physical safety. Over 150,000 people was displaced, of which 48,000 were children. 550,000 had no access to safe water and two million children could not go back to school.
Immediately after arrival, IsraAID's water experts offered water and hygiene solutions for those living in the temporary refugee sites, distributing safe water and hygiene kits, building hand-washing stations, and training communities and UN volunteers on proper hygiene practices.
IsraAID's Spanish speaking psychologists and therapists have been working directly with the affected communities, holding seveal training sessions for teachers and local partners on psycho-social support in emergencies and self-care. In addition, the staff provided intensive training to all mental health and community centers in Piura, La Libertad and Lima.
Carmen, a psychologist working at the Mental Health and Community Center in Trujillo, participated in one of IsraAID's training. She shares:
"We are so happy with the support of IsraAID - the Mental Health Care Centers in Peru only opened 1 year [ago]. It was challenging to deal with people's individual traumas but now we are faced with the trauma of the entire affected community. IsraAID's expertise really motivates us and gives us [the] tools to work on psychosocial support throughout the affected communities."
IsraAID's support remains crucial in the affected area. IsraAID accompanied the Ministry of Health Mental Health Department on its field visits to Piura and was requested to continue offering support to the staff of the Mental Health and Community Centers in the affected areas. IsraAID's Mental Health team plans to continue working directly in the field and with the mental health community Center in sharing its extensive knowledge and expertise in mental health and psychosocial support in emergencies.
Thank you for supporting our respons to Peru - with your continued help, our team can stay and carry on the important work with the community in Trujillo - thank you!