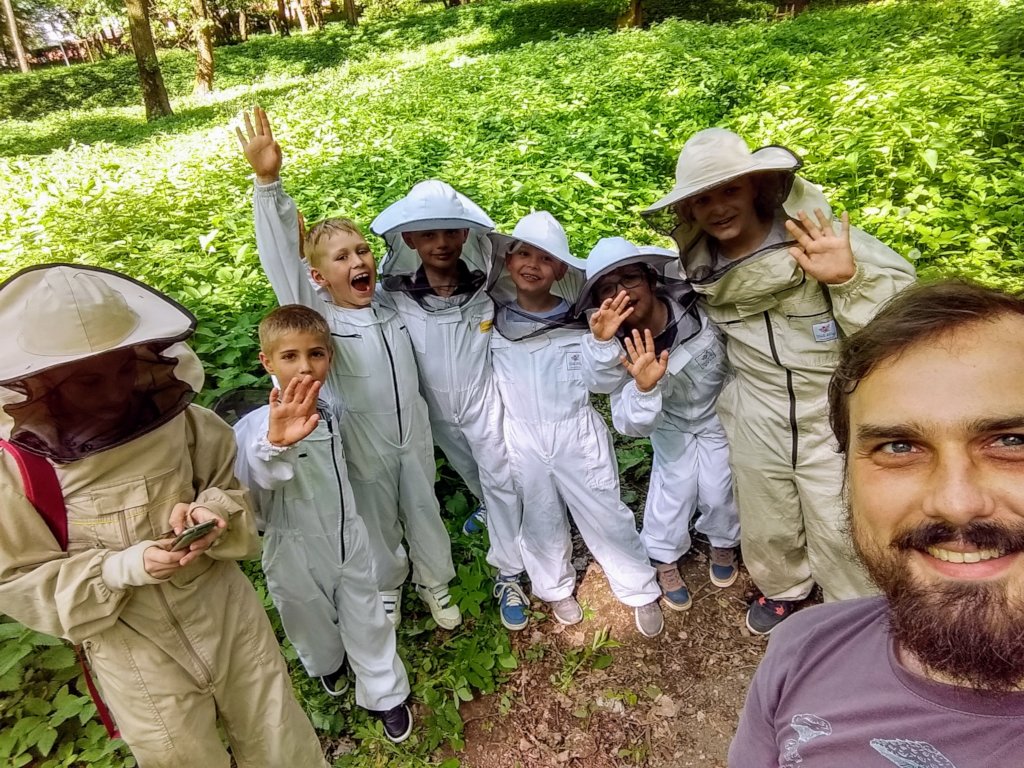 I see trees and bees, white flowers too, I see them bloom for bees and us. And I think to myself what a wonderful world. I see skies of blue and clouds of white. For beekeeper blessed day, the dark nights for planning and I think to myself what a wonderful world.
White mountains, but without snow
After very long days of winter, spring begins. Hazel´s twigs heavy under irrecoverable pollen, hills white. Not from snow, but now from blossoming wild cherry trees and later from acacia. Heaven for bees. This year starts great for bees, but also for us. We have joy from strong bees. And I think to myself what a wonderful world.
Hey kids, BEE happy!
Spring is also time of school excursions at our educational apiary. Kids are little scared first, but then they are full of experiences, joy and happiness. We are only at the beginning of workshops and we have already 100 new little friends of bees. Happy kids who are not afraid of bees, what a wonderful world.
Beekeeping like aristocrats
Our bees in public park in Lucenec, give us a feeling that we are middle ages aristocrats. Beehives under old big trees in big green areas. And for kids is biggest experience to have drones in hands and see the queen of course. Yes, we have a queen! God save the queen and the bees, what a wonderful world.
Future beekeepers
In April we have started also beekeeper courses for beginners. We really enjoy work with people hungry for information and new knowledges. First tree courses finished, and we have already 32graduates. We hope, that they will be good beekeepers. Responsible beekeepers with healthy bees, what a wonderful world.
I see friends shaking hands…
Yes, we see new friendships in our course for unemployed people from region. We are starting in May and will end in October. They will work with their own bees at our community apiary and will get own tutor for half year. Beekeeping is a way for job opportunities, what a wonderful world.