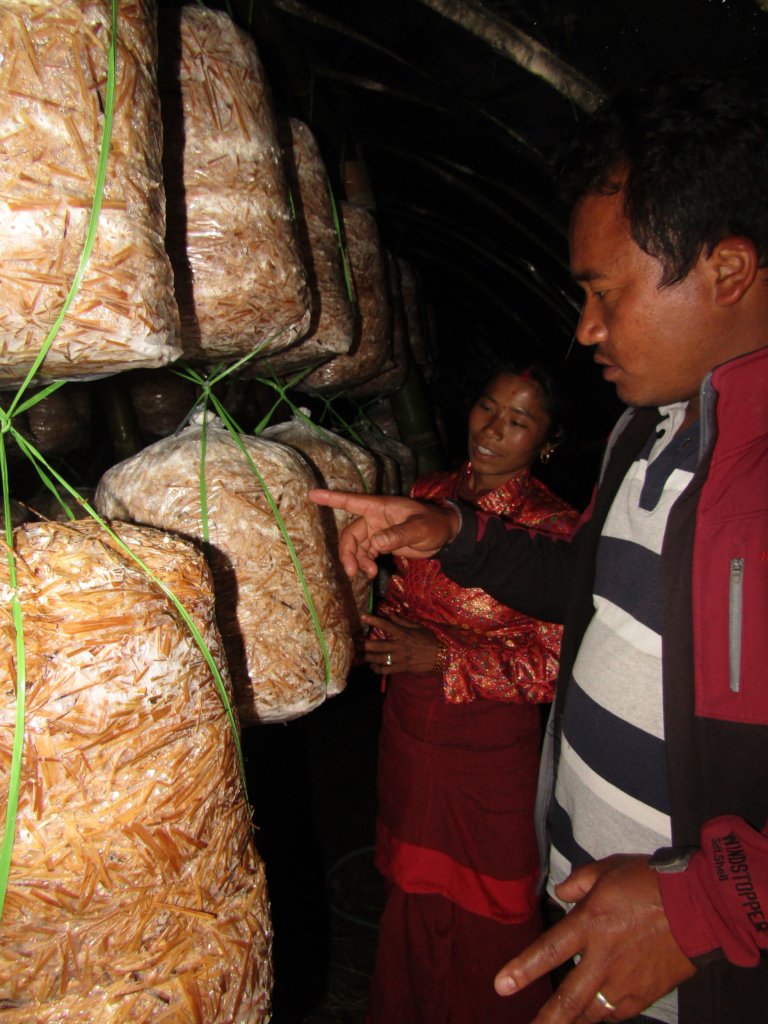 Thanks so much for supporting ETC's "Finish Strong/Jump-Start!" project via GlobalGiving.
As you know, we are in the final year of a six-year program cycle in Dolakha District. Our cycle-end goal as always is to have established a very strong foundation of skills, knowledge, and resources upon which residents can continue to build better lives for themselves indefinitely, after ETC has begun working in a new geographic area.
Here's just one way in which we are working to achieve this goal: by teaching women to cultivate certain specialty, high-value, and high-nutrtition crops that were not previously typical of the region but can do very well there. In this case, it's mushrooms.
Mushrooms are a very low-fat, low-carb, high-nutrition food that is relatively easy to cultivate - once you know how! With training and starter resources such as bags, spores, etc., mushrooms can be harvested multiple times per year. Depending on the variety, they are rich in various B vitamins, Vitamin D, and antioxidants, and even have some protein.
During the first half of 2019, ETC trained and provided starter resources for 31 women from five women's groups in Lamidanda. Participants worked cooperatively to build 25 cultivation tunnels. The 31 women had already earned an average of $50 each as of the end of June, and in rural Nepal, $50 is a very significant sum of money. Best of all, these new skills and knowledge don't expire or wear out - they can be used indefinitely.
For more information about ETC's activities and other Nepal-related issues, please follow us on social media! On Facebook, we are @EducateTheChildrenNepal (or click here); on Instagram and Twitter, we are @ETC_Nepal. We post every Tuesday and we promise not to clutter your feed!
Thank you again for your interest in and support of our work. We truly could not do it without you.