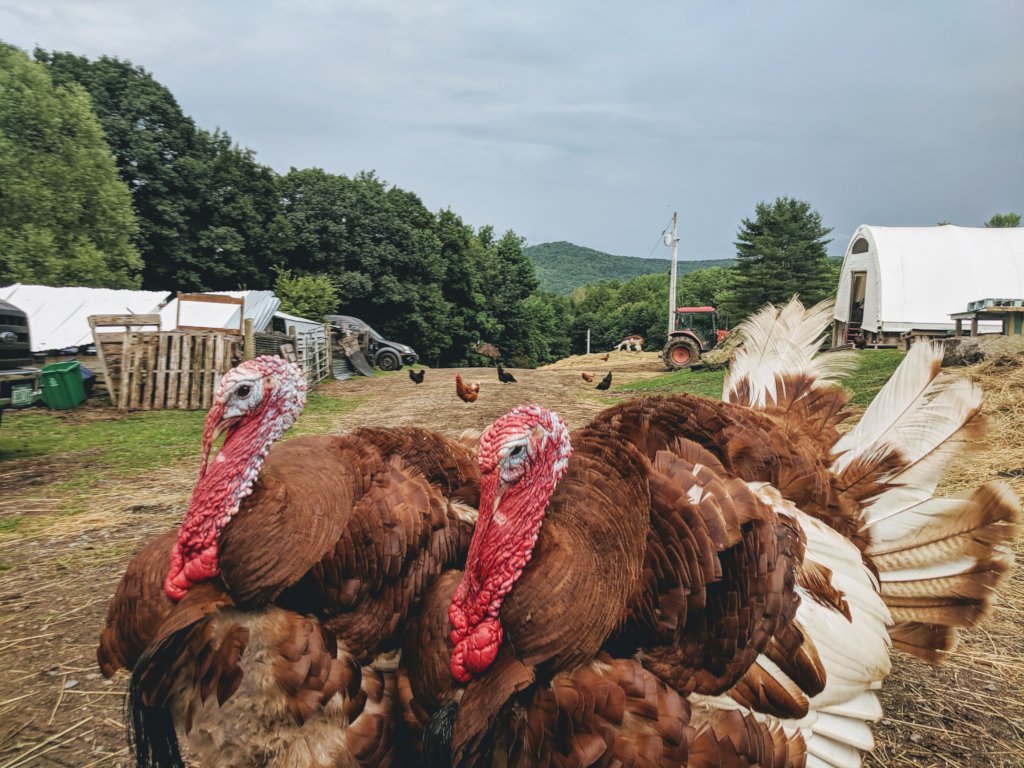 Greetings and THANK YOU for seeding change by helping to feed animals at VINE Sanctuary.
Over time, we hope to use this campaign on GlobalGiving to fund all of our annual feed costs at the sanctuary. We've still got a long way to go, but we wanted to let you know what's been happening at the sanctuary since we launched this campaign in May.
On-site at the sanctuary, we welcomed a large group of hens, along with one rooster, who had been seized by authorities from a breeder of birds for cockfighting. We also welcomed a group of roosters from a hatching project. As always, birds arrived singly and in pairs or trios from a variety of situations. (Mammals arrive less frequently, but somebody new may be arriving soon.)
Probably the most notable new residents are Fred and George Weasley, red-feathered twin turkeys who were rescued locally. Always side-by-side, they shadow sanctuary staff and visitors alike, constantly curious. It seems likely that they will soon step up to become tour guides, greeting and accompanying guests.
Shasta the undersized cow, who arrived earlier in the year, had a health scare when the vet detected a cardiac abnormality. One visit to a veterinary cardiologist later, we were relieved to learn that the abnormality is not as grave as it first seemed but may be partly responsible for her size (she looks like a calf even though she is a young adult). Shasta has also been adopted by elderly Autumn, whose adopted son Gemini just turned a year old.
Also on-site, our summertime children's program, Pasture Pals, has resumed and will continue to meet monthly into the autumn. This free program includes humane education lessons that teach values such as respecting differences. Each session also age-appropriate volunteer projects, so that participants learn that care for others is something you do, not just something you feel.
All sanctary visitors, whether attendees of our public days, participants in volunteer days for campus and community groups, or residents of nearby group homes who find it soothing to spend time in our leafy surrounds, do the same: help out in some way, so that they truly become part of our community rather than coming to look at or pet our nonhuman community members. Besides showing respect for the animals in residence, this gives people the opportunity to experience the healing effects of altruism.
Our other recent local educational events included a workshop on veganic gardening held in conjunction with the new seed library that we sponsor at our local public library and our annual "Eat the Rainbow" vegan potluck held during Pride Month. We tabled at numerous festivals here in Vermont and around New England, and I spoke at two VegFests in New Hampshire. Further afield, I delivered the Val Plumwood Memorial Lecture at the annual conference of the Australasian Animal Studies Association and our volunteer Julia delivered a talk at the annual Compassionfest event in Connecticut. At the recent Animal Rights National Conference in DC, Anna tabled and gave a presentation on humane education while I spoke about cockfighting, queering animal liberation, and confronting our own speciesism as well as moderated panels on sanctuary ethics and making connections between movements.
All of these off-site activities were rooted in the day-to-day life of our sanctuary community, which inspires people around the world. Speaking about our humane education programs at AR2019, Anna told the stories of young Gemini and his adopted mother Autumn, both discarded by dairies. In my talk about cockfighting at that conference (which you can read here), I noted that everything I know about roosters I learned from roosters — including the things that allowed us to imagine a method for rehabilitating roosters that is now used around the country and around the world. At Compassionfest, Julia shared some of the things we have learned from sheep. (You can read that here.) Speaking in New Zealand, I began by asking conference participants to imagine themselves being greeted skeptically by ducks at the sanctuary. (You can watch that talk here.) Later that day, I had the amazing experience of hearing an artist in Australia who has organized truly creative protests against duck hunting tell me that, even though she has never visited and probably never will, VINE lives in her imagination as a source of inspiration.
You made that possible. Everything we do is rooted in the daily care and feeding of sanctuary residents, and we cannot do that without the support of our wider community of donors. When you buy a bag of sunflower seeds or a bale of hay, you not only feed animals but also help to seed change.
Thank you again for that! If you've not yet signed up to make an automatic monthly donation, you can sign up right here. And if you'd like to feel part of it all, please do like and follow the sanctuary on Facebook and Twitter, where we post photos and other news almost every day.
Sincerely,
pattrice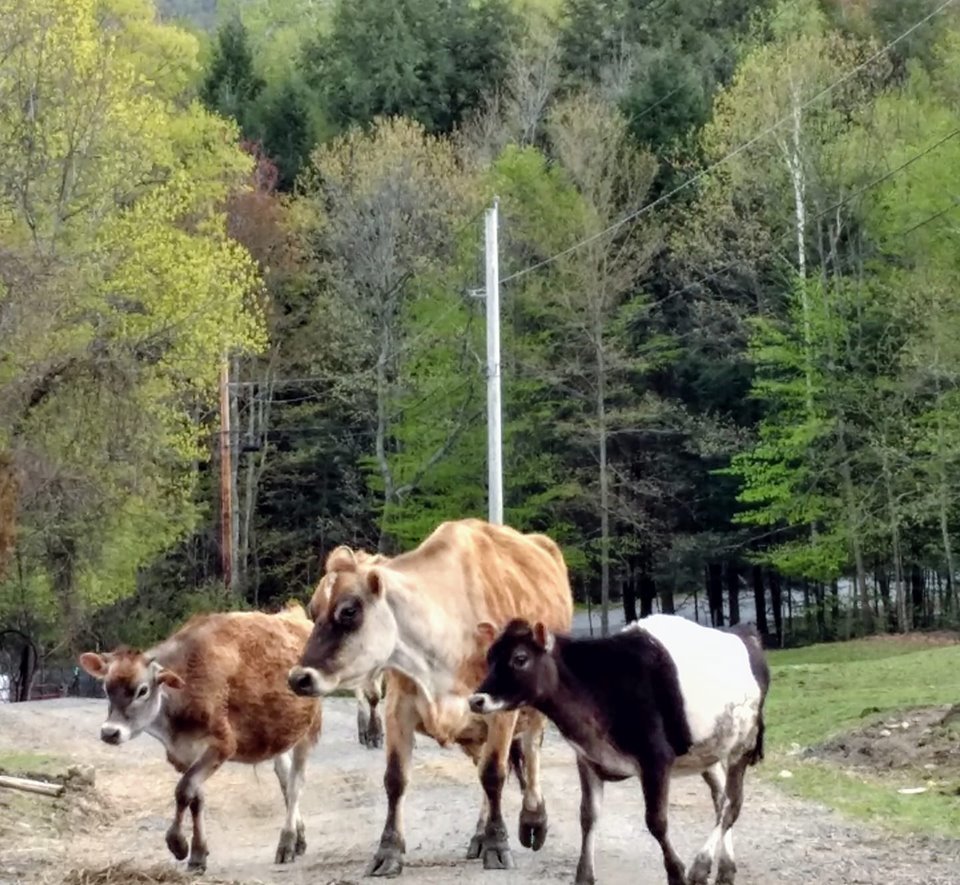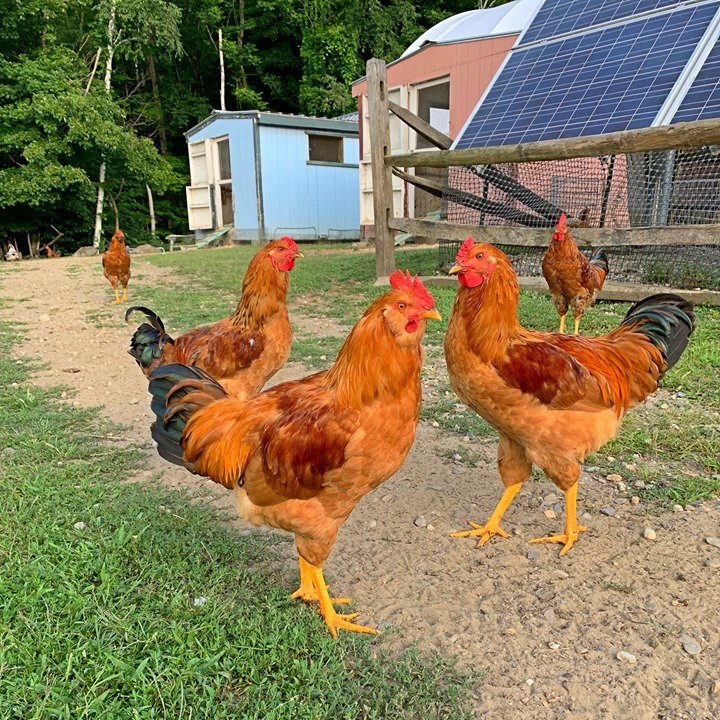 Links: