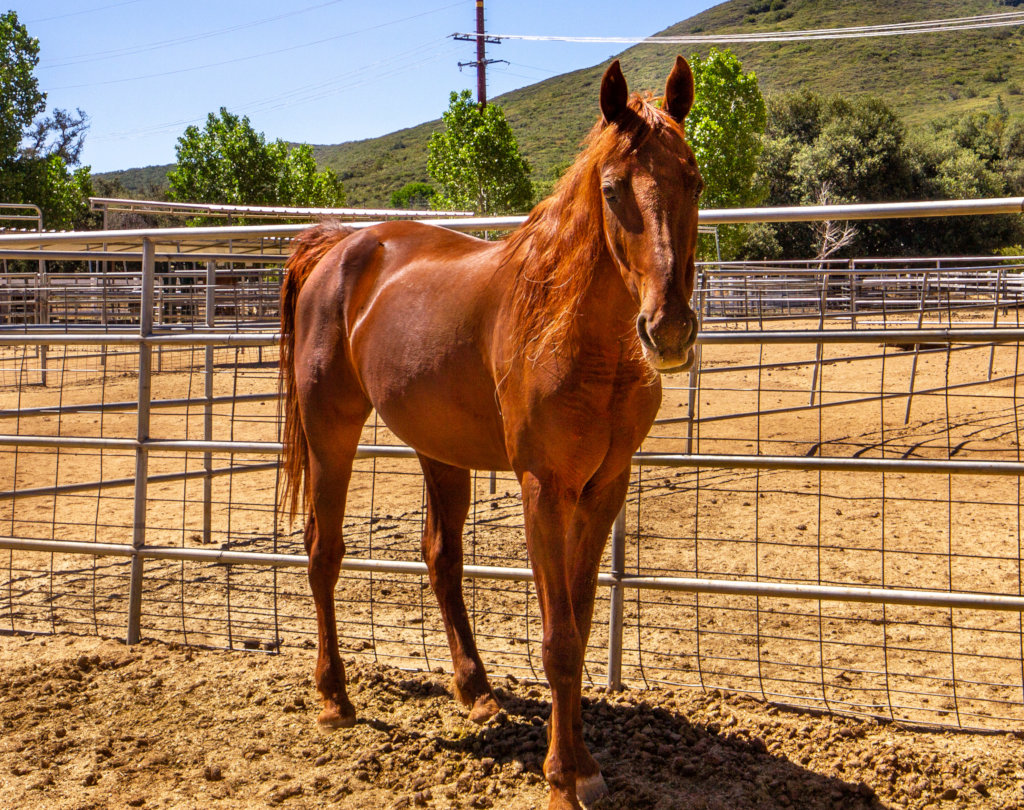 Since our last report, we have added two new equine residents to the ranch and. Your support of our "Feed 106 Horses" is a significant part of how we were able to say yes to both of these special horses in need of sanctuary.
Cinnamon arrived on May 27, but her story began in 2014 when a group of horses was living on a large property in Julian. Following a fire that burned the fences the horses began running lose on National Forrest land. A local woman was called in to help catch the horses.
The San Diego Humane Society took in two emaciated stallions and the woman who helped catch the horses adopted one of the mares, an American Saddlebred named Cinnamon. Now, seven years later the property the woman kept Cinnamon and her other rescue horses on was sold, leaving Cinnamon at risk.
We are honored to work with County of San Diego Department of Animal Services to offer this shy, twenty-year-old mare a forever home.
On May 13 Johnny arrived at the ranch. Johnny is a nineteen-year-old American Quarter Horse. He served as a U.S. Border Patrol agent for 12 years.
Johnny is described as an amazing field horse, but untrusting of people, because his prior owner was very heavy handed. He is very fearful of being tied. Border Patrol suspected he was often punished when tied, early in his life.
He will tie, but is nervous and has pulls back if he feels threatened. Border Patrol recognized this behavior early on in his career and were able to help him along and work around it. That says so much about the quality of care he received from U.S. Border Patrol!
Johnny has a bad tooth (#209). The tooth may require a very intrusive surgery. Currently Johnny is being treated with antibiotics and they are working well. But his nervous demeanor and tooth issue made it challenging to find an approved retirement placement for him. We are honored to be providing Johnny with the forever home he so richly deserves.
Please join us in welcoming Johnny and Cinnamon home! Your generosity is what allows us to provide a forever home for 106 equines. Thank you!