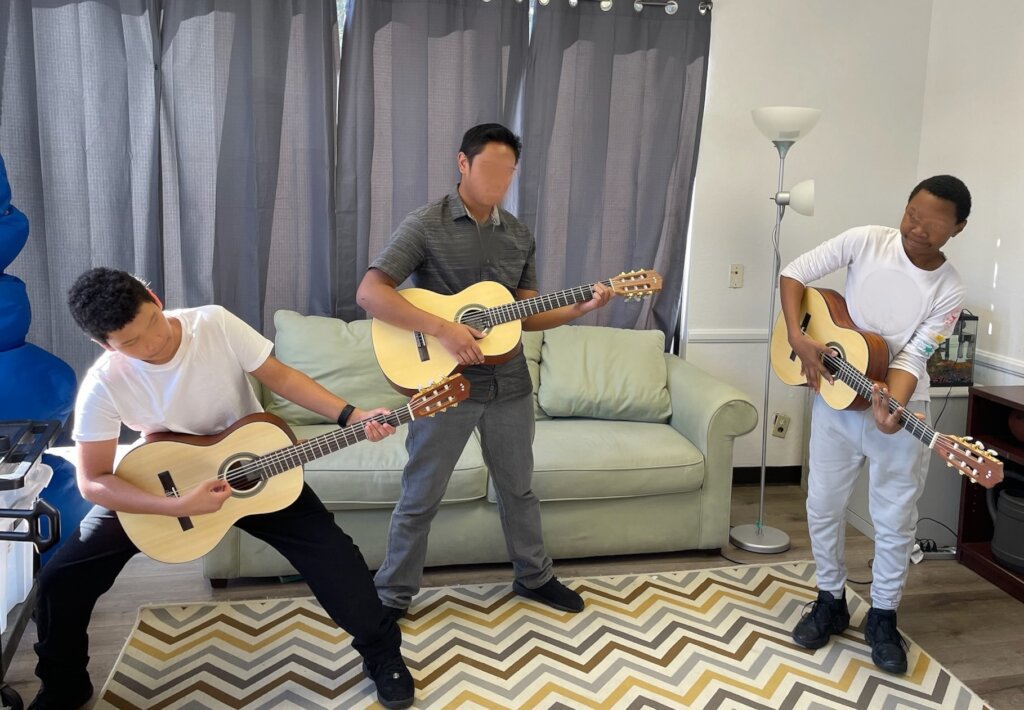 Dear Friend of Exceptional Students,
Thank you so much for showing your continued care by supporting GITC's work making music accessible to ALL learners. Adaptive music is catching on and, thanks to you, our advocacy and demonstration, as well as training, is creating joyful change. It's just amazing how music can light up the whole brain, and what that means for a student who has experienced trauma, stress, or a traumatic brain injury.
We are grateful to each of you who has donated over the past year to help us reach students in need of music! Your impact is reaching farther than ever before. Case in point: high school students in San Diego were identified as needing serious restorative services due to the impact of trauma on their psyches. They have been participating in our Home and Hospital Transition and Supports Programs music class with Miss S, one of GITC's superstar faculty members, since the fall. In December they were so excited to earn and keep their guitars, gig bags, and supplies, and also received a full year's scholarship for online guitar learning withJamPlay andTrueFire. These guys are rocking their recovery!
In addition, your donation is empowering GITC to make a critical difference by providing us the opportunity to offer new opportunities for fragile, homebound students. San Diego home hospital teachers have been attending multiple GITC trainings, learning to work with body percussion, chanting, singing, group drumming, percussion instruments, ukuleles, guitars, music apps, speech production devices, kazoos, slide whistles, and Casio keyboards! Several HHTS teachers have also participated with GITC in specialized teaching artist residencies we call SSTARs, an acronym for Single Skill Teaching Artist Residencies.
STARRs, and another part of the GITC program called Family Music Hour, both share the magic ingredient: bringing HHTS teachers, students, and parents into music-making and musical learning together, so music can become a meaningful and joyful way for everyone to connect and communicate throughout the days and weeks. Led by GITC faculty member Mr. J, Family Music Hour cultivates and nurtures exuberant expressions of caring joy, hope, individuality, and connection between children, parents, and families- all through the shared experience of making music. Music is becoming a shared language.
Mr. J recently shared,"One of our long-time participants turned five this year, and is set to attend school with his peers in the classroom, which is a big deal on its own. Last year, this student's participation with the group was mostly confined to self-soothing behavior on his keyboard. In his most recent sessions, he has been using a communication device to "say/sing hello" to his friends in the group, and to express preferences for songs and instruments! Also, when the group is prompted to say hello using a gesture or instrument, he takes the initiative and grabs his guiro to be ready to play when it's his turn. The amount of expressive language that this student is now bringing to the Family Music Hour is a joy to see, and his improvement underscores the opportunities that our music and language routines provide students for expressing themselves."
Because of you, these programs are making a difference by serving students with life-altering medical conditions as well as students who have been removed from their homes by Child Protective Services. Students are receiving instruction and support to create and experience musical sounds, and play instruments in their own ways.
We are so grateful for your continued gifts. They empower us to keep going with this groundbreaking work so teachers can learn to bring about the changes they want to see in education by making music a part of the learning and healing, starting in their own classrooms.
With immense appreciation,
Jess and Gail
Links: