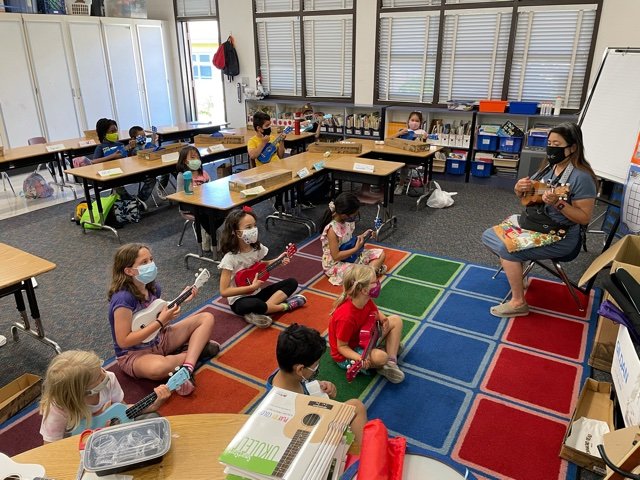 Dear Friends of Exceptional Children,
Thank you so much for your caring support of GITC's efforts to make music accessible to ALL learners. With your help we at GITC are continuing to expand our efforts to allow every child to express themselves through music, and the momentum is growing.
Attendance in our online courses, AMAISE Beginners and AMAISE-ing Classroom Coaching continues to increase. Thanks to you, in the past year over 450 special education teachers, inclusion teachers and support staff throughout the country have participated in GITC's online training, greatly expanding our musical reach to students. Our second level AMAISE online teacher training is providing individual coaching to the teachers, enabling them to gain useful strategies for self-regulation and Social Emotional development for their students. Also, because of your generosity, we have been able to supply these students with ukuleles and adaptive music supplies. Thank you!
GITC recently introduced our adaptive music program, AMAISE, to 50 members of the faculty at Carlson Home Hospital in the Los Angeles Unified School District who serve medically fragile students. These highly engaged teachers have now completed our AMAISE training and are ready to adapt music for their students with exceptionalities. One teacher encouraged her colleagues to train with GITC by saying, "You will make your students laugh and smile while at the same time teaching them to syllabicate and enunciate - phonemic awareness skills that lead to reading via this multifaceted medium." Your support helped create this opportunity.
GITC has also been invited to collaborate with the department of Home, Hospital and Transitions Support of the San Diego Unified School District to bring adaptive music to students in 12 different programs.The faculty serves a wide range of students, including those who are homebound and those dealing with emergency health situations. With your help, our impact is expanding!
A little encouragement goes a very long way to make someone's day or give them hope. Thank you for encouraging all of us at GITC with your generosity. Your participation helps us spread the joy. We are very grateful for your help.
With you, for all the children,
Gail