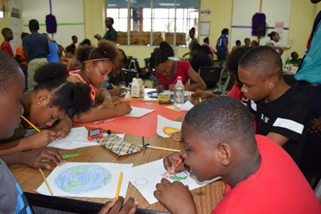 Dear Friends of ACDI/VOCA:
Thank you again for making Climate Camp 2017 a reality! With your generous support, Jamaican youth have been empowered to make a difference in their local communities.
Here is a final report summarizing Climate Camp's highlights and impact:
Objectives
Climate Camp aspired to:
- Create an interactive learning experience for Jamaican youth that would facilitate an increase in climate change knowledge
- Influence behavior change towards building resilience
- Foster climate change awareness among Jamaican youth
- Share information on the impact and issues related to climate change
- Stimulate climate change advocacy among Jamaican youth
Theme
Climate Camp's theme was "I am the Change in Climate Change." It was introduced to campers at the beginning of the Kingston and Portland programs. Following a week of activities—that included presentations, discussions, crafts, and games--campers were able to understand that transformation of their communities starts with them changing their own behavior and then promoting behavior change in others.
Outcomes
While focusing on Jamaican youth ages 8-17, Climate Camp was able to achieve three key outcomes: (1) increased awareness of climate change issues among participants; (2) creation of a group of strong climate change advocates; and (3) increased capacity/developed capacity of communities to address climate related challenges. Each outcome is described below.
Increased awareness of climate change issues among participants
A number of topics relating to climate change were covered during each week. The curriculum addressed definitions, causes, evidence, and impacts, as well as responses, mitigation and adaptation. There was also in-depth focus on water and the protection of water sources, the importance of trees and forests, the need to reduce, reuse, and recycle, the importance of effective solid waste management, energy conservation and renewable energy, and advocacy.
According to one camper: "Climate Camp was very informative…we learnt how our activities as humans affect the environment, and how different greenhouse gases such as carbon dioxide, carbon monoxide and methane cause the earth to get warmer."
Creation of a group of strong climate change advocates
Climate Camp provided an opportunity for Jamaican youth to believe they had the ability to make a difference in the public arena. Campers prepared letters to Jamaican public officials, including the prime minister, urging them to take action on climate change. The experience showed campers that they can help influence climate change policy.
As noted by a volunteer youth advisor:"…I thought it was a great initiative for the kids as I think it's extremely important to involve everyone in this movement and involving these children and showing them fun and creative ways to be innovative in combating climate change, they will better appreciate it and will be willing to try to help the earth in any way that they can."
Increased capacity/developed capacity of communities to address climate related challenges
By providing them the knowledge and tools on how on how to respond to climate related challenges, campers were empowered to act. In fact, some have already taken action to apply what they learned.
As one camper described: "[Climate Camp] helped me to have a better understanding of what is right for us to do to help the earth...I started sharing what I've learnt [with my youth group] and we have decided to aim higher than just us...we started handing out [flyers within the community]."
Key Numbers
The breadth of Climate Camp's impact can be seen with the following numbers:
2…number of camps held (Kingston and Portland)
10…total number of camp days, both locations
38…number of facilitators and presenters
48…number of youth advisors
100+…number of hours for training and activities
200+…number of those who attended 90 percent of sessions
339…number of those who attended one or more camp sessions
500…number of trees distributed for planting
Partnerships Forged
Climate Camp was also made possible by the generous financial and in-kind (e.g. venue, volunteers, presenters, communications materials) contributions of these organizations:
· National Environment and Planning Agency (NEPA)
· Jamaica 4H Club (Jamaica 4H)
· Water Resources Authority
· National Youth Service (NYS)
· Grace Kennedy Limited
· Jamaica Public Service Company (JPS)
· Forestry Department
· Jamaica Library Service (JLS)
· Portland Parish Council
· Rural Agricultural Development Authority (RADA)
· Petroleum Corporation of Jamaica (PCJ)
According to a JLS representative: "Overall [Climate Camp] was a success and the concept was really good. Of note was the fact that the resources provided were very good…children were empowered to be more conscious of their current choices and its impact on their future. The feedback from the children was very good and the parents also appreciated the knowledge that was imparted to their children."