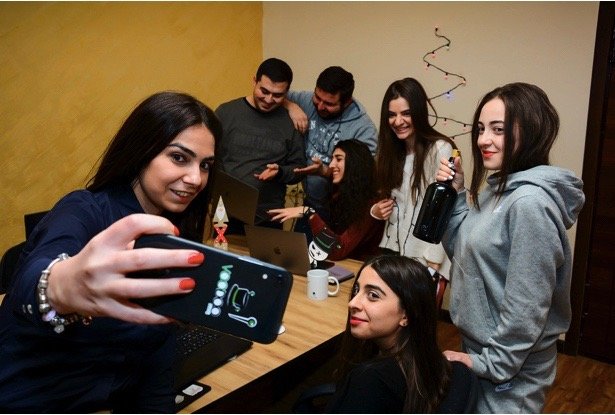 HERA International Goals 2021
In 2021 the HERA International teams aspire to fund 48 ventures, provide new training and networking events, and evaluate our 2019 and 2020 grantees in Eastern Europe, who could not be visited last year. To meet these objectives, we aim to raise $3,500 during International Women's Week to support five new grants and some training. Recently, HERA received 501(c)(3) NGO status in the US. In this first year, the new US Board has decided to prioritize grants for young STEM (Science, Technology, Engineering, and Mathematics) women entrepreneurs to expand their markets in Eastern Europe.
Last year HERA funded 28 young women's ventures to prevent dangerous migration and trafficking in Armenia, Georgia, Moldova, and Ukraine. In the midst of a pandemic, these young entrepreneurs created many new jobs for other young women. Our funds were limited; yet the demand was the highest ever. We received 252 applications and could easily have funded twice that number of worthy ventures. The stories of four 2020 women grantees below report on their progress.(1)

VooDoo Digital Marketing in Yerevan, Armenia
After working for an IT company on digital marketing, Varduhi Harutunyan launched her own venture, VooDoo Marketing, five years ago. She employs five women and two men, ages 22 to 29. Her team provides several services, including branding (e.g., logo design and packaging), product photography, and business training. VooDoo's clients are primarily small Armenian businesses in the food and beverages, and fashion sectors. Her company averages 30 clients per year, including several long-term contracts. Varduhi's business was initially stalled by the pandemic but had started to recover when the Armenia-Azerbaijan war broke out and caused further disruption. Varduhi had never taken a loan so the HERA grant was the first time she applied for external funding. Her HERA grant paid for a professional camera, which allowed Varduhi to hire the photographer full time.
EGO Sewing Atelier in Rustavi, Georgia
After working for other companies, three young Georgian women, who studied fashion and textiles at Rustavi Vocational College, decided to create their own "EGO" brand and venture. In 2019, they began producing and sewing bags, clothes, and accessories. They sell through social media and in normal times, at exhibitions and outdoor markets. In their first year, they sold $2,711 worth of goods and almost broke even. By reinvesting their salaries into EGO and increasing online sales, the three young women managed to keep the business going during this past year when many others folded. After receiving a HERA grant, they immediately bought two professional sewing machines and increased their monthly online sales from $451 to $1053. Megi Chekurishvili, EGO's Managing Director, reports that "After Covid, we plan to take our products to various exhibitions and introduce them to as many people as possible."
Tromigou Wood Workshop in Chisinau, Moldova
Maria Babii, the owner of Tromigou, provides handmade, painted wood products by talented craftswomen and artists. Her company produces "eco-friendly" products made from natural materials, including souvenirs, business stationery, home decor, toys and made-to-order presents. In 2019 the HERA team provided Tromigou with a laptop for designing products and taking online orders.
Although Tromigou grew during 2019 and early 2020, when the pandemic hit, their orders initially declined. The company's reliance on festivals, souvenir stores, and events to showcase products meant that they lost several key distribution channels. Maria had to let go of some staff. However, once lockdown lifted, she re-employed most of the staff again. The company now focuses on the most profitable business segments and opened up an online Etsy store to sell globally. Currently Maria employs eight women (all under 35 years of age) and one man. Impressed with Maria's resilience and determination during the pandemic, the HERA team awarded the Tromigou a second grant to purchase a cordless circular saw.
Nut Shell Architecture Firm in Kiev, Ukraine
Tetiana Sapurko received a HERA grant in 2019 for Nut Shell, her architecture and interior design firm. During 2020, Nut Shell also won Third Place in HERA's Extraordinary COVID Competition. During that competition, the France Association awarded prizes to exceptional businesses run by HERA grantees, who managed to keep ventures going and women employed during the pandemic. During 2020, Nut Shell not only kept going but doubled in size; and with her first grant, Tetiana hired two new women, including a refugee from Donetsk.
At the beginning of the pandemic, Tetiana gave up their office lease. The Nut Shell employees work from home and meet clients on video calls as Kiev remains in the red zone. The company has not been badly affected by the pandemic because its employees can do most of their work from home. With a second HERA grant, Tetiana bought a 3D printer, which allowed their team to save on renting equipment and to protype 3-D models of architectural layouts. During the lockdown, Tetiana has also led workshops for young designers and architects to improve their skills. With the additional support (and their hard work), she reports that Nut Shell's increased monthly income of $1,519 has allowed her to hire and train three young women in their 20s, two who work part- and one full-time. Tetiana recently wrote to us, "Thank you for the grant and faith in the NUT SHELL team! We will be glad to be of assistance if you need an office design."
As the four women's stories attest, the HERA women entrepreneurs are playing a critical role in rebuilding local economies and markets hit hard by the pandemic. During GlobalGiving's International Women's Week, from Monday, March 8, at 0:00:00 ET through Friday, March 12, at 23:59:59 ET, all donations up to $50 to HERA will be matched 50%. By supporting our work run by volunteers, your donations to HERA can go a long way in directly benefitting courageous young women entrepreneurs.
Please donate to HERA through the link below:
https://www.globalgiving.org/projects/entrepreneurs-against-trafficking/
Many thanks to all of you for your continued support and interest in our work!
(1) Written permission has been obtained to use the women's full names and the names of their ventures.