By Lynellyn D. Long | Project Leader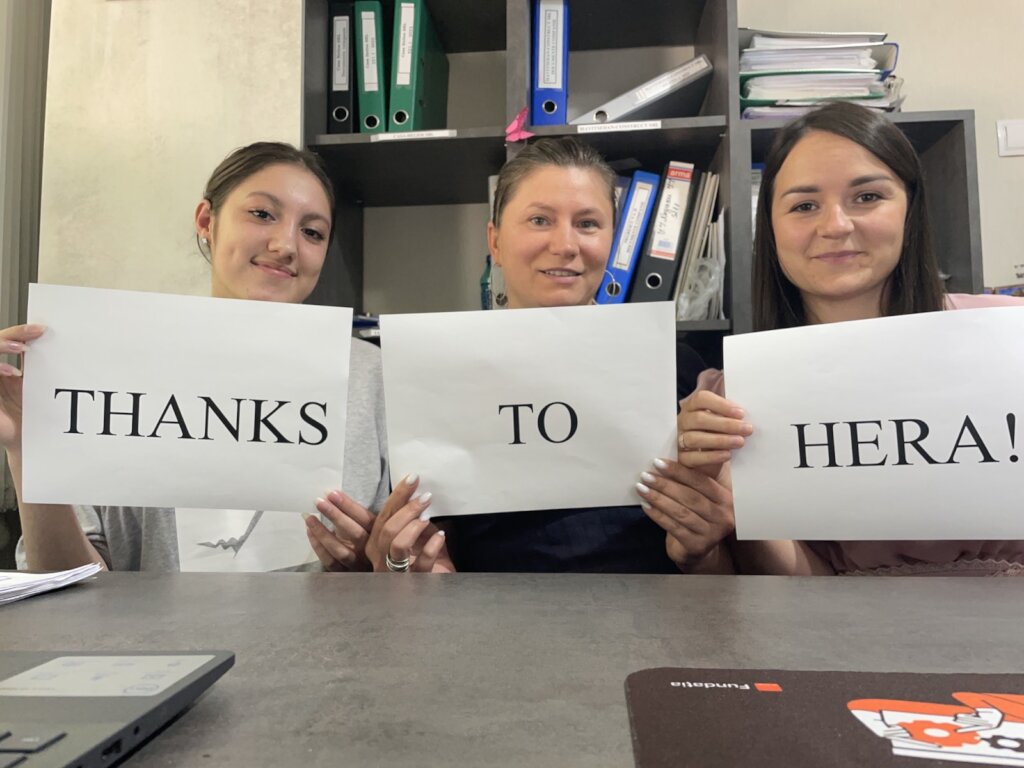 The women entrepreneurs in the photo above run their own accounting firm in rural Moldova, where they advise construction and furniture companies. Before opening the firm, Olga, the founder, taught finance and worked as an accountant. (1)
She observes:
I like to help young entrepreneurs. I work not just to earn money, but I like to help people and see that people are happy that they get results. I want to take on one more person each year. I am preparing one more person now. I choose a person who wants to learn, which is more important than that they have school degrees.
HERA awarded Olga and her team a printer. These young Moldovans constantly live with the threat of a Russian invasion and yet, they carry on.
Despite facing high inflation, young women entrepreneurs in the four countries (Armenia, Georgia, Moldova, and Ukraine), where HERA works, have launched very diverse creative, scientific, educational, and technological ventures. This year HERA supported women-led, ventures in agriculture, food processing, beekeeping, quail production, education and preschools, children's psychological support, manufacturing, travel, accounting, financial services, digital marketing, film production, and a children's magazine. Several of these young women entrepreneurs are at the forefront of their countries in developing new trade and markets in their local and national economies.
Ani's Ecopen company in Armenia is a good example of a creative response to environmental waste. To reduce dependency on plastic, she manufactures ink pens made from wastepaper. The top of each pen holds a capsule with seeds. Once the ink is spent, the pen can be turned upside-down into dirt. The capsule dissolves and after a few days, the seeds germinate. Three young women hand assemble these pens, which come in 30 different colors and four different inks. Ani and her team have been working under the constant threat of war and this summer with the Azeri-Armenian conflict in Nagorno Karabakh, an influx of refugees. Yet, Ani remains determined to open a factory. From HERA, she obtained support for a new printer to increase production.
In Georgia, another woman entrepreneur is addressing an unmet need. Manana, a speech therapist (see photo below), has opened a clinic providing therapy to children with disabilities, including language disorders, autism, and Down syndrome. After working for a public sector program supporting children and adults with disabilities, she opened her own practice. Bringing 23 years of experience, she built a team of six women therapists and received referrals from physicians, schools, and parents. Manana also trains teachers and other education professionals in supporting children with disabilities. Her team is renting a bigger office to accommodate the growing demand for their services. The HERA team provided support for additional equipment for working with children. As in Moldova and Armenia, Georgian women entrepreneurs face the constant threat of the war spilling across their border. That has led to supply chain shortages whilst the country continues to host hundreds of refugees,
In Ukraine, where the war has not abated, the HERA team is meeting the top ranked applicants online. We are also supporting Ukrainian refugees reopening their businesses abroad, including a chocolate venture in Texas. Security considerations permitting, we plan to visit the 2022 and 2023 Ukrainian applicants in the coming year.
One HERA grant this year is for Uniclub, a family centre in Kyiv. A HERA team first visited Uniclub in November 2021 and awarded a first HERA grant prior to the war. Remaining in contact, we were concerned that in face of the constant bombardment, they had had to close. As Marina, the founder and director, wrote of the situation in 2022:
My children and I thank you for the smart board and projector, children now have the opportunity to watch cartoons, learn and play. My 13-year-old daughter yesterday could not stand the moral burden. She cried and said that she was very scared. And the son said that he likes to sleep in the basement :).
Fortunately, this past year, Marina reports that Uniclub has maintained a 3860-client base. Some of their clients have gone abroad but they are currently serving 500 permanent clients and employ 43 staff/teachers, of whom 36 are under 35 years of age (see photo below). Despite the conflict, Uniclub continues to offer fitness and dance classes for children and adults, four kindergarten groups, an inclusive elementary school program for children with disabilities and special needs, day and summer camps, language school, and after-school programs. Although Uniclub's main clients are young mothers and children, they also offer yoga and fitness classes to grandparents who bring children to the Centre. HERA is providing a second grant for the purchase of an interactive board and projector, and we look forward to visiting the Centre again!
For this year's competition, HERA received 144 applications from women entrepreneurs: 66 from Armenians, 23 from Georgians, 40 from Moldovans, and 15 from Ukrainians. Seven HERA volunteers from Canada, France, Germany, Great Britain, and the US, ranked all applications. Three different assessment teams, coming from the UK, Western Europe, and countries of operation, directly visited over 77 of the top ranked women's ventures. To date, HERA has awarded 50 new grants and by the end of this year, we expect to award 10 more, bringing the total for 2023 to 60 (42% of the applications received). We also awarded an additional special grant to Orran (see last photo), our Armenian partner, to honour the late Manana Manayan, Orran's founder in Vanadzor. For over a decade and right up to a week before her death, HERA teams directly benefitted from her wisdom. We miss her greatly. Since this programme began in 2010, HERA has awarded 514 grants.
Thank you for your support to the HERA Women. Please continue to support our work during GlobalGiving's campaign on Giving Tuesday, November 28, so that we can continue to support women entrepreneurs who are making a difference in these most difficult and challenging of times.
(1) We have permission to use the full names of all women and their organisations referenced and/or quoted in this report.