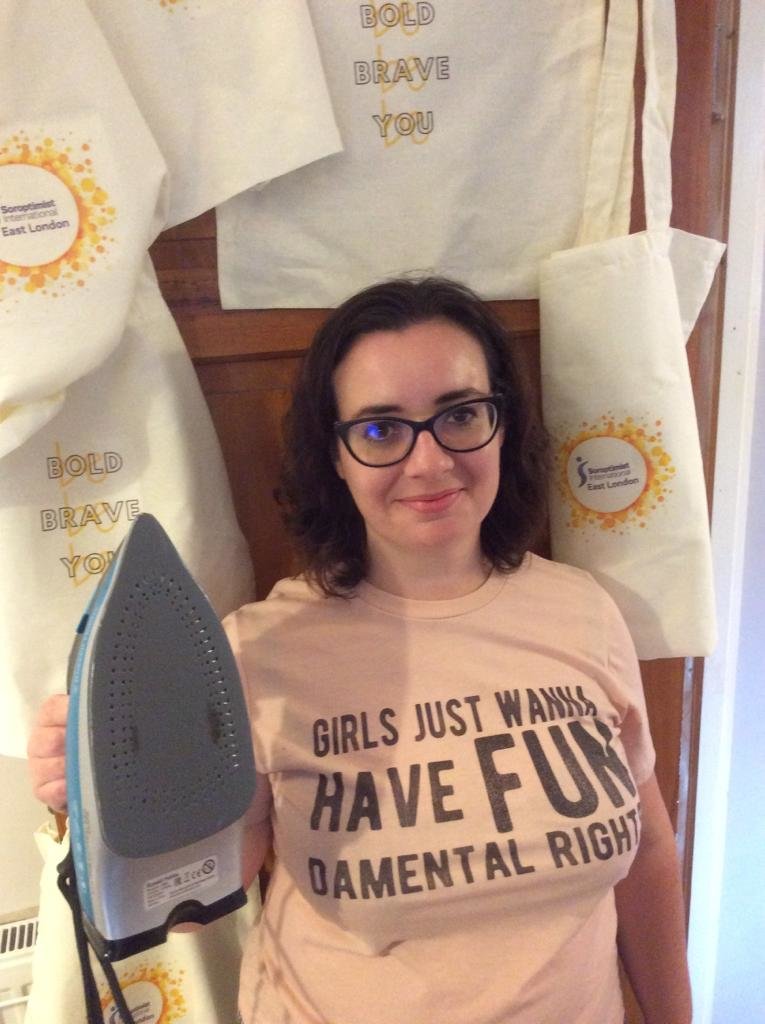 HERA uniquely addresses two ends of the counter-trafficking interventions' spectrum: (1) prevention of trafficking; and (2) reintegration of survivors. HERA's mission is to promote young women's entrepreneurship and employment to counter trafficking and re-trafficking. The prevention of re-trafficking, in turn, depends on the women survivors' successful reintegration.
HERA's international grants, training, and assessment activities for young women entrepreneurs in Eastern Europe aim at prevention while our entrepreneurship and mentoring program in London, a major trafficking destination, supports reintegration. This quarterly report focuses on HERA's London activities during the pandemic. This report begins with two profiles, next describes the support the HERA team provided to survivors in London during COVID, and finally, in response to the new normal, discusses how HERA's reintegration and prevention activities are going online.
Two HERA Women Profiles
Ruth[1], a mature HERA student with two children, fled Nigeria after repeated beatings from her husband. Shortly after arriving in London, she was referred to and attended HERA's three-week Summer Entrepreneurship Program. At the end of the training, she wrote to the team, "Thank you, HERA, for giving me the opportunity to participate, it was an experience and an eye-opener to me towards being my own boss." Ruth also told the team that she was convinced when she completed the HERA training that she had done the right thing for herself and her children's future.
Wishing to help others move on in their lives, Ruth volunteered at an immigration center to give back what she had learned from her own experiences and from attending HERA. In advising and supporting other families, who had fled other difficult experiences, she felt less alone. She also began studying social care and psychology at night so as to provide better support for the immigrants she was trying to help. In August, with her HERA mentor's assistance, Ruth applied to study psychology at Goldsmiths, University of London and was chosen amongst hundreds of applicants. She reported that joining the HERA Program and working with her mentor motivated her to take on new challenges for herself and her children. Thanking her mentor, Ruth wrote, "You are more than a mentor to me, because you believe in me, giving words of encouragement is more than enough for me. Words cannot say how much I appreciate you."
Many HERA students wait several years to obtain a ruling on their immigration status at the end of which they may be allowed to become resident in the UK, or with an unfavorable decision, risk being deported. During this limbo period, they cannot be employed for pay, obtain public housing, or register for a degree program.
Agnes, a HERA graduate from the 2018/19 cohort, waited patiently for her residency status for seven years. During that time, she volunteered for several charities and helped out at a local community coffee shop. She also studied IT & Technology online over a year's time. After Agnes finally received UK residency status this summer, she finished an intensive IT Training course. Even after obtaining her residency, Agnes continued to participate in HERA's monthly workshops to meet up with her mentor and to offer her own support to the newest cohort of students. Her upbeat spirit and determination have been an inspiration to other HERA women and mentors and to all the UK team.
HERA Support During COVID to London Survivors
Following lockdown in the UK in March, Sophie-Rose Holt, HERA UK's Program Director, Joanne Chidwick, the UK Chair of Trustees, and Professor Ebrahim Mohamed, Academic Director, telephoned the 2019 HERA women graduates to see how they were faring and what support they might need. During the calls, 15 of 17 women reached, reported increased loneliness, helplessness, and reliving of past trauma.
The women also reported their lack of access to cell phones and/or laptops. As the team observed, the pandemic exposed the women's digital poverty and increased the digital divide between the haves and have nots. Only one of 15 women owned or had access to a laptop. All reported struggling to obtain regular access to internet. To address this issue, the HERA UK team distributed new smartphones to three women who lacked any form of communication and two iPad's to young mothers, who needed to help their children continue schooling. The HERA UK team is also building a digital lending library of smartphones, tablets and laptops to provide to current, past, and future HERA women so that they will have access to the HERA training and other programs.
To support the HERA women during the lockdown, the UK team has distributed 70 monthly support packages since April and will continue these support packages until October. The packages include £10 ($12.92) data top up vouchers to provide women isolated in shelters with online access to studies, mentoring, and communication with families, friends, and colleagues. Private and corporate sponsors paid for hand sanitizers and washable face masks in the packages. The Soroptimists of East London sponsored personalized tote bags in the June packages and American Express purchased Marks & Spencer vouchers for the August ones.
HERA's Entrepreneurship Training Goes Digital
"HERA Online", currently being developed by the UK team, takes the essential, basic financial literacy and business skills from our in-person Entrepreneurship Program to place it in the digital environment. With Salesforce's support in building the platform online, the training includes sessions from past speakers from leading business schools, the corporate sector and startup entrepreneurs. Through "HERA Online" women survivors will be able to access these basic skills along with some support for personal development via their smartphones. The course is self-study and provides a community forum and virtual mentoring to reinforce the learning experiences and provide access to the larger social networks of a digital world.
This Autumn, "HERA Online", in its final stages of development, goes into its testing phase with current and past HERA students, and our charity partners. "HERA Online" is designed to provide access to the basic skills taught in the HERA Entrepreneurship Program to women survivors in shelters throughout the UK, to those working or awaiting an immigration decisions, and to mothers with childcare responsibilities who may not have time to attend an in-person course. The team expects "HERA Online" to reach over 100 women each year. Some parts of the program may be useful and extended to our entrepreneur networks in Central and Eastern Europe.
"HERA Online" will also feed into HERA's in-person, London program for June 2021. Students for next year's summer program will be recruited from those who successfully pass the online course and can benefit from an in-person program that builds on the knowledge gained with live examples and activities. The HERA Entrepreneurship Program will then be designed for and targeted to the women survivors, who specifically want to become entrepreneurs and/or pursue a business career.
Prevention Plans Ahead
Given the difficult economic times, HERA's international grants competition to prevent trafficking received 254 applications from women venture owners in Armenia, Georgia, Moldova, and Ukraine. This unprecedented demand also reflected the hard work of our Armenian mentor, Anna Hovhannisyan, who organized an online workshop; our local NGO partners in all four countries; and the kindness of several volunteers, former grantees, and translators in spreading the word. HERA's France team has reviewed and ranked all applications. Since we cannot travel to the countries this year, teams of two volunteer assessors are meeting with and interviewing the finalists online. Our local partners have also volunteered to provide direct follow up support where needed.
Our next quarterly will report on the results of our online engagements. Until then we wish all the HERA community and our supporters to stay safe, healthy and well and to keep your own entrepreneurial spirit alive and well in these unusual times.
[1] Ruth and Agnes are pseudonyms and their stories are slightly modified to protect their identities.