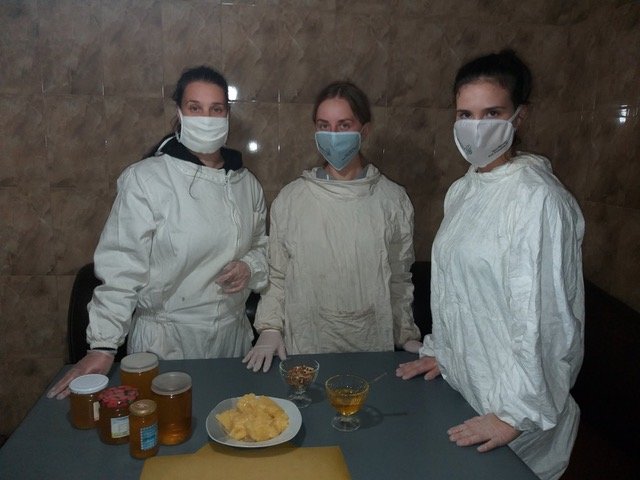 HERA's Special SARS COV-2 competition, launched in early April, proved the strength and resilience of the HERA women entrepreneurs in Armenia, Georgia, Moldova, and Ukraine. The vast majority of our grantees are finding creative ways to respond to a "new normal" while actively supporting their employees and communities. As reported in our special report, all four countries, as in the rest of Europe, were affected by the virus and locked down in March.
Many grantees expressed appreciation for HERA's Special Competition and for "remembering us" in these hard times. By the April 26th deadline for responses, HERA had received 52 applications from women entrepreneurs in the four countries. Eight reviewers from France, Germany and the UK selected three prize winners, who are receiving awards of EUR 300, 200, and 150. Given so many thoughtful responses in English and the grantees' languages, the HERA team awarded an additional eight honorable mentions (EUR 100 each). Four HERA France Association members funded the awards to save GlobalGiving donors' funds for the 2020 Annual Grants Competition this summer.
Learning about the challenges and negative impacts of SARS COV-2 on grantees' ventures is useful for designing the upcoming 2020 competition and assessing this year's ventures. Besides the personal, psychological, and financial hardships that many women are facing, especially those whose businesses are closed, other challenges to economic survival include:
higher input and supply chain costs for production;
shortages and stoppages of needed supplies and materials;
losses of national and international customers and sales;
delays and stoppages of transport to local, national, and international markets;
shutdown of services (tourism, restaurant, hotels, schools, beauty, etc.); and
food shortages, but also food rotting because the lack of transport to market.
Armenia and Ukraine also have had conflicts on their borders during this period. All four countries have imports and export deliveries held up at international borders.
The industries worst affected are not surprisingly: (1) services (tourism, beauty salons, restaurants, schools and language programs); (2) manufacturing that depends on supplies and inputs from other regions; and (3) commercial (but not subsistence) agriculture. All ventures dependent on trade are suffering. Cross border and even internal trade of many essential goods has slowed and in some cases, ceased. As a producer in Artsakh (Nagorno Karabakh) observes, she can no longer even send her products to the Yerevan market.
The women entrepreneurs have developed short- and long-term strategies to respond to the COVID impact on their ventures. One consistent strategy is producing for local markets and consumption. Armenian and Ukrainian owners of tourist ventures are developing local packages for different age groups and targeting a "Domestic"market. Using a similar strategy for a different industry, a greenhouse producer reports:
our greenhouse was full of vegetables. Some of them were grown on contract. We expected high returns. But when those companies were banned, we faced the fact. We delayed the salaries for 2 months. With the help of our employees, we collected the harvest, made baskets and distributed them to all the residents of the community several times. We decided to help our fellow villagers and sow their cabbage seeds in our greenhouse for further planting.
As this producer, several venture owners are taking a social enterprise approach and working collectively with local communities to respond to the virus impact. Our first prize winner, Orran, an Armenian NGO, reports:
We are providing food packages to more than 200 poor and needy families and 90 lonely elderly as well as provide them online psychological and counseling support. These people are the most vulnerable groups who need our support especially during this period. Some of them are losing their homes as they are not able to pay for the rent, or unable to pay for the utilities. We do our best to seek funds to cover all of these needs.
Several women are retooling companies to diversify and/or produce essential goods during this period. A Georgian vintner focuses her wine sales on high-end, international customers. However, with food shortages in the local market and to diversify production, she reports:
We decide to plant our 4 hectare this year with different crop – Beans on 2 hectares, potato, tomato, corn to the other 2. It will give us a possibility to keep 4 ladies to work and even to get 2 men + tractor driver for job.
An Armenian dried fruit exporter has also shifted to selling fresh fruits in the local market. Small factory/atelier owners in Armenia, Georgia, and Moldova moved from producing school uniforms, cotton home textiles, clothes and neonatal products to masks and protective equipment. Some distribute masks to elderly people free-of-charge. An architect in Ukraine uses the printer that HERA provided to produce "forms, instructions for doctors, informative booklets about the fight against the virus", for hospitals and other medical institutions. A Ukrainian photographer of children is using her skills and services for "reportage shooting for foundations, which help people who are going through the hard times."
Another strategy to attract local customers by decreasing prices while maintaining profit margins is lowering input costs. An Armenian jeweler, who previously sold internationally, reports that "our company will have problems with decreasing demand for jewelry. To solve this problem, we plan to start producing jewelry made of wood and stones." The same company, and several others, to stay afloat and keep all employed temporarily cut salaries across the board by 50%.
A Georgian restaurateur stays open by using Uber for home deliveries but plans to decrease costs by organizing bicycle deliveries. A successful Armenian butcher, who previously sold high end products nationally, writes:
we help our employees and do not leave our customers hungry. We will not raise the price, moreover, every day we think about creating cheaper products more available to people. If this situation continues, we will sell goods at cost, but we will not make money on the misfortune of our fellow people.
Several venture owners added new product lines to reflect the changing demands. An Armenian natural cosmetics venture keeps all legally employed by producing sanitizing lotions. The third place winner, an Armenian beekeeper, keeps her team working with protective equipment (made by another HERA grantee); and as she reports, "For the first time we sell the people propolis tincture and have fantastic feedback. It helps people to be protected from viruses and bacteria and enhances the immune system."
Women leaders in manufacturing, food production, and educational and social services, have moved workplaces into people's homes and/or online. A sewing venture owner observes:We thought that if our employees could not come to the workshop, the workshop could go to their house." A tailor, who also moved her atelier to home production, supports employees by organizing online discussions and education
A Ukrainian NGO, and second place recipient, reports adapting its program by going online:
Creative Quarantine is not educational, but rather supportive and engaging. The slogan of this project is "You are not alone". Since late March, we have already had 25 daily Facebook-lives (30-minutes long). The topics vary from taking care of your mental health during the pandemic to crisis management during the lockdown (other examples of topics: how to balance your work from home and childcare, creative writing as a self-help tool, social activism during the quarantine, how to support local brands during the lockdown, how to overcome the fear of losing your job, etc.). We invite both experienced female speakers and those who have never done webinars. We have planned 80 speakers and lives on Facebook until June 2020.
Several ventures -- a jewelry store, fashion house, and gift shop -- moved to or expanded online marketing; others offer English and arts education online courses; and a former toy producer provides digital books for parents and children to make their own toys. A café owner organizes home deliveries of her coffee and roasted beans.
A few changed their business completely. With her café closed, a young entrepreneur and her mother have organized a sock business for women to knit in their homes. A hotelier of a small guest house for international clients is opening a pub for local customers instead.
A few women are using this time to prepare their business for a new normal. A Moldovan beauty salon owner, reports: "I am already prepared with disinfectants, protective masks, I am ready to respect all the hygiene rules. I am waiting for the announcement from the ministry that we can open the business." Many are essential frontline workers and cannot afford to wait. They have adapted production, as an Armenian baker reports by "disinfecting operations, staff wear special equipment, limiting contact with the outside world, and keeping to the rules." A tea manufacturer writes:
we have rented 2 areas so that we can carry out the packaging, now in 3 different places, so that there is no big accumulation of employees, they work in groups of 3-4 people. We will do the work at great expense.We have decided not to make reductions and to work for a while with a deficit, but to keep people's work, because in these conditions they need this job, money.We have to buy new uniforms, gloves and other accessories for 17 employeesfor 2 month, which can cost $ 500-570.However, we will keep the jobs, already having big losses for this year
HERA's premise is that support to women entrepreneurs is the best way to create employment and prevent dangerous migration and trafficking. These women are proving their commitment to their employees and communities in hard times. Thank you for your support to them!