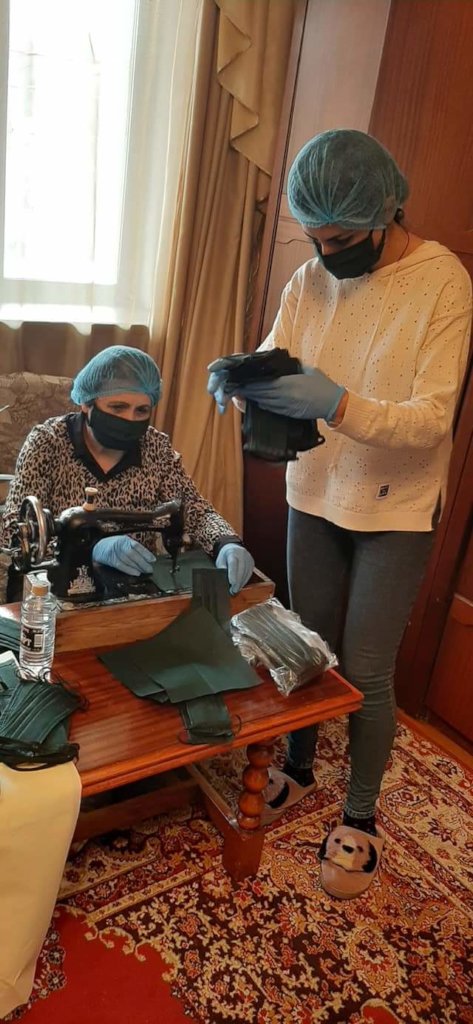 In April the HERA team usually launches our annual online "International Grants' Competition for Women Entrepreneurs" to prevent dangerous migration and trafficking from Armenia, Georgia, Moldova and Ukraine. The annual online competition is followed by assessments of ventures in the field.
Given the COVID-19 pandemic, we have delayed this year's launch until summer. In lieu of our launch, we have organized a small, "Extraordinary Competition" for past and present HERA grantees in the four countries to share their experiences and accounts of how they are coping with the virus to support families, ventures and communities (see Official Announcement below).
Background
All four countries report case and death rate trends that mirror those in the rest of Europe. Although national borders are closing everywhere, migrants, displaced, and refugees, who constitute a number of our grantees in all four countries and are the backbone of many economies, are having to return or move on.
Armenians also report renewed conflict on their Azeri border and food shortages as Russian trucks are delayed at the Georgian border. Some greenhouse producers can no longer bring their products to market. Moldovans have family members who were working in Italy and had to return quickly. Georgians were exposed from their international trade and tourism, and quickly had to cancel direct flights to Wuhan. As elsewhere, coronavirus spread quickly and most cases now are from community transmission. A Ukrainian compares the current public hesitation to respond to this new threat to the 1986 Chernobyl disaster, where the impact was initially invisible but eventually dramatic. Ukrainians, who recently lived through TB and measles epidemics, and conflict, may not have initially realized the extent of this new threat. Throughout the region, social isolation and lockdowns are officially in place. As everywhere in the world, this pandemic is having a negative economic impact. Many ventures have had to close and many entrepreneurs and their families are struggling.
Response
Given the pandemic's economic impact on our grantees, we decided to launch an "Extraordinary Competition". Although delaying the Annual Competition, we did not want to ignore the immediate impact of this virus on our local partners, mentors and women entrepreneurs. We still hope and plan to launch our annual competition in the summer and are saving for that.
The main objective of this small competition is for the women entrepreneurs to share positive experiences and strategies for coping with this virus. Unfortunately, for some, we have already heard that even our small award amounts are needed. The Announcement went out in early April and already we have over a dozen responses. Deadline for submissions is April 26.
Feedback To Date
Three HERA grantees (one in Moldova and two in Armenia) have retooled small sewing factories and ateliers to make masks and/or protective equipment. An atelier in northern Armenia reports that they have made 2,500 masks so far and give them free-of-charge to elderly neighbors. An Armenian mentor writes that the Campaign Announcement was the "best news" she has had in three weeks. She then produced a short video in Armenian to distribute the announcement widely and organized a live Facebook session for women entrepreneurs and HERA team members. A local NGO leader reports that she has set up an online sewing course for her network of rural single women heads of households. A butcher shop owner has stopped sales and shipments of high end products to produce only meat products that her town can afford. A woman vintner in Georgia, anticipating future food shortages, is organizing local women to plant new crops of vegetables.
Several HERA Team members from France, the UK, Italy, Serbia, and Armenia have also benefitted from an online seminar by Jaimie Shires, a workplace mental health specialist. Our appreciation goes to Dr. Walter Gontarek, CEO and co-founder of Channel Capital Advisors, an asset management and FinTech firm, who recommended and supported this seminar. Many thanks as well to the GlobalGiving team for your ongoing support.
Although our awards for this new competition are small and there will be many honorable mentions, we hope that all of us will benefit from hearing some extraodinary accounts of the creativity and resilience of women entrepreneurs during this pandemic. We hope that you are also finding new resources in your own life and that you and your families are staying safe and well!
Happy Passover, Easter, Ramadan, and Spring!
Attachments: