Dear Friends, Supporters, and Well-Wishers,
This season's School of English for Engaged Social Service (SENS 2023) is in full swing. We have just completed eight weeks of the program, with our graduation date set for April 8th. We have 15 students from five countries, and our work team expands that out to several more. If by chance you saw our funding appeal in October or November last year, I would like you to know that we were able to fund and bring most of the students whose stories and photos we shared. You might not have known that at that time we had a negative balance in our account, and didn't know how we would bring anyone at all.
It is close to a miracle that we could. And you who donated here on GlobalGiving were the ones who made it happen. Thank you so much! In one day, November 29th, we took in enough in donations to fund one and a half scholarships. And that helped to set everything else in motion. Your donations around that time, and since then, and the support of those of you who are our monthly donors, have made it possible to bring together a wonderful group who are fully engaged in our program this season.
I'm grateful to GlobalGiving for offering us additional funding late in the year, which enabled us to add to the number of funded students. I'm grateful to other institutional donors who made it possible for us to bring as many participants as we have. I'm grateful to our Vietnamese students, who in many cases contributed significantly to their tuition. I'm grateful to those of our students who braved the risks and horrors of a harsh military regime to attend our program, and who, along with some from other countries, had to pass through many bureaucratic hurdles simply to come to Thailand for the required number of months. Thank you all for your commitment!
These days, money flows like water in many fields—the fields where weapons are sold, the fields of Congressional lobbying, the fields where medical care is offered only if a profit is to be had. But this flow of precious water slows considerably when it is not private benefit or national power that we seek to amplify, but compassionate leadership without regard for national or ethnic boundaries. Thank you again for directing the flow of your own personal resources to support us in this endeavor. It means so much to each of our students, and ultimately to the fate of our deeply interconnected world!
The students this year are on the whole more advanced in English than in previous years. And their commitment and openness to learn, and to each other, is palpable. The outpouring of support for fellow students, when they need it, is remarkable. As is the willingness to share with each other, and to be vulnerable. In our very first days, as students introduced themselves, first in the opening ceremony, and then in their native language on our first day of class, several cried spontaneously about the effort it had taken to come to the program, and the fact that they had arrived at a safe and hopeful place.
When I look across the classroom during a workshop, it is not unusual to see a young Myanmar humanitarian worker rest her shoulder against that of a female social entrepreneur from another country. It is not unusual to see students listening intently to each other, or laughing, or crying, or talking quietly in groups of two or three. Whenever we do "Mingling," which has the students simply find another person or two and ask and share about what's going on, it can be hard for the end-of-activity bell to be heard over the din of the conversations.
Our students are energetic and self-motivated. We ask them to think about the world, and about their goals, and they are eager to do this. They have appreciated and sometimes loved the films we show, usually once a week, and they comment insightfully about what they saw in each film. We are offering a crash course in the humanities and social sciences, all with a focus on building a network of young leaders who care not only for the future of their country, but of humanity. Who care not only for the future of humanity but also for each other's wellbeing. Who are able to look at the great social landscape they are part of, and consider everyone a potential ally. This strengthening of relationships is at the core of SENS's work.
We have also faced tragedies together. One of our students got word one day that their closest childhood friend was shot to death by the military in their home country. We offered our student time in the morning class to share about the friend who was killed. And we want to memorialize the fallen friend in some form. How shall we do that? And why is it that we live in a world where a group of young leaders devoted to study for a time have to face this needless death? These questions weigh on my mind.
The SENS 2023 students are fortunate in that we have had numerous workshops and out-of-class experiences, and there are more to come. The students have had, and will have more, chances to meet with some of the outstanding workshop leaders, and leaders period, in Thailand and in the region. For the first time ever, students have had the chance to interview the director of a film we have viewed together, including At the Gate, on the impacts of Israeli checkpoints and crossings, by our tutor Kathleen Kamphoefner. They also interviewed Ann Hu, the director of Confetti, a filmon dyslexia, online. And they will have the chance to see a film directed by one of our own students before the course is over.
Our first field trip included meetings with three remarkable women: Dhammananda Bhikkhuni, the pioneer who through careful study and brave action made it possible for women who wish to become Buddhist monks to do so, in Thailand and beyond; Khun Krarok, who led villagers in a years-long fight to prevent the building of a dirty coal-fired power plant in an otherwise flourishing fishing and agricultural area; and Khun Ploy, a woman who has helped to build a community enterprise of homestays and an eco-fabric printing workshop in a small town in Ratchaburi province. These visits are part of our intention to open up the classroom into direct contact with Thai society and into direct engagement with outstanding leaders who have arisen from within Thai society. As an anthropologist, I can confirm that such direct face-to-face meetings are far more inspiring of imagination and appreciation than even good writing or a video might be.
Our multinational work team, and our students, have not only been responsive to and supportive of each other. They have also been remarkably generous and kind in offering support to me, as I direct a challenging program. It is challenging because our program can only work when it is truly responsive to the needs of the students. And these needs evolve as we offer our curriculum in English, leadership, and awareness of planetary challenges and solutions. Thus the next three weeks will be characterized by experiences that are fresh and new, even for those of us whose job it is to point the way forward, as we traverse this dense and beautiful forest of mutual learning that is the SENS program.
A heartfelt thank you to you for reading, and for making all of this possible.
Sincerely,
Ted Mayer
Director of the SENS Programs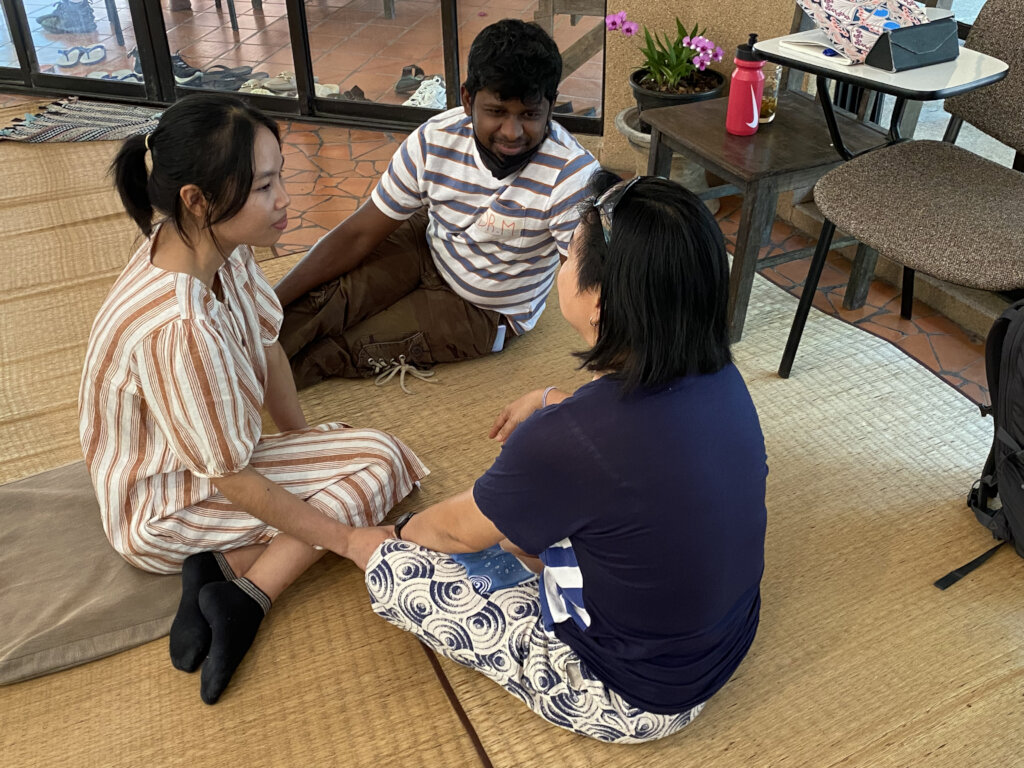 Links:
Attachments: