Dear Friends and Supporters,
At the end of 2021 we want to express our deep gratitude for your support of our work in these challenging times. Our work has consisted in creating educational spaces that are safe, personalized, characterized by the natural delight of learning together, and capable of cultivating compassionate leadership. We bring to our work a commitment to the universal dignity and value of all human beings, a focus on supporting those who have been excluded or oppressed, and the realization that genuine transformations toward free and humane societies require changes both within individuals and within larger social structures. We believe and have seen that out of these changes the desire and the ability to cooperate for a common future emerges naturally.
The heartland of our work is Thailand and Southeast Asia, but we also reach partners and ethnic or religious minorities throughout South and East Asia. Our primary institutional framework has been the School of English for Engaged Social Service (SENS) and the One-On-One Mentoring (3OM) programs, both under the Institute for Transformative Learning of the International Network of Engaged Buddhists (INEB Institute).
We want you to be aware that in 2022 our work will be making a shift towards supporting leadership of young adults from the many ethnicities of Myanmar. We are inspired by their determination to survive the current deadly violence, to make democracy and respect for human rights the norm, and to chart a path forward to a new social contract of inclusion and mutual respect. Our close partnership over several decades with various organizations in Myanmar (mostly Buddhist and Christian, but more recently also Muslim) means that we cannot ignore the trauma occurring in our neighboring country, or the huge increase in the populations of IDP (internally displaced persons) camps, or the growing numbers who are escaping across the border into Thailand for refuge. Most horrifying have been the deliberate targeting of civilians, the bombing of residences in towns and villages, and attacks on religious sanctuaries, including churches, mosques, and temples.
Reflection on these issues, and how to respond, have characterized the last few months of our work. We saw glimpses of the situation, and how we could help, during our SENS 2021 course. One Myanmar participant who had fled Myanmar in fear for her life wrote the following about having been a part of our program:
Most importantly, the program has been a safe space for all of us. The feeling of being in a safe place helped me to heal. In the early days of the class, I was deeply distressed by the traumatic events that I experienced since the coup. I was in shock, overwhelmed with fear and despair. Looking back myself from now to beginning days, the change in me is very obvious and clear. My inner strength has returned, and my thoughts become clear again. I will uphold these profound personal transformations to continue fighting for the freedom of my country, my people. I will be aware of my privilege and use it to benefit everyone. And I also promise myself to cultivate deeper compassion toward myself and the Earth and the Universe.
Our response to the new conditions that we experience on the ground now could be characterized as a "Focus on Myanmar." Those new conditions are characterized by threats to physical well-being, violations of human rights, and attempts to shutter democracy and the voices of dissidents. All these conditions are heightened now in Myanmar, thus our shift in focus, yet they are present in various forms and in different degrees throughout the region. Furthermore, large-scale threats like the climate crisis will not disappear of their own accord, but will require united and concerted action. In this context, our work of building cross-border and cross-ethnic ties has never been more important. Thus, even with a Myanmar Focus, we will continue to work more broadly.
Specifically, we will continue to offer personal support, leadership training, and skill building in all the learning communities we foster and sustain. The skills we work to cultivate are listening effectively to each other as well as to survivors of trauma and others in need of help; heightened awareness of the sources of social oppression and ecological destruction; communication in English as a means of creating cross-border and cross-ethnic ties of support and cooperation and of speaking to the outside world; personal and freely chosen goal setting; and moving out of fear and timidity to take bold but thoughtful action.
The three women in the photo on our project page—all of whom I have had contact with recently—demonstrate the impacts of our work. All participants in SENS 2018, the woman on the left, from Laos, is now working for an organization that trains young adults to do COVID-19 preparedness and response training in the Lao countryside. The woman in the center, from the Karbi Anglong tribal lands in the far northeast of India, has worked with NGOs from Mumbai to create a three-month tour of her region that will allow participants to experience and understand the life of indigenous people within the complexities of also being citizens of India. The woman on the right, from Myanmar, is head of human resources for a large humanitarian organization that continues to provide on-the-ground relief in her country.
We are now working with a loose consortium of groups in Thailand who seek to provide support for the education and training of Myanmar civil society leaders both within and outside of Myanmar. One of our first programs under the SENS program in 2022 will likely be an online English and leadership program for members of Myanmar civil society organizations. Please stay tuned for updates and for changes to this project's main page.
Meanwhile, we hope and pray that you and your loved ones will remain safe in the coming year, and that we will all find appropriate ways to contribute to the many hopeful initiatives occurring across the world.
Sincerely,
Ted Mayer
Academic Director of the INEB Institute
P.S. The photos we have shared contrast sharply with the troubling social and political situation in the region. Our team met on Samet Island for a very relaxing but also highly productive work and planning retreat in early December. This welcome and much needed work retreat was supported by funds from INEB, not by funds donated to this project. Thank you again for your support!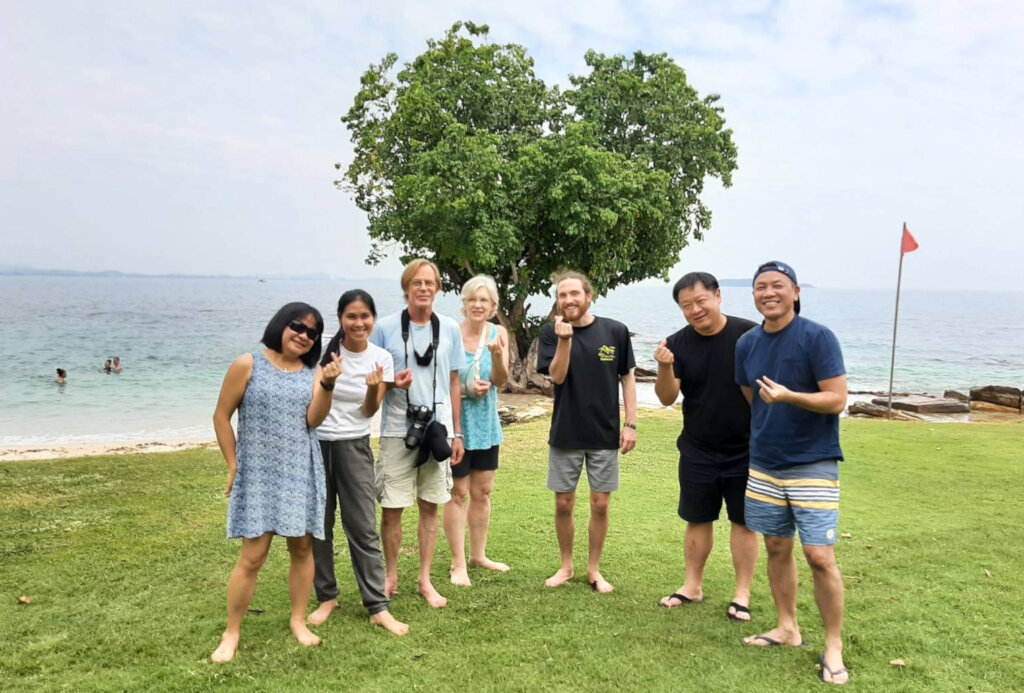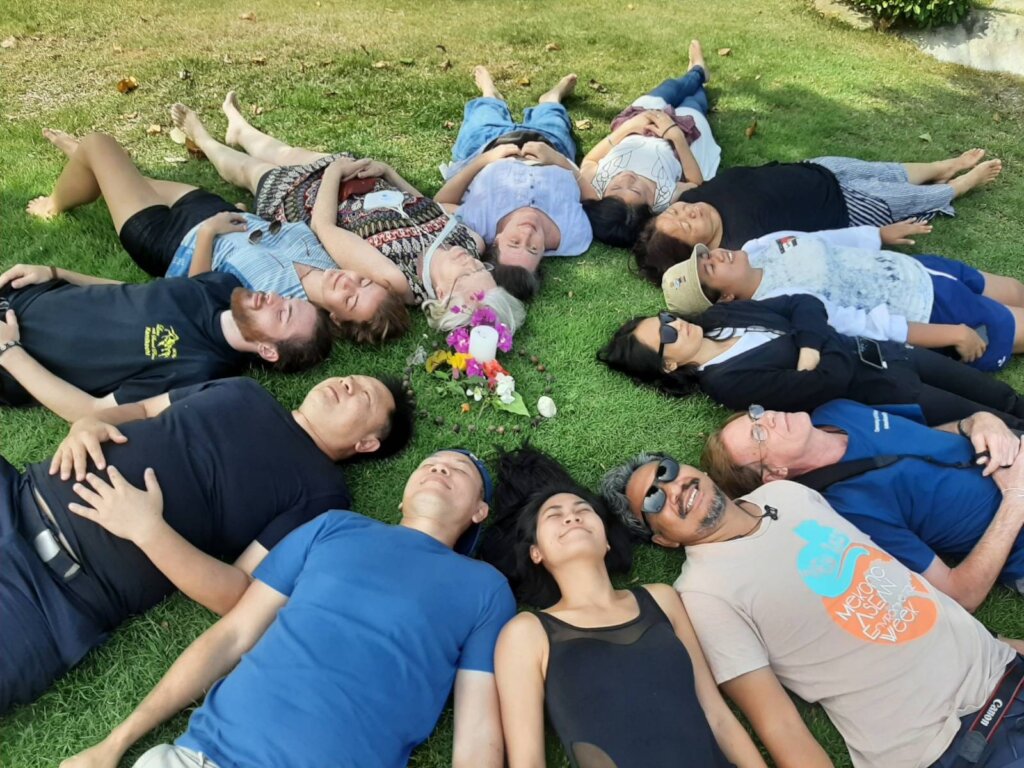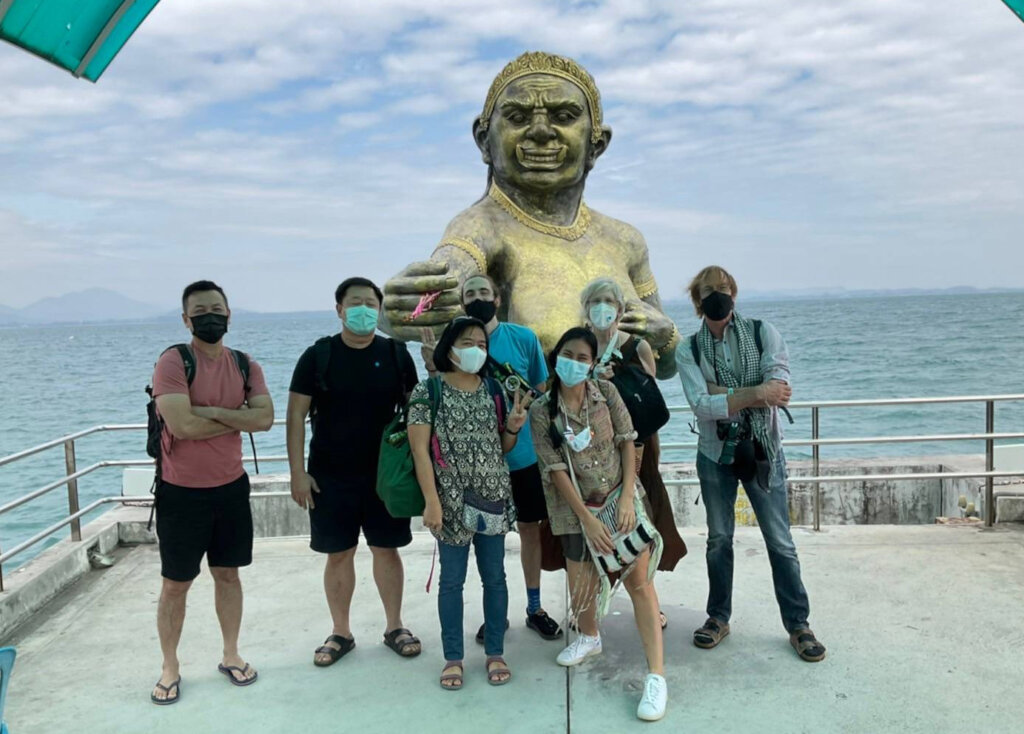 Links: