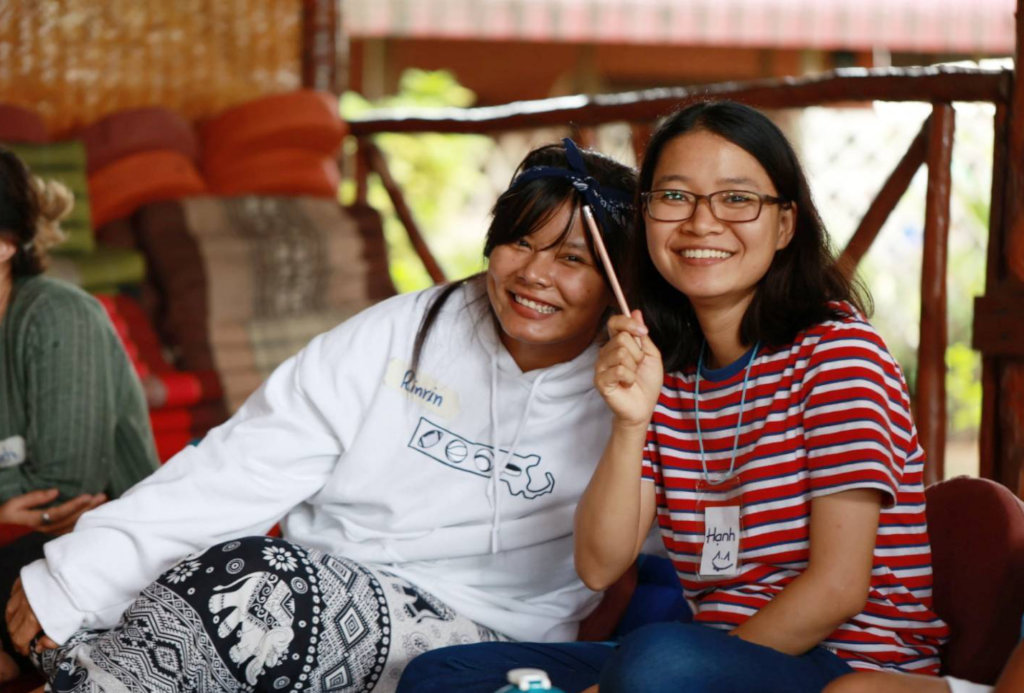 Dear Friends,
I want to begin by expressing my deep gratitude to all of you who have contributed to our project on GlobalGiving. It is your contributions—whether occasional or monthly— that enabled us to organize and run a highly successful SENS 2021 course over the past few months under very difficult conditions. We were able to bring 9 students from Thailand, Myanmar, Vietnam, and a third country. This smaller-than-usual group proved to be highly engaged, responsive, and committed to forming strong ties of connection, solidarity, and mutual support. Your contributions also funded a strong work team including myself, Assistant Director/Co-Teacher (Nilanjana Premaratna), Logistics Coordinator (Topsi Rongrongmuang), and three Volunteer Tutors.
Despite all your generous contributions, we struggled this year with additional costs brought on by the need for quarantine, COVID tests, and extra medical insurance for those who entered the country. Thus it was all the more to our delight and surprise when we learned half-way through the course that our project and fellow projects on GlobalGiving under the Sathirakoses-Nagapradipa Foundation had been selected by GlobalGiving in collaboration with Airbnb to receive a donation to support our work! This completely changed the financial picture for us, and I want to express our profound thanks both to GlobalGiving and to Airbnb for this generous contribution to support our mission of cultivating leadership for sustainability in the Asian region. It reminds me too that due to its regular bonus days and to unexpected contributions such as this, GlobalGiving provides us with an enormous level of net support, even after the necessary administrative fees are deducted. I hope this will encourage you to continue your tax-deductible contributions through this platform.
What Remained the Same This Year?
SENS 2021 carried on our now six-year tradition of providing a 12-week experience of personalized support to our students. This experience allows the students to build their English skills at the same time that they grow in confidence and self-awareness and deepen their understanding of the challenges we now face globally at the wider social and ecological level. At the heart of the program are three keywords: play, connection, and integrity. Play emphasizes the fact that learning in the SENS program is designed to be enjoyable and engaging. While this learning is actually a form of work, it often feels to the students more like play. A big part of their enjoyment also comes from the close friendships that students form with participants from other countries. Connections formed in this way give our program a warmth and ease that can be difficult to find as we face pandemics, the climate crisis, and the many social divisions and inequities that characterize our societies. Precisely because they are at times challenging, these connections also becocme a deep source of learning as students strive to break through barriers that have been built up around every conceivable social and cultural difference. Integrity means that we respect the students' own choices about how they will respond, while also making vivid the need to respond in some way that is thoughtful and constructive, and that reflects the self-chosen life goals of the student.
Running the SENS program provides a unique opportunity for participants to learn at many levels. Yet it is also a tremendous learning opportunity for the work team. We learn from our own unexpected reactions to people and to events within the course. We learn from the success or failure of what we try to accomplish in the classroom, or on a field excursion. This means that we are learning things that one might not be able to find in any text on pedagogy. I feel we are trying things in this program that put us at the cutting edge of language teaching, and that brings its own delightful rewards. Our approach of taking personal growth and social awareness as the focus of all our English language content allows for a depth that might otherwise be hard to find in a language program. We feel that we are not only preparing the students for their encounters with the international world through developing their English skills; we are also preparing them to live a meaningful life by providing useful information about where we stand now as a species, and by encouraging them to make their own informed decisions about what kind of life they would like to lead.
One area in which we face difficulties every year at the level of language teaching methodology, is how to help students undo habits of incorrect speech or language use with which they have become comfortable, in some cases over many years. We find, for example, that students often do not hear our subtle corrections, as we restate with correct pronunciation or grammar something they had said incorrectly. This forces us to find ways to call their attention to the form of their speech in surprising, enjoyable, and non-judgmental ways. Humor and lightness help, but are sometimes not enough. This year we found some success in sharing on the board a series of statements or questions that we had heard students use over the previous week. Students needed to rewrite these expressions so that they were grammatically correct. This is an old method, but we found it helpful not only as a learning tool but also as a diagnostic tool that could tell us who needed additional help. We also decided that in our next SENS course we would try to focus intensively but creatively on disrupting old but incorrect habits immediately in the first two weeks of the course, so that such habits would have little chance to survive or become more deeply rooted.
What Was Different This Year?
What was different this year was that we had a smaller group, and this allowed for greater personal attention and may have also contributed to the formation of a more cohesive group that often wanted to spend time together. This was lovely to see. This group was also deeply interested in playing—board games, in-class spelling games, badminton, and many other forms of play. I still do not know whether this orientation to play was a response to the restrictions of the pandemic, or an expression of their individual personalities. I suspect that both factors were at play. We accommodated their eagerness for play as best we could and were rewarded by a level of attention and engagement that is hard to find in groups of students. The students took our questions, activities, and challenges with great seriousness, and their doing so created a strong feeling for everyone of traveling on an authentic and shared learning journey in which outcomes were not predetermined.
This year was very different in that we could not take any field trips, aside from a few days of exploration in Chiang Mai following the excellent workshop on power analysis led by Ouyporn Khuankaew. The reason of course was the high risk posed by the growing pandemic in Thailand. The result of this constraint was that we made full use of the expertise of our work team and of our students as well. For example, Assistant Director Nilanjana Premaratna, who had exercised this role in the first and second years of SENS, often designed her afternoon classes in a way that resembled thematic workshops. In one such instance, students had to make decisions about how to develop their imaginary island nation. Logistics Coordinator Topsi led a workshop on how to organize and plan a non-violent action. Tutor Petra Carmen led a workshop helping students envision the creation of an eco-village, and the learning steps they would need to take to actually start or contribute to one. Student Wichai Juntavaro led a workshop on appreciating and relating respectfully with nature. We also invited outsiders to lead workshops that did not require the group's travel. Toshi Doi led an in-person workshop on how citizens could affect the decisions of financial institutions that sometimes enable harmful development projects, and K. V. Soon led a workshop on digital literacy, joining us over Zoom. Melissa Storms, Assistant Director from the previous year, led two writing workshops on Zoom, and generously offered one-on-one guidance to students as well.
Finally, this year was different because it took place not only in the context of the COVID-19 pandemic, but also in the shadow of the extraordinarily brutal and destructive military coup that took place in Myanmar. Our students' harrowing stories of travel to Thailand, concerns for their families and colleagues, and the news from Myanmar formed a daily backdrop to our classes. One student suffered through seeing a family member paraded on TV by the Myanmar military, in a condition that made it clear he had been beaten while in detention. Such experiences led to a dawning realization that we were not only providing leadership and life training for budding leaders from various countries. In the case of Myanmar we were also providing a safe haven for them—a refuge within which they could live, work, and study in safety for a time.
We are especially grateful to you that your contributions made this possible.
Looking Ahead
The COVID-19 pandemic has not abated in Thailand, as of this writing. For this reason we have decided not to run our regular three-month course in 2022. We love this course and sincerely hope and expect to organize it again in 2023.
Meanwhile, in 2022, your contributions will be supporting our growing online work, and shorter in-person workshops and courses in Thailand when these are possible. Before the February 1, 2020 military coup in Myanmar, we had already been providing both in-person and online courses for our Myanmar friends and partners. From late October 2020 to the present, we have also been working with one ethnic group that faces constraints on their movement due to political repression at home. That work has enabled the development of a small but committed network of tutors who have been providing one-on-one mentoring to individuals from the group in question. We call this program 3OM (One-On-One Mentoring), which has become a new project within SENS. Of great significance for us is that through SENS and 3OM we have also begun training teachers of English in designing humane and student-centered pedagogies that support the critical and creative abilities of the students. This is of course significant because those teachers will help us expand our work to reach new populations.
We now want to expand that work yet again to include students from marginalized groups from across Asia. We would like to offer one-on-one mentoring and perhaps online classes to young leaders who are Dalits, or who identify as indigenous people, as well as to aspiring English teachers from other regions of Asia. We will keep you posted on these developments.
For now, thank you for reading this long report. Without you we could not be doing the work that we are doing. Thank you so much!
Sincerely,
Ted Mayer
Designer and Director of the SENS Programs
Links:
Attachments: