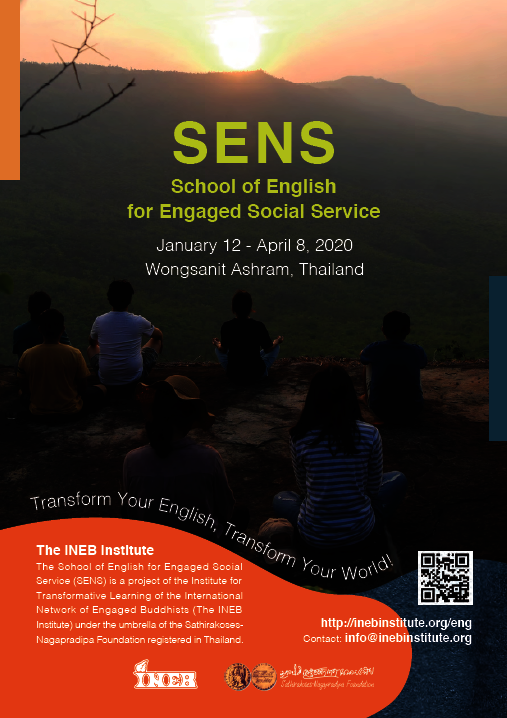 To Our Generous Donors, Supporters, and Followers,
The following is an update prepared for you on recent developments in the School of English for Engaged Social service (SENS) and related projects.
This report covers the period from early May to late August 2019.
Introduction
The SENS program has proven itself to be a reliable vehicle for transformative learning. We have seen each cohort of students leave with newfound self-confidence, the ability to listen more deeply, a greater understanding of the social and ecological crises we face, and a determination to plan a life that will both realize personal dreams and respond to the challenges of our time.
The purpose of this report is to keep you apprised of developments in this program. Our activities in the period covered by this third quarterly report fall into four main categories:
1) Preparations for SENS 2020
2) Raising visibility and appreciation for the work of the SENS program
3) Supporting SENS alumni
4) Expanding the work of SENS into new areas
We provide details on these activities below.
1 – Preparations for SENS 2020
Director Ted traveled to his family's home in the U.S. during May and the early part of June. On each trip to the U.S., Ted purchases literature and materials to be given to students during the course, as well as new books and materials to enrich the INEB Institute and SENS library. Such materials are of course important as they expand on the kinds of reading material that students can make use of at their leisure in the comfortable library at our Wongsanit Ashram campus during the three-month course.
In preparation for each year's SENS course, we need to update the Student Application Form and create a new brochure. We completed these activities during this period thanks primarily to the work of Topsi, our Logistics Coordinator, but also with the help of many others, including a graphic designer and a very flexible and accommodating printing house.
Of great importance during this period is building the work team, which includes finding a suitable Assistant Director and building a strong team of tutors. We are pleased to announce that we have hired a new Assistant Director for 2020, Melissa. Melissa is a citizen of the U.S. and a resident of Phuket, Thailand. She has an MA in Rhetoric and Composition, and a passion for language, writing, and cultivating analytical and critical thinking skills on behalf of peace and social justice. Inspired by transformational educator Paulo Freire, she has extensive experience in, and explored the boundaries of, teaching composition in a variety of venues. Among the courses she taught in the Northwest of the U.S. are: "Analytical Writing: War and Peace," and "Research Writing: The Path to Genocide." She received the "Inspirational Teacher of the Year Award" in 2011 from the University of Washington (CSE). We welcome Melissa to the work team. Her energetic approach to work has already given us confidence that she will contribute to making the SENS project sustainable in the medium- to long-term.
2 – Raising Visibility and Appreciation for the Work of the SENS Program
We know that the more people are aware of the quality of the work we do in SENS, and of our commitment to our students, the more we will attract students of high caliber from an even broader range of countries. Likewise, our visibility will tend to encourage support of many kinds, including financial support that can be used to offer scholarships to students with few resources. One way to heighten this visibility is to share the results of what is in fact a form of ongoing pedagogical research. This research asks how we can combine the teaching of English, leadership, and critical thinking skills in such a way that students' self-concept, joy in learning, and capacities for transformative work in the world are truly strengthened by the course.
To this end, Director Ted has given much of his time to various writing projects. The first is a book chapter entitled, "In These Troubled Times, Could Every Classroom Become a Site of Transformation? The Story of the SENS Program," to be published in a volume of papers on innovative civic engagement and transformative learning programs in Asia, edited by Dr. Mochamad Indrawan, a research scientist at the Research Center for Climate Change of the University of Indonesia. One SENS alumnus, Sabin, and one tutor, Mahesh, also wrote short essays on their experiences in SENS for this volume, which is expected to be published in early 2020. Ted is also developing a paper for publication that he presented at the International Symposium on Religious Life (ISRL) in Yogyakarta in the fall of 2018. Entitled "Grounds for Appreciation: Building Interfaith Solidarity by Engaging in Shared Projects and Facing Common Challenges," the paper describes the interfaith work of the SENS program and is expected to be published early next year by Analisa, the journal of the Indonesian Ministry of Religious Affairs.
Ted also participated in the organizing of a conference on civic engagement and transformative learning that took place in Solo, Indonesia in late August of this year. He represented the INEB Institute at a conference that brought together academics and activists from around Southeast Asia and beyond, large numbers of young adults from Indonesia, and the mayors of a number of Indonesian cities (and one from southern Thailand), who are actively working for sustainability and for participatory governance in their cities. The conference was entitled: Civic Engagement 4.0 – The Solo Forum. It was co-organized by Chulalongkorn University (Bangkok), the Indonesian Consortium for Religious Studies (ICRS, Yogyakarta), and Kota Kita (A City for All, based in Solo), an NGO working for citizen participation in the design and development of cities.
3 – Supporting SENS Alumni
One of the long-term aims of the SENS program is to create a community of alumni who continue to grow beyond the three-month program and who constitute a mutually supportive community. Towards this aim, we are always on the lookout for scholarships, internships, and innovative university programs that our alumni may want to apply for.
We mentioned above that two of our alumni were able to engage in a writing project for publication. This is one kind of support we have been able to provide. A second form of support is when we are able to invite our alumni to conferences and workshops where they can carry on their learning and collaboration. This was the case with the Civic Engagement 4.0 program in Solo, Indonesia. Keen to create an interactive conference to the extent possible, the organizers of the conference planned for a full afternoon of workshops. They also generously provided funds to bring assistants who could offer support to the leaders of the workshops. Two of our alumni, Dewi of Indonesia and Khudoh of Myanmar, were supported to attend the conference and to assist Ted in presenting a workshop entitled, "Listening Partnerships: Living Fully and Leading with Integrity in a Time of Crisis." We continue to look for ways that we can support our alumni. The Civic Engagement conference was one very positive example of what we can do with the help of like-minded partners.
Following this conference, Ted gave a presentation entitled "How to Assess and Respond to Contemporary Global (and Local) Crises," at the kind invitation of Yayah Khisbiyah, Director of the Centre for the Study of Culture and Social Change of the Muhammadiyah University of Surakarta. At this event, Dewi shared her experiences of SENS 2019, speaking to the 30 or so students and professors in Bahasa, Indonesia; in doing so, she greatly contributed to the warmth of the reception given to the talk. We are very grateful to Yayah and her team for their invitation and support.
4 – Expanding the Work of SENS into New Areas
A final area that we have been working on in the past few months is expanding the offerings of SENS. The annual SENS course that takes place in Thailand from January to April every year is intended for Intermediate to Advanced learners of English. We have long wanted to experiment with offering a SENS course for Beginners, and in August we had the chance to plan for such a course with various partners of INEB in Myanmar. There was great interest from four organizations, and plans were completed in August to offer a four-week course in Yangon with the first three weeks in an "Office Format," which would require students to study from 8:00-12:00 every weekday and continue with their office work in the afternoon. The fourth and final week would be in "Retreat Format," meaning students would be able to dedicate themselves fully for that week to the course content focused on English and leadership.
Please stay tuned for our next report, due by the end of the year, for further developments in the SENS program.
Thank you very much for reading, and for your ongoing support.
Warm regards,
Ted Mayer, Director of the SENS Program
Links: