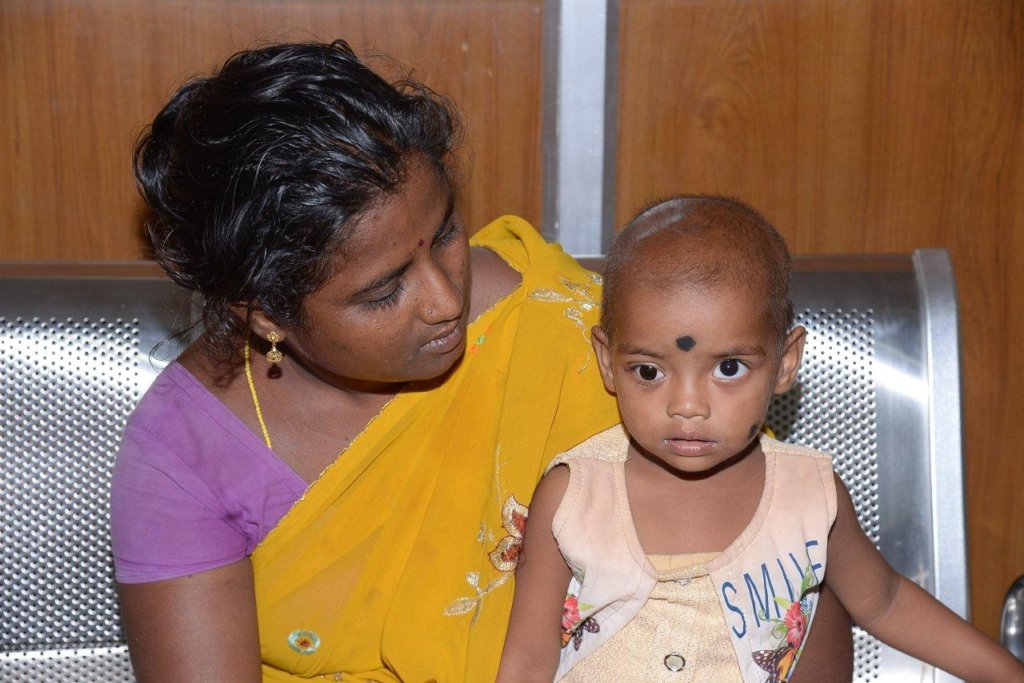 Visiting the Orbit Clinic at Aravind Eye Hospital is a confusing, emotional experience. I have visited several times, and I can think of no other way to describe it. On one hand, I am so sad to see our youngest patients, hooked up to IV's receiving chemotherapy, when they should be outside playing. At the same time, it is a hopeful place, because these kids are being treated by Dr. Usha and her caring, experienced team. They are arguably receiving the best treatment in India, probably the world!
Each year, Aravind Eye Hospital treats roughly 150 new patients for retinoblastoma (eye cancer), in addition to 400 to 500 follow-up visits. The overwhelming majority are children under the age of five years. The sooner we see them, the better chance we have of saving their sight and their lives. Now that our Genetic Testing Lab is in up and running, we can predict whether a baby is likely to be born with retinoblastoma and start treatment immediately.
Sometimes the biggest obstacle to early treatment is fear -- no parent wants to hear that their child has cancer and may lose her eye. Chella from Andhra Pradesh was just two years old when she first came to Aravind with tumors in both eyes. When the doctor suggested enucleation of one eye, the parents refused and took Chella home. Many hospitals would have given up. But Aravind's team continued to follow up with the family, and as a result of repeated calls, Chella was brought back to the hospital for surgery and chemotherapy. Now three years old, the tumor in her other eye has regressed, and she has a custom-fitted prosthetic eye, which will be replaced as she grows.
None of this would have been possible without the generosity of our Global Giving donors. Chella's father works as a daily wage labourer and earns about $2 a day. The treatment expenses were far beyond their means. Your donations will continue to support her follow-up visits for five years -- after that, she will be declared cancer-free!
Thank you for helping to save Chella's sight and life.