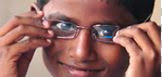 Rajameenakshmi attends Virudhunagar Hindu Nadar Primary School in Madurai, not far from the famous Meenakshi Amman temple. She's nine years old and wants to be an engineer. She's also a serious carrom player, which looks like a combination of checkers and table shuffleboard to the uninitiated.
Ten-year-old Mohammed is a student at VHN, too. He loves cricket and drawing. When he grows up, he's going to be a district collector -- that's the chief adminstrator for district government. A very important job!
Both children have big plans and are working hard in school to get good grades. But three months ago, they were having trouble with some of their schoolwork. Why? They couldn't see the blackboard clearly.
That's when Aravind's Spectacles for Scholars team came to their school, and tested the students' eyesight -- about four percent of the class needed eyeglasses, including Rajameenakshmi and Mohammed. Now they are back on track to fulfill their dreams.
Last year, Aravind screened 500,000 school children and provided 15,000 glasses to children with poor eyesight -- thanks in part to your donations. A pair of eyeglasses costs about 450 rupees -- a little over $7 -- but no one can put a price on being able to see! And, we're just getting started -- with your help, we are planning to screen 5 million children by 2020.
Thank you from all of us at the Aravind Eye Foundation for your generous and thoughtful support. Please contact us if you would like to know more about the Spectacles for Scholars programs or if you have comments or suggestions. We always want to hear from our friends.
With gratitude,
Donna Campbell, Exectutive Director, Aravind Eye Foundation
P.S. Please enjoy this video about Spectacles for Scholars and meet Mohammed and Rajameenakshmi!
Links: