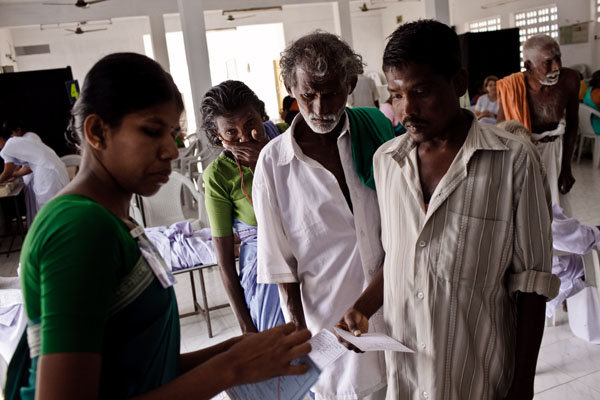 Aravind is always looking for more effective ways to reach patients – it's one of our biggest challenges in our mission to eliminate needless blindness. More than 70% of India's population still lives in rural areas, with little access to eye care. Usually, there is no resident eye doctor, and a cataract patient might travel 250 miles to have surgery.
From the beginning of Aravind Eye Care System in the 1970s, its founder, Dr. G. Venkataswamy, traveled to rural villages to bring eye care to the rural poor. His early efforts have evolved into an enormous community outreach effort; in 2014, we screened more than 558,000 people through 2600 eye camps.
Eye camps provide essential care to people living in the most remote, poorest parts of the country. We work in close partnership with community organizers to publicize the camps. Aravind doctors and nurses travel to rural villages to examine patients, treat common ailments, prescribe glasses, and recommend surgery for those who need it.
Today, about one-third of Aravind's surgical patients come from eye camps. But in the early days, a lot of people didn't show up for their "free" surgeries. Why not?
It turns out "free" can be very expensive to the average Indian worker, who has to pay for transportation and take off time from work, losing a day's wages. A blind beggar told us, "Your 'free' surgery costs me 100 rupees."
We learned that we had to address all the barriers that people might face in accessing eye care – even when it's free! So, Aravind revised the eye camp program to include transportation to and from the hospital, food and medicines, and a follow-up visit in their village at no cost to the patient. Now more than 80% of patients who are diagnosed with cataracts at an eye camp come to Aravind Hospital for surgery and receive the gift of sight!