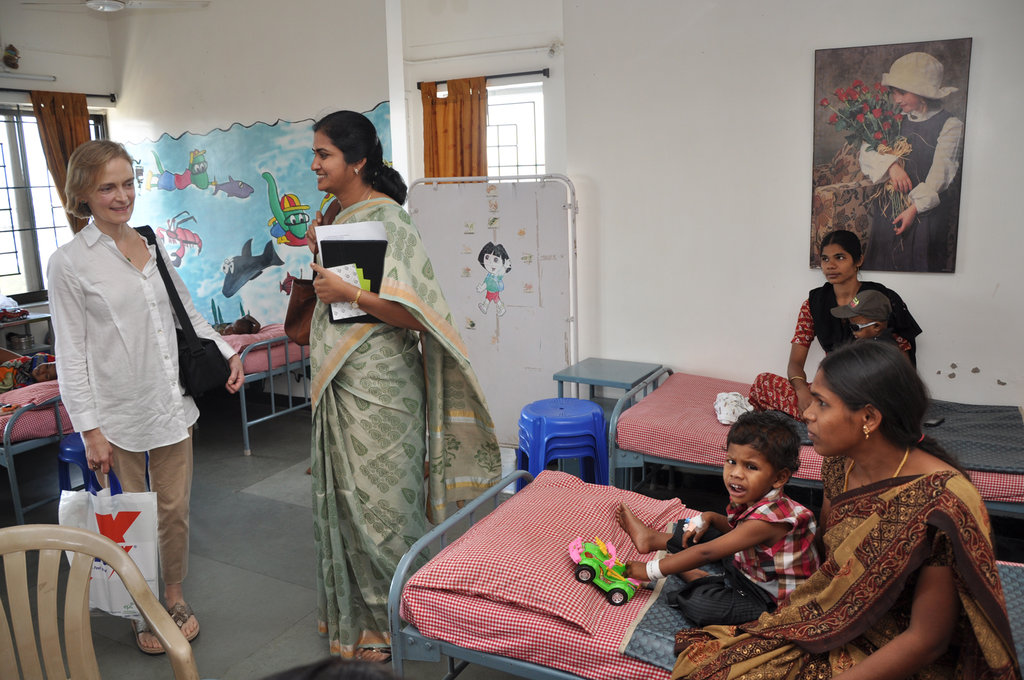 The pediatric cancer ward at Aravind Eye Hospital-Madurai is a bright, bustling place. Volunteers have painted vividly colored murals on the walls of the playroom and patient ward, featuring favorite characters from comics and movies. Dr. Usha, who presides over the ward with grace and calm, wears beautiful saris and has a smile for every one of her young patients.
Most of the children here are suffering from retinoblastoma -- a virulent form of eye cancer that affects primarily children under the age of 5. Early diagnosis and treatment are essential, but, sadly, in rural India, that is not usually the case. Lack of awareness means that Dr. Usha and her staff frequently see extremely advanced cases of retinoblastoma. Then, there is no option but to remove the eye in order to save the child's life. And, in some cases, it may still be too late.
Two-year old Nagoor Meeran (name changed) came to Aravind Eye Hospital-Madurai, with a painful red eye. When he was diagnosed with retinoblastoma, his parents refused to believe it and hesitated to start treatment. They said that they would come back for a follow-up visit in a week. They never showed up -- the hospital staff tried to contact them by phone, but no one answered their calls. Two different families who had children with retinoblastoma contacted the parents to try to convince them of how important it was to get treatment. But Nagoor's family was still reluctant to visit the hospital.
Nagoor's condition worsened over time, and finally, his parents brought him to the hospital. His mother begged the nurse to forget her mistake in not bringing the child to the hospital earlier. Fortunately, the cancer had not spread. Nagoor Meeran had surgery, and returned to the hospital for six cycles of chemotherapy as scheduled. His parents also brought his sisters in for examination, since some retinoblastoma has a genetic cause. All of Nagoor's treatment expenses were met through Ring of Hope Fund. A very happy ending thanks to our GlobalGiving donors.
Lack of awareness about retinoblastoma remains a serious problem in rural India. Working with Dr. Usha, Aravind created video about retinoblastoma to help educate the community about diagnosis and treatment of this terrible disease.
Links: