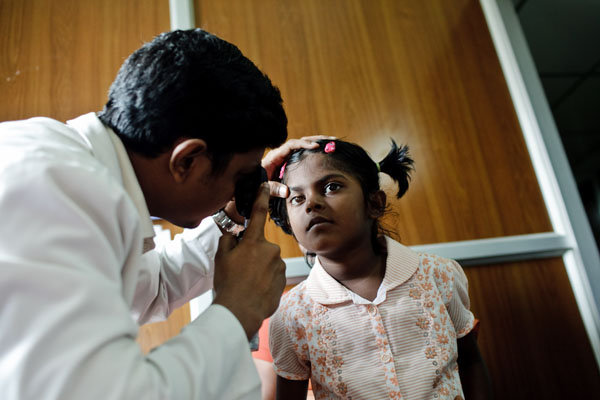 Your donation helped a child go to the head of the class!
Imagine if you could not see the blackboard when your teacher is writing a mathematical formula. Or, what if the words in your history book appeared blurred and meaningless? Education is the ticket out of the circle of poverty, and poor vision severely impairs a child's ability to learn.
The World Health Organization (WHO) estimates that 1.4 million children are blind worldwide and millions more are visually impaired. In India alone, there are about 30 million children who need some type of eye care intervention. Ironically 80% of vision impairment is needless and can be corrected through simple cataract surgery or by an even simpler solution -- a pair of spectacles.
To address these problems, Aravind set the ambitious goal of screening one million preschool and school children by August 2013. Now, in its second year, we have screened 664,417 children and trained 4,417 preschool teachers and 3,447 school teachers to recognize eyesight problems.
Aravind provides the training and screening free of charge, but your donations have provided spectacles for children identified with vision problems. A gift of $25 buys five pairs of eyeglasses for school children. To date, more than 16,000 pairs of eyeglasses have been given to the children in India. Aravind and our young friends say, "THANK YOU!"
You can help even more children in India go to the head of the glass by donating to Aravind on Global Giving's Bonus Day, Wednesday, October 17.