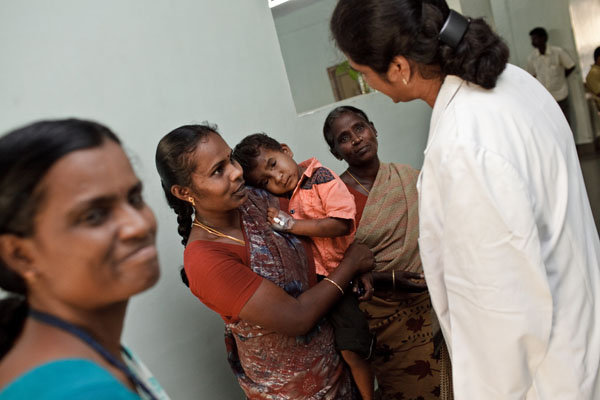 Aravind's Ring of Hope project saves the sight and lives of children and adults suffering from eye cancer. It was started in 2004, by Dr. Usha, the head of the Aravind's Orbit and Oculoplasty Clinic in Madurai, India, to help pay for the extensive chemotherapy and radiation treatments necessary to treat eye cancer. Aravind doctors give their time at no cost to the patient.
Thanks to our generous donors at Global Giving during the last twelve months 20 children suffering from devastating eye cancers received treatment at Aravind completely free of cost, including radiation therapy, chemotherapy, and surgery, as well as room and board for the patient and family. Since its founding, the Ring of Hope has provided treatment for 444 patients, including 220 children with retinoblastoma and 224 patients with other eye cancers.
We wanted to share the story of one of those grateful patients with you. Recently, a family from Thanjavur, a village in southern India, brought their two--year old son, Mohammed, to Aravind Hospital in Madurai because he had a white spot in his left eye. Examinations at the Orbit and Oculoplasty clinic confirmed it to be eye cancer. The doctor explained to the family members about the seriousness of the boy's eye condition, the nature of the disease and the need for immediate treatment.
Mohammad's parents readily accepted the doctor's advice, and the hospital started three cycles of chemotherapy with a gap of 23 days in between each. After the third cycle, scan results showed a reduction in the size of the tumour. Three more cycles were suggested by the doctor for a complete cure and by the end of the treatment the tumour had drastically reduced in size.
When Mohammed returned for his follow-up visit, several weeks later, the doctor found that the cancer had been completely cured, and his vision was restored. Mohammed's parents were at a loss of words to convey their
heartfelt gratitude. And, so are we!