Project Report

| Apr 8, 2022
Newsflash: Helping leads to happiness!
The 10th World Happiness Report* came out this month with some unexpected good news – people became more caring during the pandemic. Turns out, instead of hunkering down, we were reaching out to others.
Personally, I'm not surprised, because I've seen that kindness firsthand at Aravind. During the last two years, we've experienced overwhelming generosity from old and new friends. Over and over, our employees have gone above and beyond their duty to help and heal our patients.
Patients like four-year-old Jyothi from Salem, Tamil Nadu. For many kids, the first sign of eye cancer is crossed eyes. Jyothi's parents noticed this symptom in both eyes when she was nine months old. The family was referred to Aravind because cancer treatment is so expensive. Jyothi's father works in marketing and her mother is a housewife, and they struggled financially during the pandemic. Her left eye had to be removed and replaced with a prosthesis, but Aravind was able to treat her right eye with chemotherapy. Today, her vision is stable and she is cancer-free.
I'm sure you're not surprised that helping leads to happiness since you are part of the GlobalGiving family. To raise your spirits, there is nothing quite like the joy of a parent who's heard that we've been able to save their child's sight and that the cost of treatment will be: $0.
Perhaps more than ever, the words of our founder Dr. Venkataswamy remind us of what's important in life: "It is ourselves we are helping. It is ourselves we are healing."
With gratitude and happiness,
Donna Campbell, Executive Director
*The World Happiness Report is a publication of the Sustainable Development Solutions Network of the United Nations, powered by Gallup World Poll data.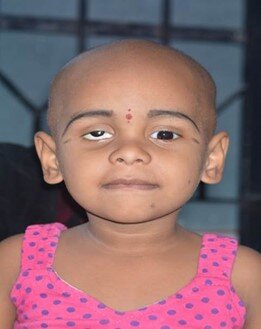 Links: